April 15 event allows girls deeper dive into science, math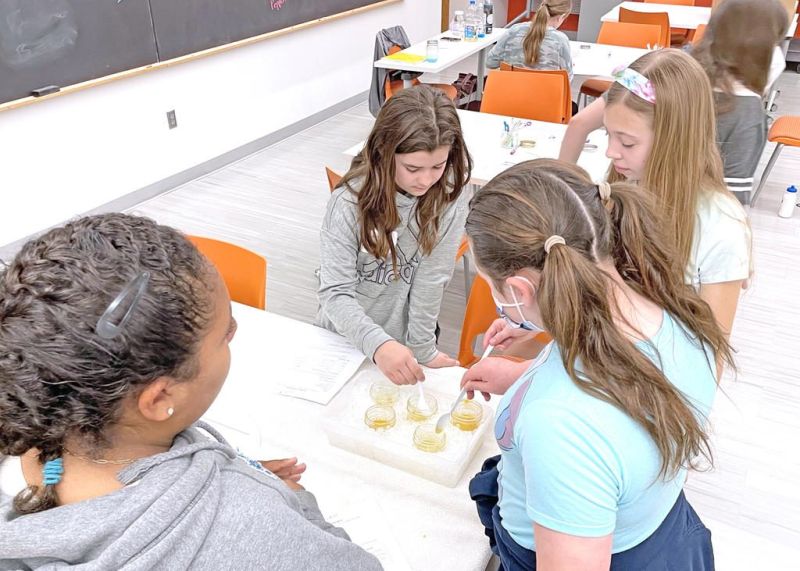 On Saturday, April 15, The College of Wooster will host Exploring STEM Day, a half-day event for girls grades 5-7. The hands-on event will offer girls an opportunity to explore science, technology, engineering and math.
The annual local event was started in the early 1990s — shortly after the national Expanding Your Horizons program began — by a group of local women in the fields of science and math and women in the American Association of University Women.
"Studies showed that girls lose interest in science and math when they reach their middle and high school years," said Karen Skubik, Exploring STEM Day board member. "Our local group knew young girls need role models in STEM careers, so we brought in local female researchers, veterinarians, engineers and more to provide hands-on activities for girls in the tri-county area."
The event has been held every year since its inception, except for two years during the pandemic. "That's over 30 years and thousands of girls who have benefited from this volunteer effort," Skubik said.
"Although some strides have been made, women and individuals from rural areas are still underrepresented in STEM fields," said Missy Schen, director of educational assessment at The College of Wooster and coordinator of Exploring STEM Day. "Young people often think the only careers in STEM are in medicine or laboratories.
"We want to show our local students that there are a wide variety of STEM careers available. For example, a person who likes art and chemistry could combine them to study pigments to create or preserve art, a person who likes cooking and biology could design healthy meal plans, or a person who likes writing and engineering could manipulate sounds and produce podcasts."
This year's workshop choices include a diverse set of topics, all taught by women in the field. Each one gives perspective on an area of STEM education. Participants will be able to take three of the workshops.
In Enzymes in Action, girls will conduct experiments to explore how bodies break down toxic chemicals. A Pigment of Your Imagination will give budding inventors the opportunity to discover pigments from everyday items using science to create their own works of art.
Are Genetic Mutations Happening Here & Now? will explore how things like car fumes and factory emissions can mutate DNA and affect animals right here in Ohio. Girls wanting to explore coding will have the opportunity in Bot, Like to Move it, Move it. Participants will use Ozobot coding language to program their robots using color codes and imagination.
Teaching and learning isn't just for people, as girls will discover in the workshop, A Lion, a Dog and a Fish Walk into a Classroom. And Who Dunnit? will be an opportunity to use chemistry to understand clues and solve a mystery.
Eat the Rainbow will be a session taught by a local dietitian all about why fruits and veggies are so important and how to incorporate them into meals. Sweet Science will explore food chemistry. Budding physicists will have the opportunity to craft an egg-packaging device in The Humpty Dumpty Experiment.
Make a Computer Program from Scratch will explore how to use Scratch — a programming language and online community. Girls will create their own audio episode from script to editing in Master the Sound Waves, and Myth of the Cave People will explore the cultural world of the Neanderthal.
Save the Insects, Save the World will explore the world of insects and their importance in the web of life. In Make a Change, students will have the opportunity to learn how to speak about things like climate change, even with people who disagree.
Math Modeling with M&M's will link mathematics to real-life situations. Girls will make their own lip balm while learning about how chemistry is used in developing cosmetic products in The Science of Cosmetics.
Participants will learn about the concept of infinity while constructing a 3-D fractal in Fractals All Around. Students will be able to look at germs through a microscope in Infection. They will solve a puzzle about a mysterious illness.
Girls can test their fitness in The Science of Strength as they learn about how the body and brain react to strength training and cardiovascular fitness and why movement makes people happier and healthier.
Exploring STEM Day is always looking for presenters and help on the organizing committee and for monetary donations. "Through our donors we are able to support girls who need help with the registration fee, as well as provide supplies for our presenters, a meal for the girls and door prizes," Schen said.
For questions, more information or to volunteer, call or email Schen at 937-751-6336 or mschen@wooster.edu. For donations email Skubik at karen.skubik@gmail.com.
Exploring STEM Day will be held Saturday, April 15 from 8:30 a.m. to 1:30 p.m. on The College of Wooster campus. The registration deadline is March 31 or until the event is full. Register online at ESDwooster2023.eventbrite.com or pick up a brochure at area public schools and mail in the form. There is a $15 fee, which includes all course materials, a light lunch and a bag. There is a fee waiver form online for those seeking assistance with the fee.
Workshop choices are available on a first come, first served basis, and participation is limited to the first 200 registrations received.
"We couldn't organize this event without the generous support of The College of Wooster in allowing us to use the facilities on campus, especially our new state-of-the-art life sciences building, Ruth W. Williams Hall," Skubik said. "This allows the girls to not only get a taste of STEM careers, but college life as well.
"In addition, we are grateful for all of our volunteers who give up their Saturdays to make this program come to life, including the amazing presenters and dozens of college students who guide our participants around and share their love of STEM."