Area law enforcement ready to kick off Drive Sober campaign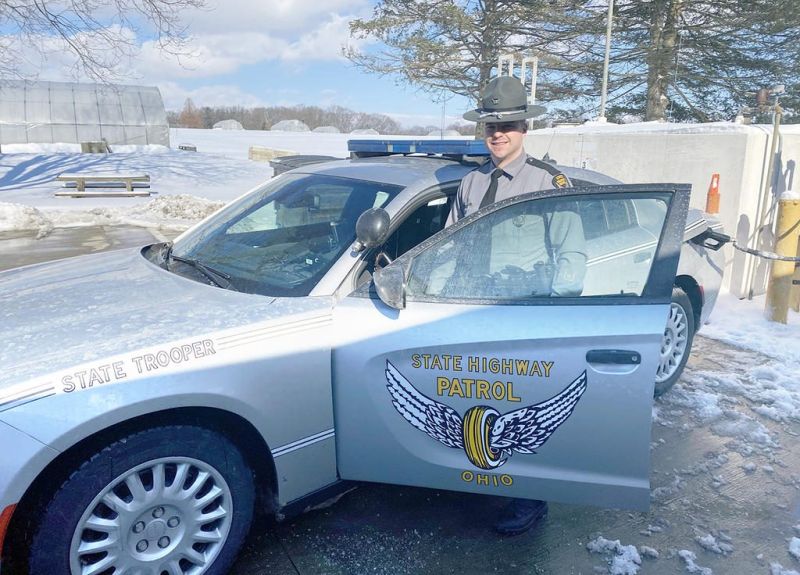 For law officers manning the roadways, one simple rule of the road is very easy to follow, yet so many people don't adhere to the simple logic behind the statement: Drive sober or get pulled over.
The 2022 impaired driving national enforcement mobilization, Drive Sober or Get Pulled Over, goes into effect across the country from Aug. 17 to Sept. 5. One of the deadliest and most often committed — yet preventable — of crimes, impaired driving has become a serious safety epidemic in the country.
Drive Sober or Get Pulled Over focuses on law enforcement and their goal to stop drunk drivers. This campaign highlights a constant police presence searching for drunk drivers as a way of deterring people from drinking and driving.
"There are no take-backs when driving drunk is concerned," said Beth McCready, prevention coordinator for Wayne and Holmes County Safe Communities. "You're putting yourself and the lives of others at risk for a few hours of fun. That's a steep price to pay."
Alcohol reduces the ability of the brain and impairs thinking, muscle coordination and reasoning. All these functions are vital to driving a vehicle safely. For this reason it is important people never drink and drive.
In celebrating DSOGPO, Safe Communities will host a pair of kickoffs. The first will be Friday, Aug. 12 at the Holmes County Fair, where it will host a booth that includes cornhole, local troopers and an obstacle course that features drunk-driving goggles that emulate what it's like to drive while intoxicated.
The second will be Saturday, Aug. 20 at Wayne County Speedway, where several members of the Ohio State Patrol Wayne County unit and the Wayne County Sheriff's Office will take a couple of laps with sirens blazing, along with an information table, trivia and other educational opportunities.
"The message of driving sober never changes," McCready said.
According to the National Highway Traffic Safety Administration, the statistics for driving drunk, distracted and making poor choices adds up to a staggering number of death and injury in the United States each year. Research data from 2020 and 2021 states:
Every day 32 people in the United States die in drunk-driving crashes. That's one person every 45 minutes. In 2020, 11,654 people died in alcohol-impaired driving traffic deaths, a 14% increase from 2019. If two things were ever made to stay far apart, it is drinking and driving.
Drivers involved in serious injury and fatal crashes who tested positive for at least one drug in their system is at 56%. Driving while impaired by any substance — legal or illegal — puts you and others in harm's way.
The phone vibrates. It's your best friend, your mom, a football score, a weather service notice. The reasons to pick up a phone are many. The good reasons are nearly nonexistent. Distracted driving is dangerous, claiming 3,142 lives in 2020. Put the phone down. Passengers don't bother a driver who is concentrating on the road. Having fun can wait until you arrive at your destination. Not arriving at all due to distracted driving is an all-too-common scene in today's world.
One of the safest choices drivers and passengers can make is to buckle up. Many Americans understand the life-saving value of the seat belt, with the national use rate at 90.4% in 2021. Seat-belt use in passenger vehicles saved an estimated 14,955 lives in 2017.
People want to get from one place to another, and oftentimes in today's hustle and bustle, they are running behind. Others simply drive fast while some make a game of high-speed antics. Regardless of the reason, speed kills. Speeding endangers everyone on the road. In 2020 speeding killed 11,258 people. Slow down, leave a few minutes early and don't let speed determine your fate and the fate of others.
While many people chastise getting behind the wheel of a car when using drugs, drinking or texting, few realize the importance of remaining alert while driving, never giving a second thought to climbing behind the wheel when they are tired.
"I'll be OK. I'll just roll down the window, crank up the music and sip an energy drink."
Sound familiar? Drowsy driving continues to be a growing issue and a major contributor to accidents.
The Holmes County Sheriff's Office will host a PSA on Facebook through the Traffic Safety Office Aug. 19-26. The office has 63 hours of grant time and will have extra patrol roaming the county during that time.
"We will have officers patrolling specifically for that and everything that comes with it," Lt. Tim Stryker of the Holmes County Sheriff's Office said. "We are committed to making safe and smart driving a priority."
The solutions to reduce the risk of doing harm to oneself or to others when drinking are basic.
If you plan to drink, make plans for not driving. Plan a ride home before you go to a bar or anywhere you will be drinking. With Uber and Lyft available, there really is no excuse for getting behind the wheel after you've been drinking.
If you drink any amount of alcohol, do not drive. Even if your BAC is well under the limit, your judgement and coordination can be impaired. And if you are in an accident, you still can be charged with drunk driving even if you are under the legal limit for your state.
If you have been drinking and do not have a ride home, you need to call a taxi or a ride service to get home safe. The NHTSA has a SaferRide app people can use on their cell phone to call a family member or friend for a ride. It will pinpoint your exact location and help you to arrange to be picked up.
If you have a party or event where alcohol is served, be sure every guest has a safe ride home.
"We encourage everyone to do the right thing and plan ahead if they attend a party," McCready said. "We want everyone arriving back home safe and sound."