Beautiful smiles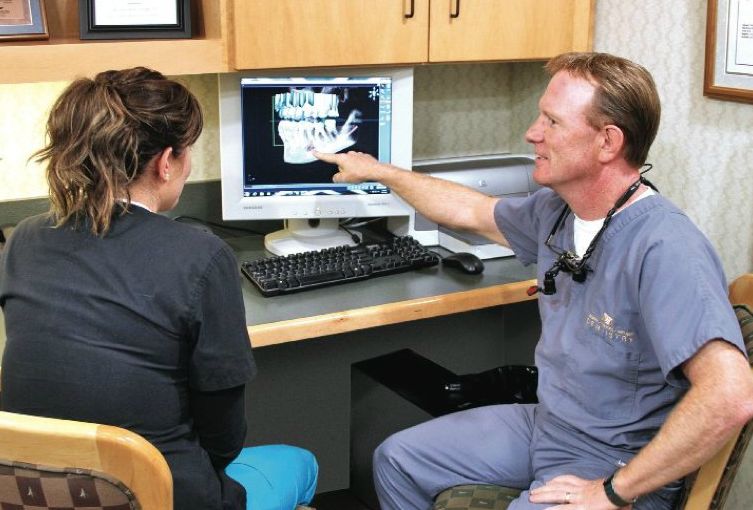 "We offer a full spectrum of dental procedures, from routine exams and braces to implants and other surgeries," Welsh said. "Being able to have all of your dental work completed at a single location, usually in a single visit, makes things very convenient."
The leading-edge technologies Welsh provides include cone beam imaging and on-site milling of implant and porcelain ceramic crowns. Welsh has placed hundreds of implants over a ten year period and recently added  3-D imaging services to his office.
Cone beam imaging is a relatively new technology that allows dentists to create and view 3-D images of a patient's teeth, jaw and entire mouth and helps to better diagnose and treat dental-related problems. This system also provides better accuracy in the placement of dental implants, Welsh said.
"Traditionally, before I placed an implant, I used to have a CT-scan completed at the hospital to see the location of the patient's bone," he said. "I would then have to obtain a surgery guide that is made in Germany and could take up to one month to receive. I would then begin the process of the implant procedure. Today, I am able to obtain the cone beam image right in the office, which allows me to immediately determine where the implant will be located. I still obtain these surgery guides from Germany because I feel that they offer and create the best ones, but because of our digital technology, I am able to have them back to our office within seven to 10 days. Because of the remarkable precision of these services, I am now able to place an implant within a tenth of a millimeter of where I would like it to be."
By incorporating 3D radiography, imaging and milling capabilities in house, Welsh's ability to offer patients the most predictable and fastest replacement of teeth with implants has improved tremendously over the years.
"We can fabricate extremely natural looking implant crowns that blend in very well with the rest of a person's teeth," he said.
Because of recent advancements in dental materials, patients no longer have to compromise a tooth's appearance to obtain the highest quality restoration, Welsh said.
"Today we can use materials that are strong, bio-compatible and have very good shade-matching capability," he said. "Back in the day, gold was the standard for quality, but you had to compromise appearance if you used it. Today's materials are just as strong as gold and are more aesthetically correct."
Sedation dentistry, Welsh said, is an option for nervous patients, as well as for people who want to complete a lot of procedures in a single visit.
"I've been providing services to highly anxious patients for more than 20 years," he said. "But IV sedation isn't only for them. Sometimes people have a lot of dental work that they haven't addressed for one reason or another. Under sedation, we're able to conveniently get all of the procedures over with."
Welsh said he has dedicated his practice to using the latest proven technology.
"I may not be the first to jump on something that is brand new, because I don't want to experiment on my patients," he said. "But once I am comfortable that a new technology is proven and is a definite benefit to my patients, I use it."
Welsh, whose father was a dentist in Millersburg, knew at a young age that he wanted to work in the medical field.
"I explored a lot of different routes in medicine, but I leaned toward dentistry because I knew what it was all about. I am good with my hands and I have a bit of an engineering mind, which is a good fit," he said. "You never know what you're in for until you get into it, but the day I started at the clinic I knew that this is what I was made for."
Upon graduation from The Ohio State University College of Dentistry in 1994, Welsh joined his father's practice. He took over when his father retired the following year.
"It's a lot of fun now to see some of my first patients bring their kids in," he said.
Make an appointment with Dr. Brad Welsh by calling 330-674-4876. He is located at 231 Parkview Drive in Millersburg. For more information, including office hours and an informative blog, visit www.DrBradWelsh.com.