Burns named Orrville's 2020 Citizen of the Year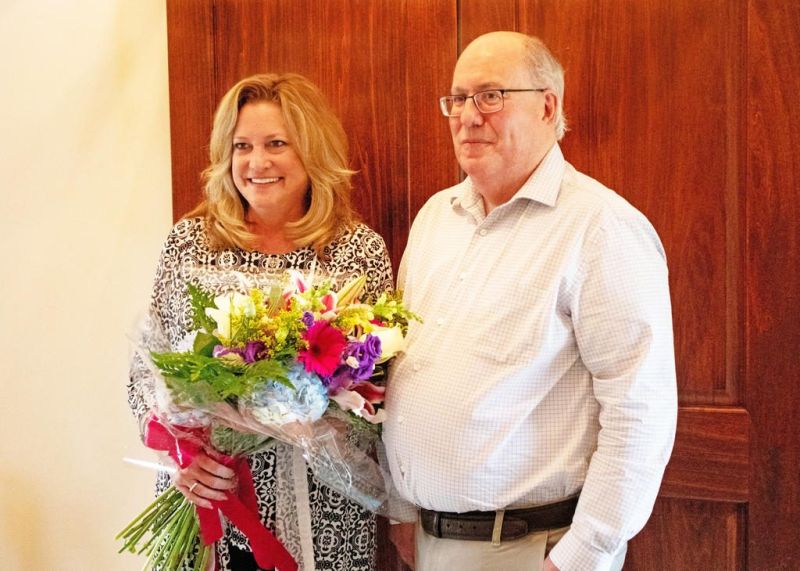 There has been a silent force behind most of the significant community projects in Orrville for the past 30 years.
"When one thinks of service in our community, one often thinks of Maribeth Burns," said Jon Ritchie, superintendent at Orrville City Schools. "Maribeth embodies everything that makes a community like Orrville so very special."
Burns was surprised with the announcement she had been selected as the 2020 Paul L. Powell Citizen of the Year when Tom Poulson, owner of The Bouquet Shop, showed up at her home with flowers on April 29.
Burns said, "The time around the table focused on what we can do for the community is just fun to me. I have truly been blessed to be a part of this wonderful community and to have had the opportunity to work alongside such tremendous people dedicated to making Orrville a great place to be."
Burns will be the 56th Citizen of the Year recipient. It was first presented in 1969 to honor the legacy of Paul L. Powell, owner of The Orrville Courier-Crescent newspaper from 1930 through the mid-1960s. The Dix family established the Paul L Powell Citizen of the Year award to recognize him for his community leadership, journalistic talents and affection for Orrville, his promised land.
The Paul L. Powell Citizen of the Year award will be formally presented to Burns at the Orrville Area Chamber of Commerce's annual dinner and awards celebration on June 24. Tickets to attend the event in person or virtually are available at www.orrvillechamber.com.
"Maribeth has demonstrated the best of the qualities that make Orrville the community that it is today," said Poulson, who served on the Orrville Area Chamber of Commerce Board of Directors with Burns and witnessed her support for Orrville with the redevelopment of downtown in recent years.
Wherever Burns served, she showed those she worked beside that leadership was not just about showing up, but also solving problems, making plans and carrying out those plans.
"I first met Maribeth when she was the community network coordinator at the Orrville Area Boys and Girls Club," Jason Troyer said. "She always pushed us to strive for excellence and always kept us focused on the end goal: the betterment of the community."
An extensive background in management, communications, leadership and service, Burns helped community leaders see alternatives, not roadblocks, and how to define practical outcomes.
"Maribeth may not have realized how highly we valued her presence at the community table," said Jenni Reusser, past president of Orrville Area Chamber of Commerce. "It's impossible to measure the positive impact her presence made in our community."
"I know that I can count on receiving good advice and wisdom when I call Maribeth for help," Becky Jewell said. "When I retired and began volunteering with Rails-to-Trails of Wayne County, Maribeth was always supportive of our efforts and demonstrated her problem-solving skills as she helped bring business leaders together to seek solutions for making trail connections in Orrville."
Burns considers the accomplishments of the Heartland Education Community to be among the most meaningful.
"Maribeth was instrumental in the development of the Orrville City Schools campus concept and bringing technology to the district," Ritchie said. "Her contribution to the Orrville City Schools is almost immeasurable. She has had a monumental impact on the students we serve."