Camp Luz ready for fall festival fun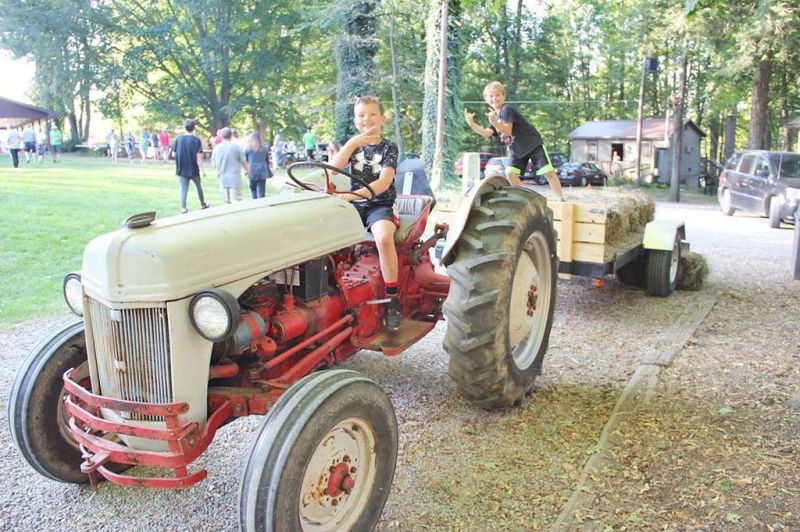 A fundraiser weekend is approaching for Camp Luz, and the staff is inviting everyone to participate in a celebratory Camp Luz Fall Fest Fundraiser Sept. 24-25.
On Saturday, Sept. 24, Camp Luz will usher in its inaugural Buzz at Luz Disc Golf Tournament at the camp.
According to Andrew Michaels, camp director, Camp Luz recently constructed a new disc golf course that meanders throughout the woodlands and open area of the camp.
"The Buzz at Luz Disc Golf Tournament will be the first competition held on our new 18-hole course that we installed late last fall. It's a fun, little course that isn't long but there are some challenges," Michaels said. "Our goal is to bring people together who enjoy playing disc golf."
The Buzz moniker is due to the camp giving out Buzz discs to all its tournament competitors, but Michaels said a more intriguing story line might be he was stung several times while building the course.
The tournament will consist of two 18-hole rounds, the first being the standard course layout and the second a modified layout with several alternate holes and tee locations specific to the event. Players can register for the advanced, intermediate or recreational division, and all participants will receive a Buzz at Luz Tournament disc. Top finishers will receive prizes. The cost is $30.
Check-in will be from 9:30-9:50 a.m., followed by a players meeting at 9:50 a.m. Round one will tee off at 10 a.m., with a lunch break following. Players are invited to pack a lunch or go to a local restaurant. Round two will start at 1 p.m., with the awards ceremony slated for approximately 2:30 p.m.
For more information or to sign up for Buzz at Luz, visit www.campluz.com/disc-golf-tournament.
Day two of the weekend festivities will usher in the annual Camp Luz Fall Fest Fundraiser on Sunday, Sept 25.
"The Camp Luz Fall Fest Fundraiser is our biggest annual fundraising event and includes a lot of family-friendly activities like hayrides, boating, hiking, a fresh apple cider press, craft projects, a scavenger hunt, canoeing and a lot more," Michaels said.
There will be a pulled pork dinner, live music, and live and silent auctions.
Activities will begin at 3 p.m. and go until 5 p.m., with the full-meal dinner beginning at 5 p.m. The live auction will begin at 6 p.m.
"This auction started out as strictly a pie auction," Michaels said. "We have expanded it a bit since, and it isn't a long auction, but it mostly still revolves around pies, and these are pies you won't find anywhere else — pies and some other baked goods made by local bakers who create some pretty special treats. It's a fun event that we want to make enjoyable for people to come and fellowship and to really get excited about the ministry we have here."
Before the auction begins, there will be a presentation for the recipients of the Luz Legacy Award. This will be a special presentation to honor those who have been instrumental to the ongoing growth and mission of Camp Luz from recent years to long ago.
"Luz Legacy Awards are typically presented annually at our winter banquet, but COVID and snow storms have kept us from being able to present these awards the last couple of years," Michaels said.
Michaels said this award is something the camp began eight years ago to recognize and honor those who have given a lot to the ministry. People from the founding generation, some of whom have passed on, are at the top of the list.
"We want to be able to recognize them for their willingness to support the camp and our mission to proclaim the radical hope of Jesus Christ to the next generation," Michaels said. "Even if they have passed on, we would like thank them and their families for their dedication."
Michaels said they also will honor people who have been involved recently and have made an impact in furthering the ministry, whether by being directly involved with the camp ministries and its programs or through financial contributions.
"These are all people who had the vision to make Camp Luz into something that can be used as a tool to reach hundreds of kids every summer and build their faith and even introduce them to Christ," Michaels said.
He said this summer they had 186 campers out of close to 300 make commitments or recommitments to following Christ.
"It's incredible to see that type of commitment coming from our youth," Michaels said. "I've heard people who are concerned about the future of our youth and the church, but I have worked with so many young people and I am amazed by the young people we see coming through our programs. God is still at work."
Michaels said with COVID and the winter storm wiping away their prior couple of events, he is excited to finally give the Luz Legacy Award recipients the honor they deserve. He said these awards tie generations of donors and people who have given to the camp over the many decades.
With the Next Generation Project currently in the works, this fundraiser becomes a critical part of employing that plan so Camp Luz can continue its mission to serve.
Visit Camp Luz at www.campluz.com. The camp is located at 152 Kidron Road, just between Kidron and Orrville.