Colonial Homestead Artisan's Guild to offer classes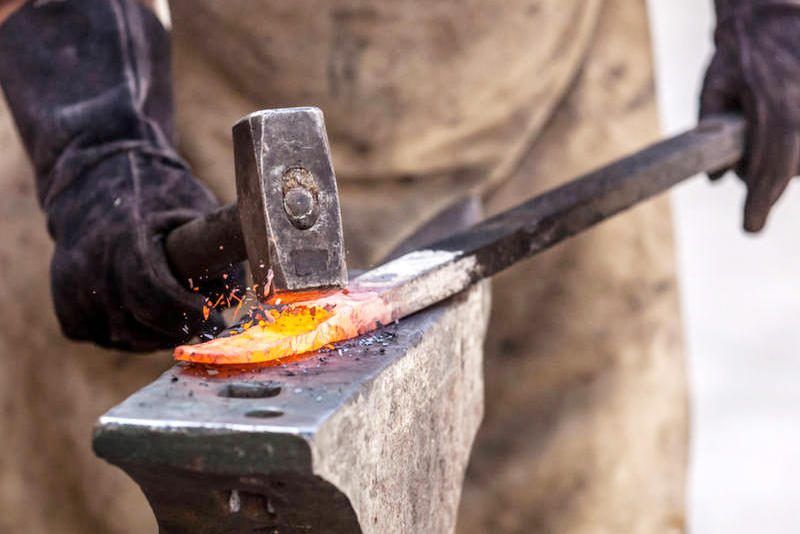 Firmly settled into a permanent home on Jackson Street in Millersburg, Colonial Homestead Artisan's Guild is set to offer classes in many hand crafts seldom known today but familiar to early American ancestors.
After a beginning in meetings two years ago, the guild began offering what Artisan's Guild director Mark Irvin described as "a few scattered classes" near the end of last year. "We hosted open houses at other locations in 2017 and 2018, but we were finally able to settle into our location late last year," he said.
The building, which Irvin owns, was formerly a coin laundry and required extensive renovations to create work space for serious craftspeople anxious to learn or hone their skills.
"The owner of the laundromat was ready to retire, and it became a good opportunity for us to buy and use the space. It's a good location," Irvin said, adding the guild is now able to offer regularly scheduled classes. "We teach skills and trades that would have been common and well understood 200 years ago in Colonial America. They're centered around the use of hand tools and the development of those old skills and techniques."
The front half of the building is set up with 10 benches prepared for the kinds of work for which an artisan can sit and work on projects. "It's there you can learn the basics of hand tools and how to maintain them and work on smaller pieces," Irvin said.
The rear of the building is for heavier work. "We will set up six forges for blacksmithing in that part of the space," Irvin said.
Though not all of the planned classes are up and running, instruction in woodworking and associated skills, tin smithing, weaving, coopering, and other colonial-era crafts are either offered or in the works at the Artisan's Guild. A broad spectrum of instruction is available. "The beginning classes teach the basics of hand-tool use and care and begin to give instruction in building skills in their application," Irvin said.
Colonial Homestead Artisan's Guild is a nonprofit and does not have members but is overseen by a nine-member board of directors that chooses classes and seeks instructors.
"Since we've only been in the building a short while, we haven't done a lot of advertising," Irvin said.
Classes so far have varied in size from two or three people to more than a dozen.
"We will be adding classes for new skills as we find students who want to learn them and the demand is there," Irvin said.
Students for classes have come from a large swath of Ohio including Cleveland, Youngstown, Columbus and Cincinnati.
The cost of classes depends largely on the skill level of the craft being taught. "Beginning introductory classes are about $75," Irvin said. "Classes in more advanced techniques in any of the trades we offer are higher and are priced individually."
A basic class in woodworking will begin Saturday, March 16 at the guild. Woodworking: Dimensional Lumber and Surface Prep will show students how to begin with a rough sawn board and bring it up to an acceptable beginning point for use in a building project.
"If you have the rough board and need to get it to three-fourths-inch thickness and smooth on both sides, we show you how to do that using only hand tools," Irvin said.
March 29 and 30 will see a two-day class in Demystifying the Stanley 45 and 55 Planes.
"The planes get their names from the number of moldings they can produce each," Irvin said. "When you look at it, it can look like a pile of metal. There are multiple cutters that require plenty of adjusting. We'll be learning how to set them up and make them do what you need them to do."
Finally a class scheduled for April 6 will center around the basics of tuning a metal hand plane including disassembly, getting a dead-flat sole plate, blade adjustment and sharpening.
"We get them to the point of making the best possible cut," Irvin said. "You want the tool to do most of the work so you don't have to."
Irvin said help is available for students who may not have beginning supplies or tools.
Sign up for classes at the Colonial Homestead Artisan's Guild website at www.colonialhomestead.org. The guild also maintains a Facebook page.
The Colonial Homestead Artisan's Guild is at 181 Jackson St. in Millersburg.