Community comes alive to support Night to Shine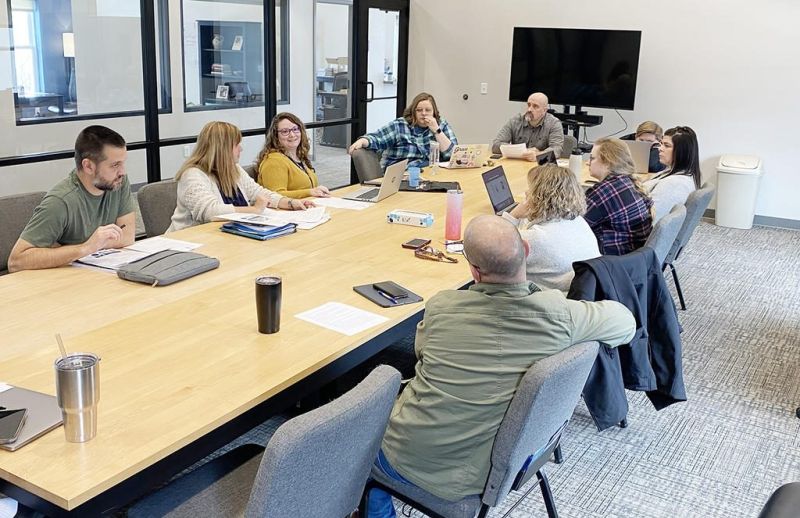 When Tim Tebow created Night to Shine, it was with the purpose of creating a special evening in communities around the world that would allow people with special needs and their families to celebrate in the fashion of prom night.
As Holmes County prepares to host its inaugural Night to Shine event on Friday, Feb. 10 from 6:30-8:30 p.m. at Grace Church in Berlin, one must believe Tebow's vision is being captured as hundreds of volunteers are crafting a night that should be memorable.
"We are ready to make this a special night," event coordinator Kim Miller of Holmes County Board of Developmental Disabilities said.
The Night to Shine committee met recently at Grace Church in Berlin, where the event will take place, and hashed out some last-second details. Miller said the committee owes a great deal of gratitude for a community that has thrown itself behind this event in a big way.
"There is so much to get ready for this event, so many little details that need ironed out and so many different pieces and parts of this night that need organized and put in place," Miller said. "Our aim is to make everything perfect for the attendees before the first arrival sets foot on the red carpet."
Hundreds of details mean hundreds of volunteers, both prior to and on the night of the event. It begins with buddies. Each attendee will be accompanied to the red-carpet event by a buddy who will be with them throughout the evening. There will be volunteers checking coats, parking cars, ticket takers, paparazzi, game operators, volunteers in charge of the food and the parent room, photo booth goodie bags, and setup and tear-down.
With close to 150 volunteers, each pair of hands will help create a night of celebration.
"I think it's awesome that we have so many volunteers," Grace Church Pastor Chad Stutzman said. The sheer volume of volunteers is amazing and will help make this event more exciting and memorable."
There also will be some professionals on hand who have dedicated their service to the party. Revamp! Salon and Day Spa is coming to do hair. Terry Logsdon will provide karaoke, photographer Martha Stutzman will provide professional photos for all attendees and there will be a photo booth.
Videographer Bronson Allyson will be present to record the evening's festivities, limo rides will be available, disc jockey Zech will play music, there will be a gigantic balloon display, Deb Schrock will create balloon animals, there will be swag bags for attendees, and the crowning achievement will be the crowning of each attendee as queen and king for the night.
An event this large takes a big facility, and Stutzman said when he was approached about the idea of hosting Night to Shine, it took next to no time to answer yes.
"We have some folks with special needs who attend here at Grace, and they reached out to me and asked if we would consider hosting," said Stutzman, who already knew about Night to Shine, having been involved with hosting the event at another church several years ago.
He knew right away the church would be interested and quickly got on board with an evening devoted to celebrating those with special needs.
"We know we have a lot of special needs families in the area, and we have a lot of space here to host something this big, so we felt really good about partnering with Night to Shine to host the event," Stutzman said. "It was a pretty easy decision."
Stutzman said financial support has come in better than expected, and he said with the passion and commitment the BDD and many volunteers have shown, Grace Church is prepared to make a long-term commitment to this endeavor.
"It's a great community event, and we are honored to be able to bless people with special needs and their families with this wonderful night of celebration," Stutzman said.
While Night to Shine was created to be an avenue for people with special needs to unite and celebrate together, it also serves as an evening of respite for parents of people with special needs. The parents will have their own separate area in Grace Church where they can dine, mingle and celebrate together.
Miller said seeing the support coming from throughout the community is inspiring because the community understands the value of recognizing the gifts and celebrating the joy of people with special needs.
"This is something at the heart of so many people, and we are so touched that so many people have shown such a great desire to help wherever possible," Miller said. "People just keep showing they care."
She said building a relationship with Grace Church and witnessing their excitement to play a leading role in Night to Shine has been a blessing, and she is thrilled the partnership looks like it is set up to host the event for many years to come.