County Home eager to present special 50th anniversary auction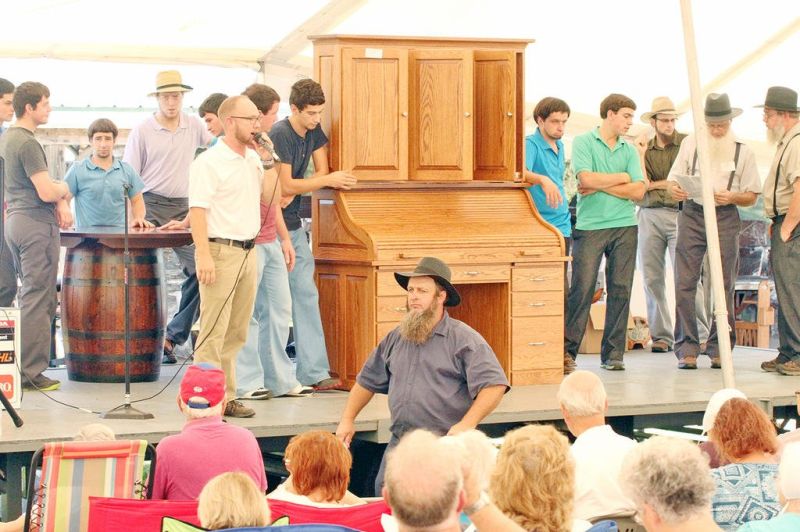 Every year the Holmes County Home Benefit Auction helps raise funds for the facility to provide the very best care and living quarters for its residents.
However, this one that will take place Saturday, Sept. 18 is a big one for several key reasons.
The first reason is this year's auction returns after the County Home had to cancel last year's event due to COVID-19. The second reason is this year's annual event marks the big 5-0, the 50th anniversary of the auction. Finally, it also is the last time longtime Holmes County Home Auxiliary committee chair Aden Hershberger will serve in that capacity. Hershberger will step down this year after heading up the event for years, turning the reins over to Roman Miller.
"He's the guy I'm training to replace me, and I'm sure he'll do a better job than I ever did," Hershberger said. "I've served as coordinator for 11 years, and while it was a difficult decision to step down, I felt now was a good time. I certainly won't completely disappear because the County Home is a big part of my life and I care deeply about seeing it succeed."
Miller has served on the board for several years and said following in the footsteps of Hershberger won't be easy, but both men agreed that with many people involved in the auction, it makes for much lighter work for all involved, especially the chairperson.
"I've been blessed to work with an excellent group of people over the years," Hershberger said. "It makes doing this a real blessing."
Included in those people are the many individuals and business people who donate to the auction each year. The committee has a group pf volunteers that canvass the Holmes and Wayne area to drum up donations of all types of items. From larger items like sheds, mowers and bedroom suites to smaller donations like clocks, knick-knacks and electronics, people have given.
Hershberger said on the heels of missing last year's event, people have been even more generous in their giving to this year's auction.
"First and foremost, we are grateful to be able to have the auction again this year," Hershberger said. "It was a tough decision to not have it last year, but it was the right decision. We are so eager to get back to it, and we are incredibly blessed to have the kind of support we receive from our community."
The event itself should look just like it has in the past many years, the auxiliary board going by the "if it isn't broke, don't fix it" train of thought.
While the big auction won't take place until Saturday, Sept. 18, the fun officially kicks off the night before when the County Home grounds will have portable lights shine on hundreds of volleyball players as they play well into the night. In addition, there will be a fish fry, kettle stew, soft pretzels, homemade ice cream and bake sale beginning at 5 p.m., ushering in a night of frolic and volleyball action that draws an enormous crowd.
"That volleyball tournament is pretty amazing," Hershberger said. "We have a lot of great teams, but the crowd that comes to watch is huge. It's really a fun and relaxing night."
Saturday will kick off at 7 a.m. with a full-course breakfast that has to be seen to believe. At 8 a.m. the bake sale will begin, along with a silent auction that will operate from 8-11 a.m.
There will be several auctions going throughout the day, with the miscellaneous and furniture auction starting at 8:30 a.m. A second miscellaneous auction will begin at a second location at 9:30 a.m., with specialty items going up for bid at 12:30 p.m. Close to four-dozen hand-made quilts will become the center of the bidding world's attention at 1 p.m., and at 1:30 p.m. the lawn furniture will hit the auction block, followed by barns, buggies and other bigger ticket items.
Some of the more intriguing items at the auction will include a 32-by-48-by-10-foot building with a 6-foot overhang, complete with metal roof and sliding doors. It will be built onsite for the high bid. There also will be a large timber frame pavilion with concrete, an open buggy, a pair of e-bikes, a walleye trip to Lake Erie and a new riding mower.
To cap off the auction, the kids' auction will take place at 2 p.m., allowing kids to bid on some fun items with their parents' supervision, and some can even take a crack at becoming a young auctioneer during the event.
"That's a really unique part of our auction that you don't see anywhere else," Hershberger said. "Some of the kids are braver and take a crack at doing some auctioneering, which is always fun. But they really enjoy being able to bid on something that captures their fancy."
For those hoping to grab a bite to eat while they bid, the barbecue chicken dinner with a complete meal of noodles, potato salad, pie, ice cream, sausage sandwiches and more will start at 10 a.m. All of the food at the event will be by donation only.
"There is absolutely no reason to leave hungry," Hershberger said.
Deb Miller, Holmes County Home executive director, said she can't express enough gratitude for all who help make the auction a success.
"The volunteers and this entire community step up in such a big way, and the work they do is amazing," Miller said. "The auxiliary committee has always stepped up, and we know they have lives outside of this event, but when it comes to preparing for this auction, they pour their hearts and souls into making sure we are able to provide the things our residents need."
The funds from the benefit go directly into providing for the needs of the residents, from necessary equipment, building improvements, additions, Christmas presents and special events to many smaller ways they can pamper the residents. Miller said they have looked into creating a media room for the residents.
"It's all about our residents, and we appreciate everyone's efforts in making this a success," Miller said.
One change in this year's event is the County Home will not provide home tours due to COVID-19 concerns.