Dennison Railroad Festival returns June 1-4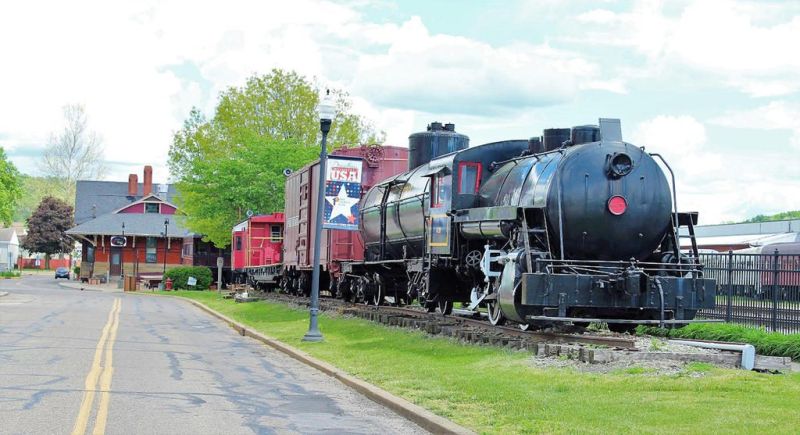 The members of the Dennison Railroad Festival Committee have been working hard to organize the 43rd annual festival, but there is one thing that hasn't been a problem.
"We didn't have any trouble getting sponsors. We have very faithful, very loyal sponsors. We can usually count on the same ones," said Beth DiDonato, co-chair of the Dennison Railroad Festival Committee along with Diana Smith.
Because of COVID-19, last year was the first year the new committee was able to hold a festival. The committee has heard many comments from the community about the 2021 festival. People enjoyed being able to get out and be around others again.
The festival has a long history of providing entertainment and a chance to visit with neighbors and friends.
DiDonato is pleased the festival is able to return to having the kiddie peddle pulls. There will be a free petting zoo available for kids and rides again this year.
"We like providing a good time for the community, something that they can come to with the family, and that's what I look forward to," DiDonato said.
The arts and crafts booths will be back this year, and they will be set up in the area across from the Dennison Railroad Depot for the entire festival. Last year was the first year for arts and crafts, which were set up in the parking lot at MHS Hardware.
"We got a lot of food vendors this year. There's a beef stand, a cheese stand, ice cream, of course, Dirusso's (Italian sausage) and lemonade. We've got a fish stand that was there last year. We'll have some fried veggies. And then on Saturday, of course, the firemen do their chicken barbecue to raise funds for the fire department," DiDonato said, adding there will be more food stands available than just the ones she named.
The queen contest will return to the festival this year, and the princess contest was dropped.
"We decided not to do (the princess contest) when we found out from the festival and events association that a lot of the festivals don't allow princesses to attend," DiDonato said.
The queen will have the opportunity to travel, learn about other communities in the state, meet new friends and gain experience speaking in public as she shares information about the Dennison festival with others.
Kent State University at Tuscarawas is sponsoring a $1,000 scholarship for the winner of this year's Dennison Railroad Festival Queen Contest.
The contest is open to female students age 15-18 from Claymont High School, an adjoining school district or residing in Tuscarawas County.
No special talents are required to represent the Dennison Railroad Festival. The queen contest consists of a private interview with a panel of three judges and a two- to three-minute speech on stage.
The queen contest will be held Wednesday, June 1 at 5:30 p.m. on the gazebo stage. For an application or more information, call Diana Smith at 330-447-6569 or email dismith0621@yahoo.com. The application deadline is Monday, May 30 at 9 p.m.
The members of the Dennison Railroad Festival Committee are Beth DiDonato, Diana Smith, Michael Brindley, Dawn Flanagan, Celeste Golec, Mary Dunfee, Derek Kohler, John Rypien, Connie Hillyer and George Flanagan. Greg DiDonato, former festival president, continues to assist the committee as needed.
The festival schedule is as follows:
Wednesday, June 1: Midway opens at 5 p.m., queen contest at gazebo stage at 5:30 p.m., Park Christian Church worship team at gazebo stage at 6 p.m. and Acoustified at railcar stage at 7 p.m.
Thursday, June 2: Midway opens at 4 p.m., Wes Shyrock at railcar stage at 7 p.m. and Jon Doe at gazebo stage at 7 p.m.
Friday, June 3: Midway opens at 4 p.m., open mic at railcar stage at 4 p.m., Kodachrome Babies at gazebo stage at 4 p.m., registration for kiddie pedal pulls at gazebo stage at 5 p.m., coloring contest winner announced at gazebo stage at 6:30 p.m., John Schmid (Johnny Cash tribute) at gazebo stage at 7 p.m. and System Rewind at railcar stage at 7 p.m.
Saturday, June 4: Five Mile Run and Bob Dyson 1.5 Mile Walk/Run at 9 a.m. with registration at 8 a.m., the mini "Jock Around the Block" at 10 a.m., midway opens at noon with the car show hosted by Dennison Rotary across from the gazebo stage with registration at 10 a.m. and judging at 12:30 p.m., Ron Retzer Trio at gazebo stage at 4 p.m., Brother's Ohio at railcar stage at 4 p.m., free petting zoo at 4 p.m., The Moonlyterz at railcar stage at 6:30 p.m., and 8 Track Band featuring Elvis at gazebo stage at 7 p.m.
Dennison Rotary photo contest will have photos on display from June 1-5 in the Dennison Public Library during normal business hours.
The new festival committee is working to build up their resources.
"We're still in the process of having funds to operate from year to year right now," DiDonato said. "But as we get money and build up a little bit, we definitely plan to give back to the community. That's what our plans are, but right now we're still just trying to keep our heads above water to keep the festival going."
Volunteers also are needed for a variety of jobs at the festival including manning the information booth. Visit Dennison Railroad Festival on Facebook for more information.