Director Cicconetti ready to go 'by the numbers'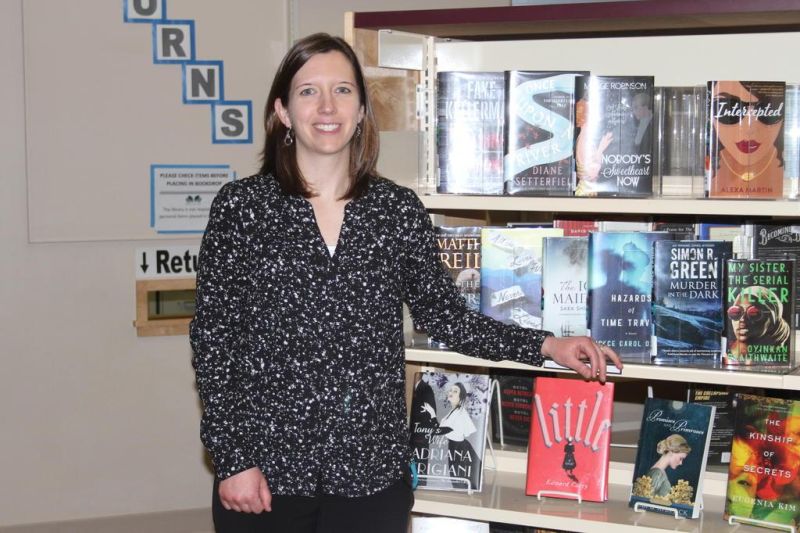 For new Holmes County District Public Library director Paula Cicconetti, a background in numbers should provide a new and exciting insight into the future of the Holmes County Public Library's direction moving forward.
A certified public accountant with an accounting degree from Grove City College in Pennsylvania was what brought Cicconetti on board with the Holmes County District Public Library as it fiscal operator.
Her behind-the-scenes knowledge that she has gained will serve her well as she tackles this new challenge as the library's director, and she believes her background in numbers will only help serve the library in a very positive way.
"At the core it is all business management, so I believe that having a firm grasp on the financials will only help in running the organization," Cicconetti said. "I have had a wonderful opportunity to see the library from the inside, to see where every penny is spent and to have a working knowledge of the budget and what drives our costs, and it helps put things in perspective as we weigh who we serve and how much it is going to cost to provide a service."
The district stayed in-house in appointing Cicconetti as its new director. Because she had been serving as the interim director since May and fiscal officer for the past 10 years, Cicconetti's move to full-time director should be a smooth transition after she was awarded the position during the Holmes County District Public Library's January board meeting.
"I'm excited to have the opportunity to continue the many positive things that are taking place at the Holmes County Library," Cicconetti said. "Since coming on board here, I feel very invested in the organization, and I look forward to doing more than just contributing by paying the bills and taking care of the budget. I am excited about continuing our tradition of providing quality library service to county residents."
Cicconetti had been serving as interim director since Bill Martino resigned the position in May 2018, and she has high hopes of continuing the growing list of programs the library is able to provide Holmes County citizens.
"The longer I have been here, the more it begins to become clear that steering the future direction of the library is something that is very interesting to me," Cicconetti said. "I can't say that I started out here with that intention, but the longer I was here and the more working knowledge I gained as part of the library, I began to have more of a vested interest in taking on a bigger role."
Cicconetti said Martino had done a great job in structuring some new ideas and building new programs that have helped the library maintain its commitment to serving the community in an ever-changing world of how people choose to get their reading material, movies, music and more.
"Bill had done some great things, so my hope is that I can continue to build upon that momentum," Cicconetti said.
Libraries today aren't what they used to be in the old days when families came in and visited the library to check out books. In today's world people are looking for convenience, downloading e-books on the internet and looking for ways to obtain reading, movie and music material with the click of a button from their home.
Cicconetti said continuing to find ways to connect with those types of people and making inroads with other area organizations continues to be a key.
"As far as libraries evolving, e-content is very popular, and people are getting into that, so they are looking for libraries to provide that kind of content," Cicconetti said. "One of our challenges we face will be to maintain two sets of material, one being maintaining our physical books and our other material here at the library while at the same time creating that e-content on a limited budget. There is that balance of providing for the needs of the community while staying current and remaining within our budget. E-content has changed the way libraries operate, and it is important for us to stay connected with that aspect of our services."
Whether it is at the Main Library or through the East branch in Walnut Creek, Cicconetti said finding creative ways to connect with the public will continue to be a major goal for the library. In addition, with a large Amish population in the county, utilizing the Bookmobile will continue to be a crucial element to the library's ongoing success.
One such recent effort to meet people's needs was connecting with Hiland High and Middle School, where librarian Lori Pringle has developed a strong relationship with the district library under Martini.
Last year they created opportunities for students to place holds on material and have it delivered to the school for easy pick-up. Cicconetti said that while it isn't a full-fledged branch, it does serve as a convenient pick-up location. She said there also is a book-return deposit at the school, allowing people to use it as a drop spot.
"The convenience factor will be a huge part of what we want to create with the community," Cicconetti said. "That is something we want to continue to focus on as we move forward. We realize that today convenience is a huge factor for people, and we do have fewer branches than we have had in the past, so if we are able to branch out and make connections in other ways, we hope we can fill the gaps where we have closed some of our branches. Partnering with other existing organizations will be the key."
From encyclopedia salesman in the days of yore, to people visiting the library in person, to today's world where they have material available at their fingertips, the way people receive material has definitely changed. What hasn't changed for the library has been its desire to be able to provide that material as the world changes.
Cicconetti grew up in Fredericksburg, graduating from Waynedale High School before heading off to complete her college experience at Grove City College. She worked at a regional public accounting firm for several years before finding her way to the fiscal officer at the Holmes County District Public Library. She currently lives in Lakeville with her husband and two children.