Eagle Scout project benefits community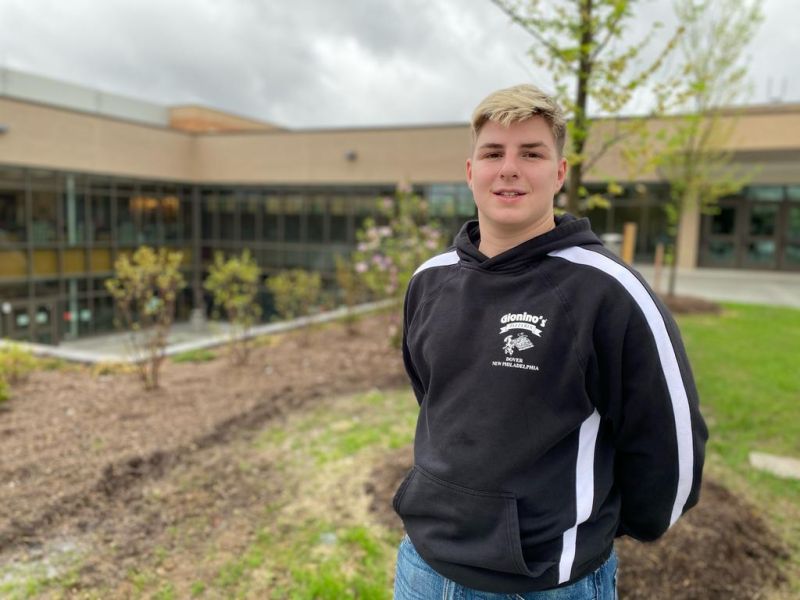 When newly minted Eagle Scout Ty Amos of Dover speaks of his achievement, he uses words like honor, duty and mentorship.
Amos, who began as a Cub Scout in first grade, just completed his project to fulfill the requirements of the highest award in Scouting by cleaning up and regrading Snake Trail at Dover City Park. He is now 17, a junior at Dover High School and a member of Boy Scout Troop 95, led by Roy Montan. He is the son of Todd and Gina Amos of Dover.
"It started when I saw a presentation at school by the Boy Scouts when I was in first grade," Amos said. "They talked abut all the activities you can do, the merit badges you can achieve, and I started into Cub Scouts right away. I've been in Scouting ever since."
There was another reason the Scout presentation appealed to Amos. His older brother, Tanner Amos, was among the presenters. Tanner Amos achieved Eagle Scout in 2018 and has been a mentor and cheerleader to his younger brother along the way.
"Once he completed his Eagle Scout award, my brother pushed me to get mine also, to achieve the highest honor as he did," the younger Amos brother said.
Amos' Eagle Scout project winds up a long-term project at Dover City Park completed by Eagle Scouts. The four walking trails at the park have all been the projects of Scouts, and Snake Trail was the last. "It's the longest and hardest of the trails," Amos said.
Amos and his troop fellows, along with a little heavy equipment help from his father, cleaned up Snake Trail from end to end, then laid a fresh layer of gravel over the bed. "It's a trail that sees a lot of use by the public," Amos said, "and also by the Dover cross country team."
The other three were finished, leaving just Snake Trail to be done. Doing the project met the requirements for an Eagle Scout project, in that it is beneficial to community, school and church, all of which use the trail throughout the year.
Amos said he has stuck with Scouting from the beginning because of the many opportunities it has afforded him to better himself.
"There was summer camp, for sure," he said, "and all the merits badges you can earn. And the Pipestone award, which is a great honor to achieve, isn't something all Scouts are able to do. Many of the kids drop off along the way. They lose their passion and drive for it. But achieving that end goal is a great honor."
Amos has earned his fifth-year Pipestone award at summer camp, the highest level offered.
"My family has been very supportive of my work in Scouts," Amos said. "They have always been there for me. My dad was a big help with my project as well."
All of the materials for the project were donated including gravel from Soehnlens Sand and Gravel of Beach City. He also was helped with heavier equipment by Victor Huff from Huff Concrete and Jarred Robinson from South Eastern Equipment.
"We also got pizza from Gionino's," Amos said.
After graduating from Dover High School next year, Amos has already laid plans for future hard tests of his courage and abilities. "I plan to enlist in the Navy," he said, "and enter the Special Forces."
His parents are a little wary of such a decision, but Amos seems adamant. "I am very interested in serving in the Navy," he said, "and Special Forces, like Eagle Scout, is the highest level of achievement you can reach."