Realtor auction to benefit local cancer relief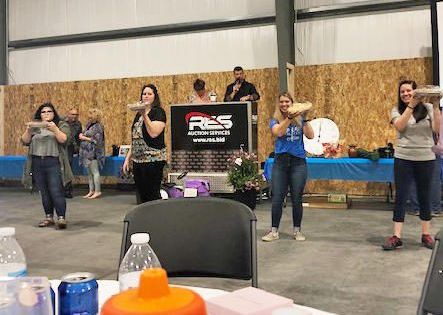 In cooperation with Certified Angus Beef, the Wayne-Holmes Association of Realtors will hold its 22nd annual auction on Wednesday, Oct. 6 with proceeds benefiting the local chapter of the American Cancer Society, as well as Wooster's own philanthropic cancer organization, Whit's End Community Place.
This is the first time in the 22-year history of the auction that it's being held in the fall, rather than its usual springtime date, said Roger Kamp, a realtor with RE/MAX Showcase in Wooster and co-chairman of this year's auction, along with fellow RE/MAX realtor John Meyer.
"Our committee began meeting in the spring," Kamp said. "This is actually the first time we are having a fall auction. It is normally held in the spring, but in 2020 no auction was held (due to the COVID-19 pandemic), so we decided it would be best to give it more time and plan for a fall auction. Our committee is very excited to be able to offer a fall auction and see what differences — if any — we notice."
This year the auction is being held at the RES Yard property, located at the intersection of Fry Road and U.S. Route 30 (across from Church of the Saviour), just west of Wooster. Kamp said there will be plenty of room to social distance, with an environment that will be safer for everyone amid the continuing pandemic.
"The RES auction facility is a large venue, and tables will be kept spaced as best as can be," Kamp said. "Weather permitting, the doors will be open, and good ventilation flows through the building."
A wide variety of items will be up for bid during the evening sale, which is set to begin at 6 p.m. Kamp said the majority of the money raised will be donated to Whit's End Community Place because the realtor auction is the nonprofit organization's main source of funding.
"The auction consists of all donated items with a very wide variety," Kamp said. "From home-baked pies, to holiday décor, to condo-vacation packages, we have something for everyone. The doors open at 5 p.m., and food and drink will be available."
Certified Angus Beef will offer hamburgers and hotdogs while the realtors provide salads, sides and beverages, all free of charge.
"We have something for everyone," Kamp said, "and this being a fall event, we are excited to see what new ideas this brings. We have home-baked pies and cookies, sporting-event packages, restaurant gift cards, dinner packages, flowers, gift baskets, a week-long condo stay in Siesta Key, Florida and much, much more. I guarantee there is something for everyone."
But the best part of the realtor auction comes after the bidding is done, when the money raised from the event goes toward the local chapter of the American Red Cross and Whit's End Community Room.
"Our main cause has always been to support cancer," Kamp said. "We have been large supporters of Relay for Life, the American Cancer Society and most recently have begun supporting Whit's End, a support group for cancer patients, caregivers and families."
All ages are welcome to attend the mid-week event on Oct. 6. Doors will open at 5 p.m., with the auction set to begin at 6 p.m. Cash, checks and credit cards are all accepted forms of payment for winning bids. For an up-to-date list of the dozens of items up for sale, visit the auction's Facebook page at www.facebook.com/WayneHolmesReal.