New home beckons HCA students, staff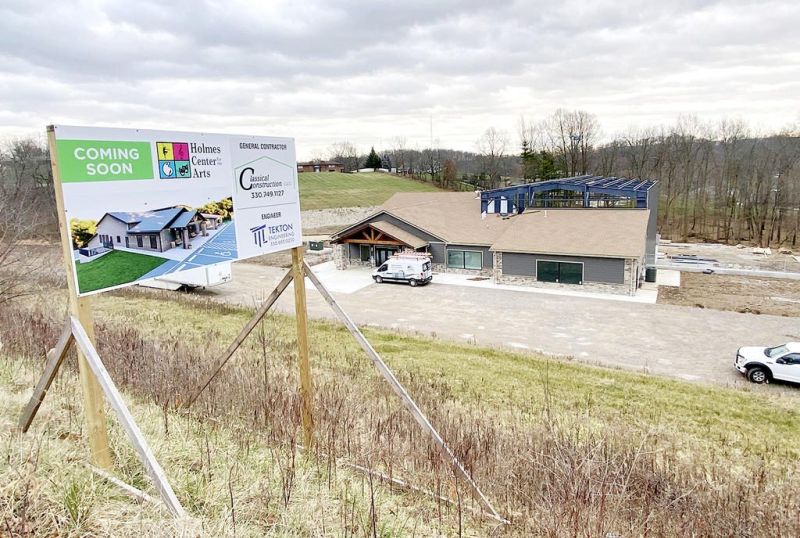 For years Holmes Center for the Arts has provided youth and adults with an opportunity to pursue their passion for the arts, whether it is through acting, singing, dancing, painting or many other forms of art.
That they have done so in a former church building is amazing, and while they appreciated being given a place to call home in Millersburg, there is something special about teaching, learning and performing in your own place.
A place to call its own is exactly what HCA is focused on in 2022. With a dedicated fundraising effort for the past couple of years, the HCA raised enough funds to build its own home, and this marks the year it will start teaching classes and giving performances in its new building on state Route 39 just west of Berlin.
"We are beyond excited to announce that registration for our winter semester is now open, and we will be teaching in our new building," said Holley Johnson, HCA executive director. "This will be our first-ever semester in our new place, and we are so excited about the opportunity before us."
While the HCA initially planned on building both the classrooms and the multi-purpose performance space that will serve as the performance area, the arrival of the pandemic put much of the plans on hold as the price of building supplies skyrocketed. Fortunately, they had everything in place to complete the classroom section, thus allowing the HCA to open the doors to its students this Jan. 17.
"We had to make some tough decisions, but we felt it was extremely important to get these classrooms completed first and foremost," Johnson said.
The fundraising continues to complete the multi-purpose room, which will only enhance the company's capabilities, but for now Johnson said they are excited about getting the future of HCA off and running in its new building.
"We know we have a couple of tough weeks ahead of us in getting everything for the Jan. 17 opening," Johnson said. "It's kind of like moving into a new house where everything is crazy, so it's both exciting and nerve-racking."
She said a group of volunteers moved all their equipment from the old building into their new home, putting it in the storage room until workers could complete the building. She said they will have one frantic week where they will place everything in order before classes.
"It's a little overwhelming, but it is so amazing to be taking this step in the HCA's progression," she said.
Johnson said this building was a massive community effort from start to finish, and she said that is encouraging because they built this building and the programs for the community.
"It's a gift to the community, and I hope they come in and see it as theirs," Johnson said.
The completed classroom portion of the building includes two dance studios, a music room and an art room, and more classroom spaces will be provided once phase two is complete. While the performance studio will eventually allow them to present shows at their own facility, she said the HCA will continue to present larger productions at bigger facilities in the community.
Johnson said HCA has several new and exciting class offerings in addition to the usual slate of favorites. One of those new additions is offering art classes and other courses for home-school, after-school and adult students.
New to the bevy of classes this year is an adult yoga class that will be offered at the same time as the Thursday Creative Movement class for age 3-5 from 9:30-10:15 a.m.
"This is a great chance to get some exercise and meditation in your day while your toddler learns some new moves," Johnson said.
She said they already have three dance classes full, but there are many more opportunities for both youth and adults.
What has her excited is the cast of teachers who have joined the HCA staff. From violin and ballroom dancing to artists, sculptors and even tumbling, HCA has drawn gifted teachers from near and far who want to become a part of the growing process.
"We're seeing artists coming from here in Holmes County as well as those willing to travel who want to teach here," Johnson said. "I think they are excited to be a part of something fresh and positive that presents quality programs. Sometimes that isn't easy to find. I think we provide a place where the administration, teachers and students all share the same great passion."
Not only do youth involved with the classes learn their specific talent, but also they can grow in confidence and self-esteem. Johnson said she's seen many of her younger students come out of their shells as they grow and gain passion for what they are doing.
"It's been exciting to see the maturation process take place and see their personalities blossom as they learn how to express themselves," Johnson said. "They get to work in a structured environment and create and learn with others who share their passion, and that social aspect is important."
She said providing an outlet for adults to learn and perform also is a blessing for the community members.
Registration for HCA classes is now open, and those who wish to sign up and reserve a spot may do so by visiting www.holmescenterforthearts.org, where all of the available classes are listed with bios of the teachers who will guide each class. Those unable to sign up online can call the HCA at 330-473-2879.