Wayne County program supports job seekers, companies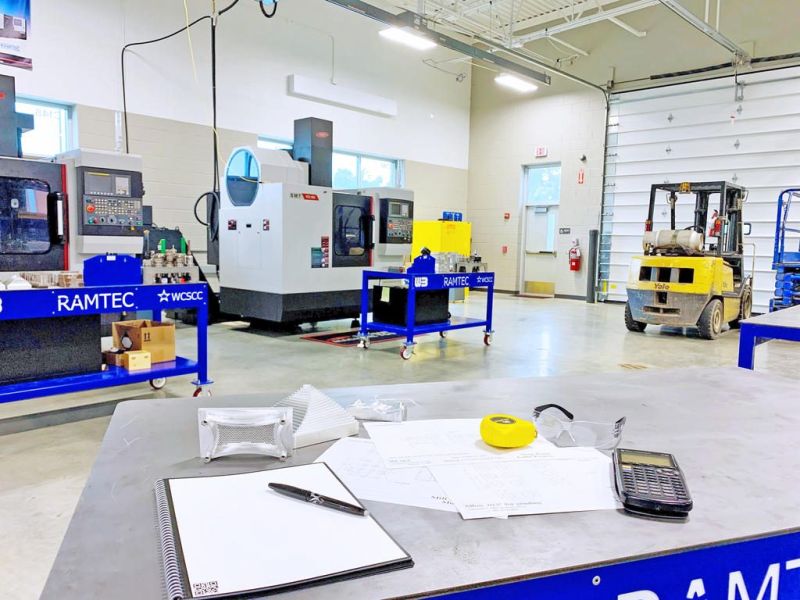 This summer 643 manufacturing-related job openings were posted in Wayne County. Even during a time when other industries are seeing high unemployment, it still turns out finding qualified candidates to fill these jobs across multiple companies is easier said than done.

A new program was established to meet this need through a partnership with Wayne Economic Development Council, the Wayne County Schools Career Center's adult education and Ohio Means Jobs. The Fast Track Production Tech program was created in collaboration with Schaeffler and Gojo, both located in Wooster, based upon their need for filling entry-level job openings in multiple areas.
"Schaeffler and Gojo are growing quickly at this moment. We're always going to be looking for additional companies as well," said Tom Pukys, president of Wayne Economic Development Council.
Pukys said this job-training program will help cultivate stronger job candidates for a wide range of manufacturing companies, not just the two partner industries noted.
"This training was designed to take individuals that have never worked in the manufacturing environment and enable them to gain a position within manufacturing and be equipped with the knowledge to work in that environment safely. This was designed with input from industry to meet the needs that they have seen in their workplaces," said Lynette Boggs, supervisor of career and technical education at the Wayne County Schools Career Center.
What resulted is a 36-hour comprehensive training that includes an OSHA general industry certification, as well as important industry-specific skills. The program emphasizes soft skills such as work ethics, communication and accountability.
That said, the goal for the program is that the participants will get interviews for jobs. "We're trying to hold onto our talent. You always hear about the brain drain. We want to hold onto as many kids as possible who are graduating," Pukys said. "I am actually not familiar with another program like this. It's uncommon to see a program designed like this one. It's an excellent example of a public-private partnership."
Creating a job-training program can be a challenge; a big barrier can be finding the right funding source.
"What's really great about this program is the funds we have available through a special grant. What makes it different is we've been able to strip away many of the eligibility criteria that are usually attached to our program," Crystal Brown of Ohio Means Jobs said.
Normally, applicants to any job-training program would need to meet strict income requirements. Now the only requirement is to be a resident of Wayne County over 18 years of age, authorized to work in the U.S. and have a driver's license or state-issued ID.
Although the tuition for the program is listed at $525, this session of the program will be offered free of charge. "We wanted to eliminate as many obstacles as possible. We're even offering gas cards. We didn't want transportation to be a barrier," Pukys said.
Another challenge that can make it difficult to create a job-training program such as this is bringing together the sheer number of partners involved. In addition to the aforementioned partners, others involved in creating the program were Tri County Educational Service Center, Ohio Governor's Office of Workforce Transformation and Ohio Department of Education. Bringing together eight partners from both the private and public sectors can be slow moving at best. At the same time, a willingness to get input and support from so many partners has led to a robust, high-quality program for job seekers.
One factor that enabled the team to overcome these difficulties is that the Fast Track Production Tech program is building on other successful programs that were developed over several years.
"This program is a culmination of several things. Together, with the career center and Schaeffler, we created a CNC program last year. Schaeffler needed more CNC operators. We were both asking, 'How do we capture these high school students who are graduating but don't have college, the military or a job lined up?'" Pukys said. "Then we created Manufacturing Day to give students tours of manufacturing facilities in the county. Plus, we developed a career expo. It probably has 30 businesses targeting kids who went to Manufacturing Day. Now this new program is an opportunity to streamline things."
Brown also was satisfied to see efforts coming together in this new program. "We're really excited to see this coming to fruition," she said. "I think it's great to have the full circle, starting with the job seeker who attends the program and interviews with the company at the end. It's a win-win for both sides."
The program will begin Oct. 5. For questions call Bruce Steiner, Wayne County Schools Career Center adult education, at 330-669-7070.