First all-female Scouts BSA troop to start in Holmes County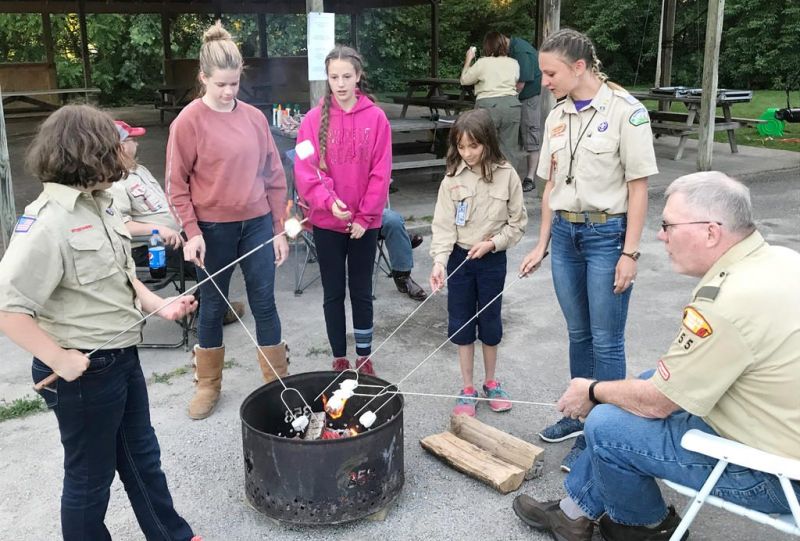 The fire was roaring, the s'mores were being built and a nighttime movie was on the big outdoor screen at Hipp Station on Friday, June 14 when a gathering of potential Boy Scouts of America troop members spent a night together having fun.
The one big difference on this night was all the young participants were girls.
Not long ago girls were only allowed to participate in the BSA's older youth programs, Venturing and Exploring for 14- to 20-year-olds. That changed in 2018 with girls joining in droves in the Cub Scout program, geared for kindergarten through fifth grade.
As of February 2019, girls were welcomed into the older youth program, called Scouts BSA, which is designed for all youth between the age of 11 and 17. The all-girls troops will feature the same structure and organization that all BSA troops have always had since founded in 1910.
"It's an exciting time for girls to be involved in the Scouting process," Killbuck District executive Brooke Johnson said. "It is a historic moment, and we are excited to be able to offer our area girls this chance to expand their Scouting experience. We know it is going to be a process, just like anything new. So our hope is to initially get 10 girls in the club, see them get excited about what we are doing and then they in turn begin to invite their friends to join."
The all-girl Scouts BSA troop will begin meeting each Tuesday at 6 p.m. at the fairgrounds, where they hope to see a groundswell of participants as the weeks progress.
"Once we get into it, the goal will be to have the girls begin planning their own meetings and running them on their own," Johnson said. "One of the nice things about Boy Scouts of America is that it is very youth-led, so it promotes leadership and organizational skills."
These new girls will have an opportunity to be a part of the first Eagle Scout class, which is the highest achievement a youth can reach in the Boy Scouts of America. Youth will camp, hike, fish and participate in a multitude of other outdoor activities. Over 130 merit badges can be earned, teaching youth leadership skills that will help them regardless of what career field they choose to go into as adults.
With a curriculum based on ethics, morals, leadership and hard work, Johnson said the opportunity now available to girls is an exciting one, not just in Millersburg, but also in Holmes County as a whole.
"While we want to start with 10, we are hoping to see this grow and grow, and we would love to see this include as many girls as possible," Johnson said.
Scott Biltz, one of the adult leaders who organized the Scouters of Holmes County coalition, said the newly formed group is taking steps early on to help promote the values of Scouting.
"It's about promoting the idea of getting more kids out of the house and into the great outdoors and outdoor education," Biltz said. "The all-girl troop we are going to charter is an exciting addition to the rest of the very active Scouting troops we have in Holmes County. Our goal is to simply reinforce and encourage youth to get involved in what we believe is a terrific program."
For the girls, the opportunity to achieve an Eagle Scout ranking is one of the big draws to join Scouts BSA. The other is that it provides some unique learning experiences that were not present for the GSA.
"It gives us more to do than just being in the Girl Scouts," said Sydney Krownapple, a GSA member who is looking to expand her horizons. "There are a lot more outdoor activities, and this opens up some fun activities that we never had before."
While Krownapple and others are considering joining Scouts BSA, they are quick to note that it doesn't mean they will dismiss their involvement in the GSA.
"It's going to be in addition to the Girl Scouts," Krownapple said. "I still want to work hard to get all of my Girl Scouts awards."
Families in Holmes County interested in joining the ranks of history are welcome to email Johnson at brooke.johnson@scouting.org or call 330-362-2233.