Fish Ohio Outfitters land at NE Ohio Sportsman Show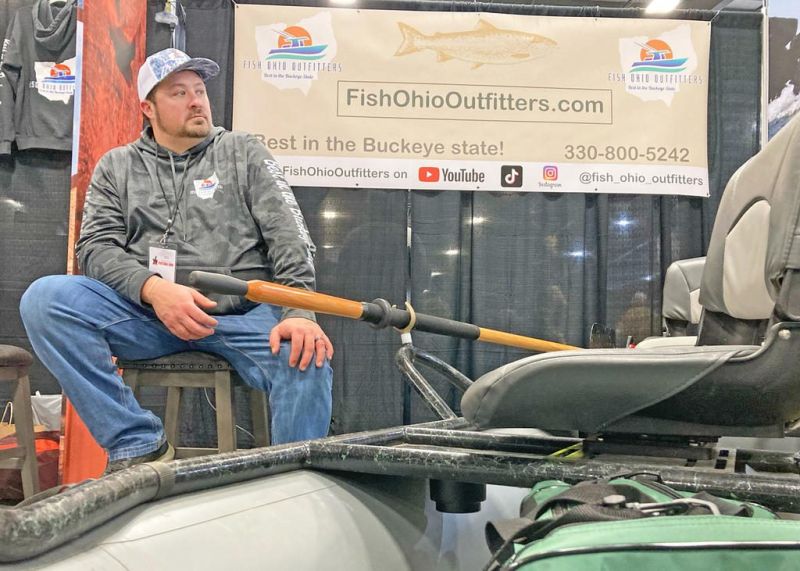 At first look you would think Josh McQueen was a football player growing up in Utica or at least a catcher or first baseman on his Little League team. But no, McQueen had other interests as a child, and those led to his profession of being a professional fishing guide and co-owner of Fish Ohio Outfitters.
McQueen and his partner Aaron Kline started their business in August of this past year, and last weekend they were one of the 225 vendors at the 15th annual Northeast Ohio Sportsman Show at the Mt. Hope Event Center, sponsored in part by AloNovus. Not only were they introducing the public to their new business at their booth, but also they were one of the many show sponsors and seminar speakers.
McQueen spent 10 years guiding for Mad River Outfitters before Kline convinced him to start the business together.
"I wanted to be able to do more, promote all types of fishing," McQueen said. "If it bites and fights, I'm in."
Fish Ohio Outfitters is not your typical Ohio fishing guide service. Rather, it's one of the few that will take you on a tiny inland stream or the big waters of Lake Erie for smallmouth bass. Do you want to catch pike on a fly rod? You can do that with McQueen and Kline. You can float or wade rivers for steelhead, hammer white bass or walleye, even fly fish for carp or have a day of catching drum on spinning gear. They've got the boats (19-foot Lund Alaskan, 23-foot Ranger, three-man float raft) and equipment to do it all and will work with any skill set of angler.
"Of all the fishing guides and charters in Ohio, 85-90% are walleye and perch," McQueen said, "and the other 10% are steelhead guides. If you want to catch smallmouth, steelhead or pike, I'm your guy. That's my specialty. Pike, especially, are important to me. I was the first to guide for northern pike in Ohio, starting in 2010."
McQueen recently moved to Shreve to be more central to all of his fishing waters, as he's two hours or less to Lake Erie's steelhead tributaries, the same to Western Basin smallies, while also being able to get to the Clear Fork, Mohican, Kokosing and Tuscarawas rivers for inland fishing. Trips are booked in advance, so exact fishing locations will depend on water and weather conditions.
All of Fish Ohio Outfitters' trips are full-day excursions, and while the business is not opposed to clients keeping fish, especially walleye, white bass and even steelhead, pike trips are catch and release only.
"The pike resource is very limited," McQueen said. "Those 36-inchers are females. They're the ones dropping the eggs. And that's a 20-year-old fish, so you don't replace that in a year or two."
For McQueen, owning his own business is a dream come true, and he hopes it grows from here.
"I'm happy to be doing what I'm doing," he said. "It's not a job to get into if you want to put a lot of money in the bank. It's not a lucrative career. It's a lifestyle. It allows me to be on a river or lake every day. I just like to fish, and I've put in a lot of time to learn how to catch them."
To learn more, visit www.FishOhioOutfitters.com or find video content on YouTube, Instagram and TikTok.