Forestry Field Day draws crowd to Ancestor Acres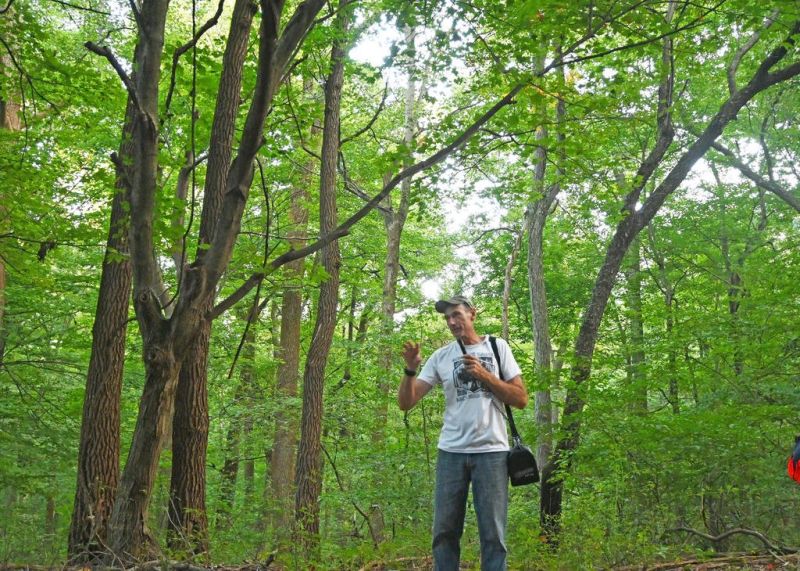 Bob and Karen Hunter hosted Forestry Field Day on Thursday, Sept. 16 at Ancestor Acres near Glenmont.
"We had 75 people register," said John Lorson, field technician at Holmes County Soil and Water. "We thought we'd be lucky if 20 signed up."
The Hunters are the fifth generation to live on the property. Their children and grandchildren, the sixth and seventh generations, are continuing the tradition and reside on acreage they purchased adjacent to the family farm.
"When your love of land and love of heritage exceeds your love of money, it frees you up to do some amazing things with your property," Bob Hunter said of his decision to establish more woodlands and prairie when he was done with crop farming and raising beef cattle. "This love and land heritage is the number-one reason our farm has stayed in the family as long as it has. The right thing to do was put the tillable acres back into trees and prairie. My ancestors had already reforested the highly erodible acres. I just completed what they started back in the 1920s. I bought the 67-acre home farm in 1978 and purchased Annie's Place in 1992, then the Mitten Woods in 2010."
Part of the Hunters' acreage is enrolled in permanent preservation through the Killbuck Watershed Land Trust. The local volunteer organization works with landowners in Holmes, Wayne and surrounding counties to establish conservation easements on their property. KWLT oversees over 10,000 acres of preserved properties and is one of several options locally for landowners to use to keep their land intact for future generations.
Over the years the Hunters have planted 50,000 trees and only harvest the 4-D's — the dead, down, diseased and dying trees — for forest health.
"In 1940 my grandparents took down the chestnuts which were blighted," Hunter said. "In 2016 we took out all the ash and in 2019 the dead elm, along with the 4-D's. A neighbor, Alan Miller, takes them to the mill to be sawed. We rarely harvest healthy trees. For some it may not be economically feasible to harvest this way, but it works for us. We don't want to harvest to the detriment of the woods."
The Hunters' woods is a tribute to being a good steward of the forest. The forest floor has mainly native plants. There are few grapevines, garlic mustard or multi-flora rose to be found.
Jon Jolliff, ODNR service forester, gave advice on keeping undesirable plants out of your woods. He said if too many large trees are taken out, it lets in light for non-native plants and shrubs.
"Shade is your friend," Jolliff said. "If you have a good, healthy canopy, you keep invasive species out. Multi-flora rose is shade-intolerant and will eventually die out. Also, control the grapevines that will stunt the growth of trees."
The Hunters worked with Holmes Soil and Water Conservation District to utilize the USDA Environmental Quality Incentive Program for cost sharing to help with the cost of managing their woods. Conservationist Josh Britton explained the EQIP program to establish a forest-management plan. Once you have a plan in place, you will work with a consultant.
Jolliff said to be cautious and check around before you do any logging.
"Ten consultants work with the area. Consultants make sure land goes back the way it should be," he said. "Most people have never sold timber. There are all kind of variables when it comes to timber. Consultants typically charge a percentage. The consultant knows what the timber is worth. They shop it around and get the best price."
"Our family tree farm has received awards and recognition on the local, state and federal level including being the 2009 Ohio Tree Farmers of the Year and Regional Finalist for the 2010 National Tree Farmer of the Year," Hunter said. "The tree farm has hosted multiple field trips and field days over the years and is visited frequently by our local Boy Scouts and hiking groups.
"Recently, we began hosting trail races on the farm, and our trails have also been used as part of the Mohican 100 bike and trail runs. Our local high school cross country team occasionally uses our trail for practice and to host their home meets. Family projects on the farm are constantly ongoing, from the establishment of pollinator plots, adding new trails, to building with our own lumber. The covered bridge and log cabin on the farm were built mainly using lumber from salvaged wood cut from our own forest. The purchase of a future sawmill is in the works as an additional cabin is in the plans, along with renovation work to some of the 19th-century buildings."
If you missed the event, Ashland County Soil and Water Conservation District will host two Focus on Forestry talks as part of the Ashland County Farm Tour on Saturday, Oct. 2 at 11:30 a.m. and 2 p.m. They will take place at Hurdle Waterfowl Park, 297 Township Road 581, Sullivan, one of the stops on the farm tour.
For more information on starting a forest-management plan or pollinator plot, call or email Holmes SWCD at holmes.swcd@gmail.com or 330-674-SWCD ext. 3