Free showing of Oscar-nominated film 'Knife Skills' in Wooster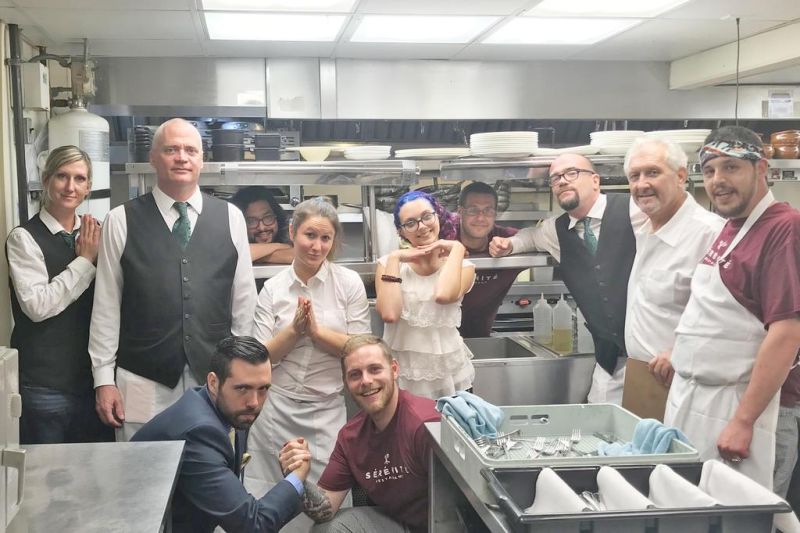 The speaker series titled "Doing Business for Good, Doing Good for Business" will present the second of its three-part program on March 26 with the showing of the Oscar-nominated short film, "Knife Skills," at 7 p.m. at the First Presbyterian Church in Wooster.
The documentary film was directed by academy award winner Thomas Lennon and follows the restaurant founder as well as three employees through the hectic launch of Edwins.
Beyond the food there is something special about the award-winning French restaurant. Edwins trains and employs formerly incarcerated adults.
Edwins' leadership and restaurant institute is a nonprofit organization founded in 2007 to give formerly incarcerated adults a foundation in the culinary and hospitality industry while providing a support network necessary for their long-term success.
The program includes teaching employable culinary skills and offers assistance with finding employment and providing basic needs of daily life such as medical care, clothing, job coaching and literacy programs.
Nearly 100 community members and business leaders recently attended the first presentation and discussion of a local series geared toward ways to help and start businesses while also providing opportunities to under-employed members of the community.
At that event Joe DeLoss spoke about founding and running his award-winning Hot Chicken Takeover restaurant in Columbus. DeLoss employs and offers support to those individuals coming to the workplace with challenging backgrounds.
Jeff Campbell, director of the Catholic Commission and a series planning committee member, said DeLoss' model of employment shows targeted employment is feasible and transferable while dramatically reducing employee turnover rates. "Many communities, businesses and human resource departments would want to learn from this approach," Campbell said.
Campbell explained "Knife Skills" chronicles another very nearby example of innovation and success with employing returning citizens coming out of jail.
Campbell has attended previous showings of the film. "Entire commercial movie theaters were filled to capacity, and the audience reaction was inspiring," he said. "People won't want to miss this opportunity for a free public showing and the interactive conversation that follows."
Following the film, the discussion will be led by Michael Flaherty, executive director/CEO of the recovery center of Medina County and Sérénité restaurant.
Flaherty's own story is one of overcoming a challenging personal history that includes incarceration. "Upon my release I landed a job bussing tables at a French restaurant named L'Albatros in Cleveland," he said.
Meeting Brandon Chrostowski, the general manager at that time, proved to be the connection that ultimately brought Flaherty to Medina.
Another step along the way for Flaherty was a stint as assistant general manager with Edwins. He also found opportunities in other restaurants including a Michelin three-star kitchen in Chicago.
In 2017 Chrostowski invited Flaherty on board for his new restaurant in Medina.
Flaherty said the philosophy behind Sérénité is one of "instilling confidence, leadership skills, employment and 360 degrees of support around people in recovery as well as their family and loved ones."
Flaherty understands firsthand how difficult it can be to overcome bad choices. "It can start with something as simple as searing that piece of halibut perfectly," he said, "or that aha moment when you nail a béarnaise sauce, that feeling that, 'Hey, I'm good at this. Maybe I can be good at other things too.'"
Having experienced the support and kind-hearted mentoring from others that led him to his current role, Flaherty is in a unique position to offer that same assistance to others.
"Providing someone with the right tools, right support and right opportunities to rebuild their life is something I'm passionate about because several people have supported and helped me to do the same. Who knows where I'd be without them? It's important to be kind and compassionate," he said.
Flaherty hopes those who attend the Wooster event will take away a better understanding about the transformation that is possible with the right support, guidance and patience.
"A bad choice or series of bad choices doesn't necessarily have to define who that person is for the rest of their life," he said. "Oftentimes we get stuck spinning our wheels because of various stigmas that still exist, and conclusions are jumped to based upon a very small piece of the story. You watch these students and the transformation they are able to realize with that right support, and it's a truly beautiful thing."
Flaherty said the effect of hiring people based on their potential can have a significant impact but not just on that one individual.
"Your investment can affect generations to come," Flaherty said. "We're all very appreciative of the support we've received and continue to receive, and we're always happy to have more: volunteers, donations or just coming in to support our students and enjoying the fruits of their hard work. You can feel the energy in the air, and you can taste the difference when something is made with such love and care. As they say in France, 'à bientôt!'"
Community members in the business world, social services, faith groups and concerned citizens are encouraged to attend the movie and discussion that follows.
"Anyone with an interest in what it means to re-enter the community after prison or drug addiction, ways to prevent recidivism and integrating people back, perhaps for the first time, into the fabric of the community," said Susan Figge, a member of Behind Bars & Beyond and the Wayne-Holmes Re-entry Coalition as well as a series planning committee member.
"Anyone who senses some hope and positive creativity for our community that transcends partisan viewpoints," Campbell said.
He said supportive employment models and social enterprises are beneficial to every aspect of the community and help to build up a greater sense of community fabric. "More local business leaders and agency leaders will want to come, and many local officials would benefit from attending as well to see the turnout and reaction about a very productive and practical community-wide conversation."
After the first event, Figge said, "People seemed to understand that there is a need for reliable, committed employees at every level and that there are potential pools of employees where we may not have been looking."
Campbell said the series is an exciting opportunity for Wooster to see how local businesses, agencies, government and concerned residents can move the conversation forward about supportive employment practices and supporting viable social enterprise proposals that can help reduce employee turnover for area businesses, reduce local poverty and build up people's work experience to become contributors to the local economy.
"That is a win-win for everyone," Campbell said.
First Presbyterian Church is located at 621 College Ave. in Wooster. The public is invited, and no RSVP is needed.