Galloway, Uku Ladies take top spots at talent show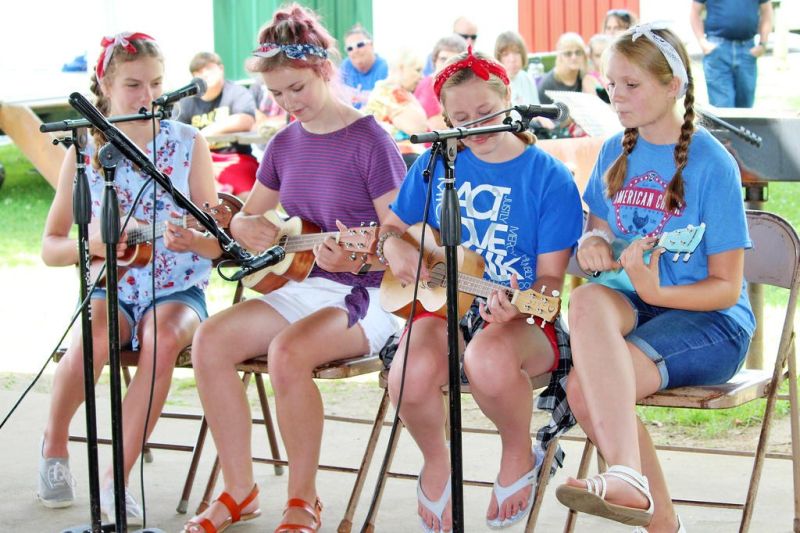 A Michael Jackson look-a-like complete with one sparkly white glove and the late singer's dance moves and a character from the movie, "Frozen," were spotted at the annual First Town Days Amateur Talent Show held last Sunday at Tuscora Park.
Dancers, singers, a rapper, musicians and two comedians, one who had appeared on the television show, "The View," filled out the list of participants. This variety of talent made for an entertaining afternoon for the crowd and a tough job for the judges.
The talent show was sponsored by Dover Hydraulics Inc.
Spectators at the event were treated to the first official public appearance of a newly formed group, The Uku Ladies, a group of 13-year-old friends who play ukuleles.
Although the young women have been playing together for four years, The Uku Ladies, formed as a group just two months ago, had only performed at their church, First Baptist in New Philadelphia, prior to the talent show. The group is comprised of Sutton Bercaw, Alayna Braucher, Peyton Barger and Lydia Wolford, who performed at the talent show. A fifth member, Addie Steed, was out of town.
The Uku Ladies earned the first-place trophy and $75 in the 0-13 age group with their performance of an original song, "Summer Nights," which was written by Barger and her friend, Rachel Stevenson.
Jenna Festi and Alexis Brown of Dover won second and $50 in the 0-13 age group. Festi sang "Head Above Water" while Brown performed a dance choreographed to the music. Winning third place and $25 was Paige Martin of Tuscarawas, who sang "Tomorrow" from the musical, "Annie."
Other contestants in 0-13 were Daisy Rufener, age 2, who sang "Let It Go;" Isaac Hans, age 13, who performed a comedy routine; Kincade Brown and Berkley Roberts, both age 8, who tap danced to "Yankee Doodle Dandy;" Paxxon McHale, age 6, who sang "Billie Jean" while dressed as Michael Jackson; John Douglas Idoine, age 8, who played "Beautiful Brown Eyes" on the accordion; Colton Rufener, age 4, who sang "Stop the World (Let Me Off);" Bethany Hans, who rapped to "Stranger Things" season one recap; and Madilyn Kinsey and Nick Riesen with contemporary dance to "Get Low."
The first-place winner in the 14 and up age group, Bradyn Galloway, age 14 of Dennison, remembers the first time he picked up a guitar at 7 years of age.
"I thought I could go somewhere with it and took lessons," Galloway said. "I play every day; I love doing it." He won a trophy and $75 for his efforts.
Galloway sang "Don't Stop Believin'" by Journey while accompanying himself on the guitar. He had the audience clapping along at the end.
Galloway has had a good year competing at talent shows. He won first at the Gnadenhutten Fireworks Festival Talent Show, and in June he came in second at the Railroad Days Talent Show in Dennison. Galloway said he is saving his prize money to buy some new equipment and wants to start writing his own music.
"I want to thank Andrew Harper and Aaron Troyer for teaching me all the stuff I do," Galloway said. "If it weren't for them, I wouldn't be here."
Belle Fockler of New Philadelphia placed second in 14 and up. She sang "I Cain't Say No" from the musical, "Oklahoma," and won $50. Sami Krocker of Goshen took third place and $25; she sang "Second Chance" by Shinedown.
Other contestants in 14 and up were Madeline Dillon, age 17, and Paige Keller, age 16, who presented a guitar and vocal duet to "While My Guitar Gently Weeps," and Marty Drexler, a former finalist in "America's Funniest Teacher" competition and also performed on "The View," who presented a comedy routine.
While the winners were being decided, First Town Days Queen Phylicia Christmas performed the Vitameatavegamin skit made popular by actress Lucille Ball.
Judges for the event were area vocalists Randy Velez and Laura Barkett and Michelle Pipes, a fifth-grade teacher at Central Elementary in New Philadelphia.
There were two new changes at the talent show this year. One was the new talent show coordinator, Marc Davis of New Philadelphia, who hosted the show. Davis stepped in for longtime talent show coordinator Scott Miller, who left the committee after last year's festival. Davis also hosts the Tusky Days Festival Talent Show.
The other change was an unwelcome one. Due to a downpour during rehearsal, the show was moved to the large pavilion behind the stage for the first time. Davis thanked First Town Days committee members and members of the public who jumped in to help rearrange picnic tables, clean the area and move the sound system.
"The talent was amazing, and there was a lot of variety," Davis said. "I hope to see everyone come out and try again next year."