Head Start to participate in healthy eating initiative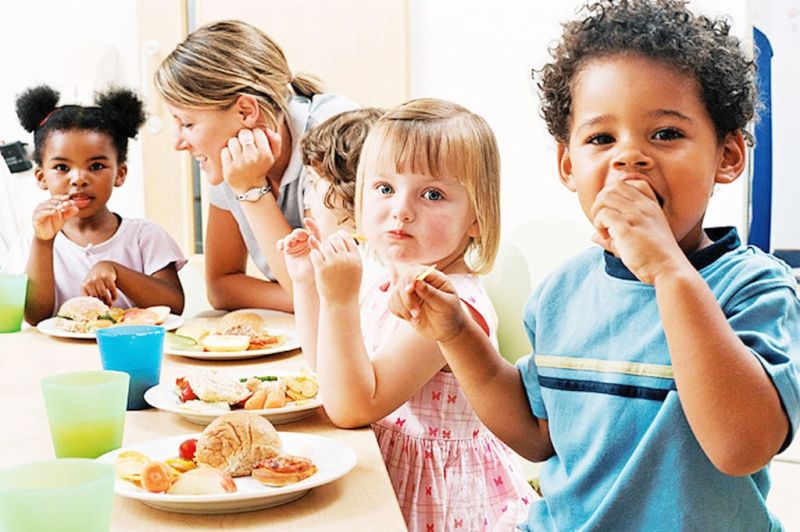 Over the years children involved with Head Start Kno-Ho-Co have experienced plenty of growth on an educational level as Head Start has dedicated itself to promoting school readiness by enhancing the social and cognitive development of children through the provision of educational, health, nutritional, social and other services to enrolled children and families.
One area of education that oftentimes gets overlooked is teaching the children about good health habits. From March 17-23 Head Start will put that educational experience front and center by participating in national Child and Adult Care Food Program Week.
When the opportunity arose for Head Start to promote a healthy diet and good eating habits, Holmes County Kno-Ho-Co Head Start program kitchen manager Carmelita Raber jumped at the chance and wanted to invest herself and the organization in the upcoming week designed to share some dietary information with the children and with their care-givers and the community.
"Not only do we want to create a menu that teaches our children the importance of eating a healthy and balanced diet, we also want to educate parents too," Raber said. "We continually invite parents and grandparents in to eat with the children and to see what kind of steps we are taking to create a healthy breakfast, lunch and snack menu. I love providing the children with new foods that are good for them, and for the most part they are willing to at least try anything. Oftentimes they find out that they actually like what they are trying."
The primary goal of the Child and Adult Care Food Program is to serve nutritious meals to children attending child-care homes and centers. The underlying goals include establishing positive eating habits at an early age, reducing future health-care and educational costs due to lack of understanding, and supporting local child-care personnel, who will thrive when children are well-nourished and healthy.
During National CACFP Week, Head Start Kno-Ho-Co is joining other Ohio child-care providers in acknowledging the many ways communities can benefit from CACFP programs.
Throughout the week Raber said they have prepared a new menu of healthy foods for the children, but what they do will go far beyond that. Raber also has spearheaded an effort to educate staff and community about healthy eating habits, creating some games and coloring pages for the kids while also building a working knowledge for both the children and adults that nutritional eating is beneficial in so many ways.
Raber said national statistics show children who receive nutritional meals and snacks are healthier, experience less fatigue, and develop at a normal physical and intellectual pace.
"Good nutrition provides a base for a healthy, happy child," Raber said.
One of the positive ways Raber has been able to create nutrition-based meals and snacks is through the purchase of local fruits, vegetables and other food items. She has developed a good relationship with Rodhe's IGA, Wal-Mart of Millersburg, Walnut Creek Cheese and Harvey's Market to obtain quality food items. In addition they are able to utilize the Akron-Canton Regional Food Bank to further implement the tradition of creating a healthy menu.
"It has been amazing to be able to develop those relationships with local grocers," Raber said.
With 70 children age 3-5 eating breakfast, lunch and snacks in the four-day week at Head Start program, creating a healthy menu can be challenging, but Raber enjoys finding new and unique ways to implement healthy eating.
"I love to research healthy recipe alternatives," Raber said. "I also like the idea of being able to send some of these healthy recipes home with parents to use at home. We can all learn to eat much healthier, and as a result it can help not only our children, but the families too."
As part of the CACFP Week, Raber said Head Start will accept the CACFP's encouragement to join in the CACFP Seven Challenge program.
CACFP has created a number of objectives for schools and programs to try to meet throughout the week. The idea is to implement seven of those challenges, which will be harder for Head Start because they only have four days to accomplish that task.
The CACFP challenge encouraged its participants to use social media and their Facebook page to promote the week-long activities and healthier eating habits, to get involved with their respective communities, to create and distribute fliers, to send letters to legislators or host an open house for parents to learn more about the importance of a good diet, to promote CACFP Week by sending home valuable information to families, to add helpful tips to their website home page, and to encouraging children through providing fun games and activities.
"I kind of came across this whole CACFP Program on a fluke, but once I saw what it was, I wanted to be a part of it," Raber said. "It's educational, it's fun and I am hoping that we can complete seven of the tasks and challenges in four days because what we are doing here is important and it is making a difference in the children's lives and in their health. The children are my passion, and seeing them grow healthy and strong excites me. I love that we can be a part of the process of helping them grow and become healthier, and hopefully this carries over for many years to come in their lives."
There are many ways to learn valuable lessons and information that will carry on a lifetime. Often overlooked, a good diet is an education that can carry great meaning, and the CACFP Week will hopefully create opportunities for children and families to learn more about how to create healthier living for today's kids.