Hiland seniors, juniors celebrate prom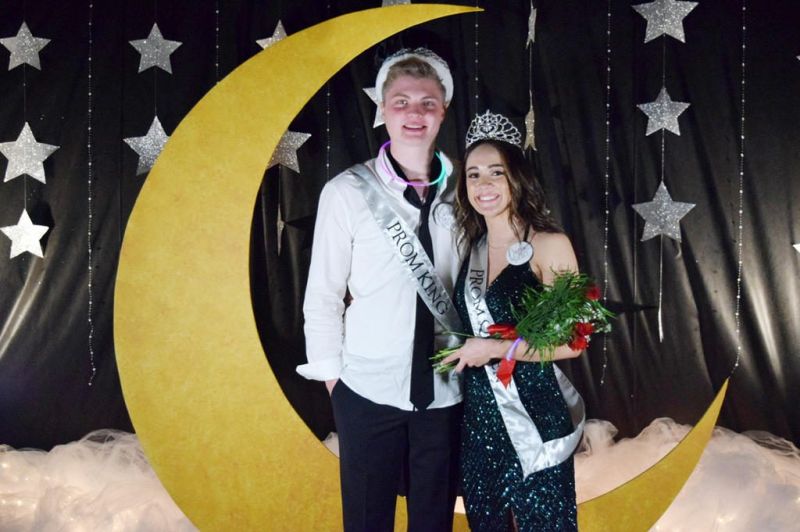 It was a long wait for Hiland students to celebrate a prom, but on Saturday, April 17, a lot of hard work by the prom committee, volunteer parents and the students themselves opened the door for the Hiland seniors and juniors to celebrate the year-end ritual with a bang.
The event featured a grand march through the Reese Center, a dance in the high school auditorium and a return to the Reese Center, where there were plenty of games and activities for the students to enjoy.
According to Dawn Hummel, one of the prom coordinators, it was a feat pulled off thanks to a whole-community effort.
"Putting on the prom was a no-brainer, and the parents and kids really rocked it out of the park," Hummel said. "Our parents were amazing. They jumped right on board and came through with the decorating. It just blows me away the way people in the community are so willing to get behind our kids, and the place was absolutely gorgeous."
Hummel said the students were continually coming into the office to ask what they could do, and they were offering suggestions and ideas as to how prom could be made special.
Hummel said when Hiland High and Middle School principal C.J. Spreng came to her and asked her if she would help head up the prom committee, she was both nervous and excited about the opportunity because she recognized the students really missed out on the experience last year.
"This needed to happen for the kids," Hummel said. "While it wasn't quite like it has been in the past, we worked hard to keep it as close as possible to what the past proms have been. I think we got pretty close."
One change was only parents were allowed inside the Reese Center for the grand march, which didn't deter the students from experiencing all of the glitz, glamour and excitement of introducing each couple, individual and group as they came in.
"It felt pretty normal," Hummel said.
Lori Pringle, who helped coordinate the event, said this was really the first time for this group of seniors to have a prom, so that alone made it special, and it showed in how hard the students worked.
"Normally, the junior class does all the work so it's a surprise to the seniors, but this year everyone kind of jumped in to make it happen," Pringle said. "The kids wanted it pretty badly."
Another difference was the prom was only open to Hiland juniors and seniors, so if someone had a date that went to another school or had already graduated, they were unable to attend this year.
It was a disappointment to some, but Hummel said small steps are good steps and just being able to have prom after the craziness of the last year was definitely a step in the right direction.
One moment of normalcy was the crowning of royalty to the prom. Hiland seniors Brynn Mullet and Hunter Sommers were named prom queen and king while princess and prince honors went to juniors Alexandria Weaver and Chase Weaver.
For the seniors, seeing the way the community came through and being able to experience prom in their final year after missing out last year was more than they could ask.
"We were very excited because we weren't even sure we were going to have a prom, so just being able to have it was really exciting," Mullet said. "All of the last-minute work everyone put into it, all of the juniors and seniors and especially the many parents who volunteered to help, made it special, and they made everything look so nice."
Mullet said she truly appreciated her classmates voting her as prom queen, which capped off a pretty nice year for Mullet, who not long ago was celebrating a state basketball championship with her Lady Hawks teammates.
For Sommers, he felt like the night went really smoothly, which was impressive with everyone pulling things together at the spur of the moment.
"It was a lot of fun," Sommers said. "We didn't even know we were going to have prom until about six weeks ago. Mr. Spreng got a bunch of us together and said whatever we needed to get done, let's get it done. Let's make our prom the best it can be, and it turned out great."
Both royalty members said they appreciated the effort of the community and the volunteers who helped bring the prom into reality. Mullet said she heard from so many adults who said they were excited to be able to give the students a chance to celebrate this time-honored tradition that was deeply missed last year.
"That they were so excited for us says a lot about what kind of wonderful people we have in this community," Mullet said.
That kind of unity and effort paved the way for Hiland juniors and seniors to share a special moment together before the seniors graduate and go their separate ways.