Hoofs and Hounds to benefit Camp Tuscazoar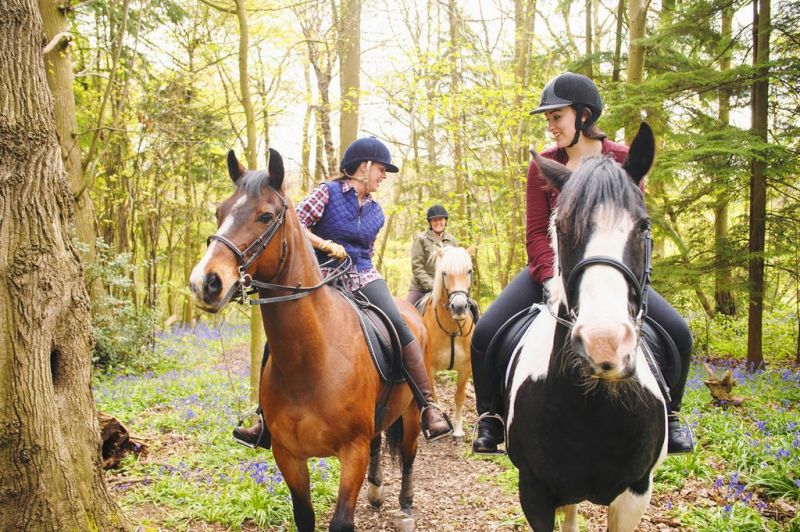 Bring your family and your dog to a new event at Camp Tuscazoar on Aug. 20 from 11 a.m. to 3 p.m. The Hoofs and Hounds is an offshoot from the Mutty Paws fundraising event that was held for a couple of years prior to the pandemic.
"We've put together a family fun day with your pet. People can bring their dogs to go hiking. There are going to be dog vendors that will sell dog clothes, dog treats, dog food, and there will be dog trainers there," said Barbara Harding, who along with Valerie Stroh-Klein is organizing the event. "The Tuscarawas County Sheriff's Department will bring their canine unit, and they will be doing a demonstration of their attack dog training."
Participants can learn more about horses too.
"One of our main attractions is a petting zoo that has a camel, a tortoise and miniature goats," Harding said. "These are all for the family to enjoy, and then we'll have Stirrup Courage and Pelia Horse Camps. Both organizations are for kids who want to learn how to ride and kids who are disadvantaged."
Photo shoots are available with the animals.
Pelia Horse Camps is bringing ponies for pony rides, and they'll also have a scavenger hunt for kids with horseshoes.
"It's on the Sippo Ridge trail, which is right near Hoover Lodge. They'll be able to find a horseshoe, and then they'll get a prize. We have a lot of activities planned around little kids and families so that they can just enjoy the day and enjoy their pet," Harding said.
Vendors and other attractions will be set up at the Kimble Dining Hall. Vendors and attractions include the Little Roaming Railroad, Mini Menagerie Petting Zoo, We Luv Pets, Kent State University vet techs, Police K-9 Association, Stark County Ohio Horse Council, City Limits Western, Carrie's Canine, Rush 2 Rescue, Wolf Packs, Fur Momma Factory, DJ Paws Rescue, Stirrup Courage, Pelia Horse Camps and Krafty Creations by Jenny.
Admission is $10 per person or family, which includes entrance into the event and all attractions including the petting zoo. A $20 ticket per person or family includes entrance into the event, all attractions and a bonus package that includes animal food for the petting zoo, unlimited train rides and five tickets for the raffle basket.
Dogs get in free but must be leashed and well behaved. Bags will be available for owners to pick up after their pets.
In addition to Messdad's Concessions food trailer, Island Ice Cream from Cadiz will be at the event.
"They do spectacular ice cream concoctions," Harding said. "And then our local horse council is going to be selling water and cookies and snacks."
There will be an online T-shirt for sale and an online auction with many items, even a Tuscazoar basket. Raffle basket donors include pet stores and clinics, restaurants, and other businesses.
A horse trailer with camping living quarters will be available for tours. Guests can take their pets for a hike or on the scavenger hunt on the Sippo Ridge trail and can browse the pet business vendors, vets and trainers. They also can meet rescue pups and purchase dog-related items like a new bandanna, collar or treats.
The event will partner with Whipple Auctions to conduct an online auction.
"That will start five days before the event. We'll finish up the day after the event, and they're handling the whole thing. We have wonderful items that have been donated," Harding said.
The group sold sponsorships to raise money up front to cover their expenses.
"It's been a lot of work. We've been planning this since February, but it's all coming together. And the community has just been wonderful. And you know we're just really looking forward to having a great day," Harding said.
With acreage and camp users multiplying over the years, a new parking lot is being added about 1.4 miles south of the original entrance. Proceeds from the Hoofs and Hounds event will benefit this lot.
"It's being worked on as we speak. We're going to need a lot of gravel and additional excavating. It's kind of a work in progress, and the funds that we generate from Hoofs and Hounds will be used directly to improve the entrance to the parking area and the initial parking area," Harding said.
The additional parking will benefit everyone including horse people, mountain bikers and hikers.
Anyone interested in contributing to the Hoofs and Hounds fundraiser can send checks made payable to Camp Tuscazoar and enclose a note saying the donation is for Hoofs and Hounds. Donations may be mailed to Camp Tuscazoar, P.O. Box 308, Zoarville, OH 44656.
Donations can be made online at www.givebutter.com/camptuscazoar. Hoofs and Hounds tickets also can be purchased online at the address above.