Hummels and Mishlers epitomize neighbors, friends, champions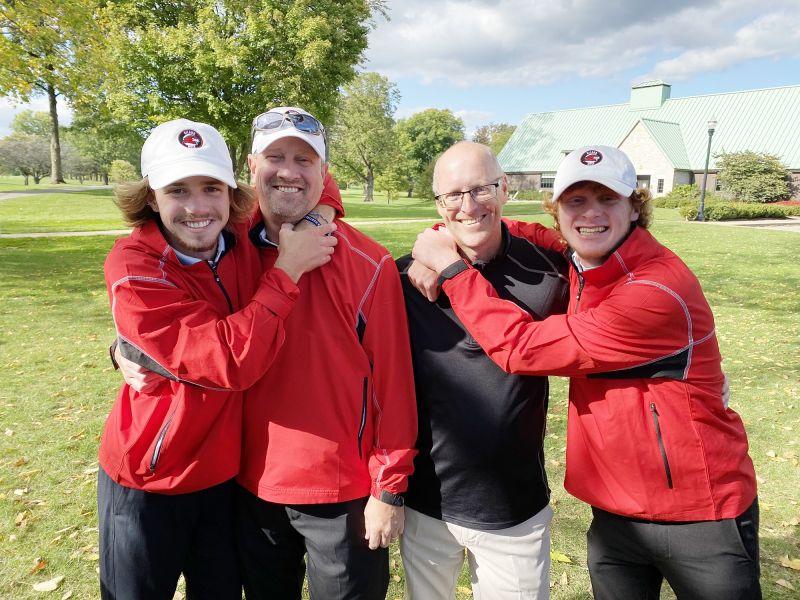 Every year brings countless heartwarming and inspirational stories of accomplishments, and 2021 was no different. In the sports world, one such story was shared by our own Aaron Dorksen, who wrote of West Holmes senior quarterback Noah Clark, whose path took him from adoption, to a loving family, to leading the Knights to a record season.
This past fall also saw another unique story of family, friendship and love.
When Hiland golfers Carter Mishler and Brookston Hummel helped the Hiland golf team capture its second Div. III state title in three seasons, it marked the second gold-medal achievement for both.
That alone is worth mentioning, but the story is far from ending there.
The two young men have been neighbors and grew up in one another's home since their younger days. Their shared yards gave way to plenty of double-backyard barbecues and daytime and nighttime fun. Jason and Dawn Hummel and Nevin and Kari Mishler were connected in friendship, as well as one other unique way.
Both Jason and Nevin played for the state championship Hiland Hawks 1992 basketball team, a team known as "Too Legit to Quit," a song adopted by the team during the season and lived several times over including a district championship game in which it trailed Lakeland about 27-5 and overcame a seven-point deficit in the game's final 38 seconds versus Lima Central Catholic in the state semifinal that championship year.
That team was the first to win a Hiland state championship, but do the two fathers' accomplishments get trumped by the two sons' pair of titles?
"All I'm going to say is that when I'm 40 and we're all sitting at a basketball game and looking at all of the state banners, I'm going to point up to the banners and say, 'Dad look, there's two for me and one for you,'" Carter Mishler said. "We're going to joke around and have some fun with it."
"No way this stops here," Brookston Hummel said. "I'm going to be in his ear my whole life. But really, my dad taught me so much about the sport when I was little and has had a huge effect on my game and my life."
For the sons, bragging rights are precious and won't go away any time soon, but they both understand that the will to work, study and grind away until something worth doing is done right comes directly from their championship fathers.
"It feels wonderful to live up to the legacy that our dads set for us," Carter Mishler said.
For the two dads, this season was golden. The past four years of varsity golf saw that group of seniors, which also included Kenny Weaver and Garret Shoup, leave Hiland as the single-most highly decorated group of senior athletes in any given sport. But it extends back farther than that. These two All-Ohioans honed their golf games together on the junior circuit in junior high and even before then with countless hours of rote practice lessons, swings and putts, and everything that goes into improving the mental part of the game.
They were inseparable, pushing each other, challenging each other and competing against one another while always respecting the gifts of the other.
"They are best friends, yet they are both fierce competitors," Jason Mishler said. "They want to win, even against each other."
"It's tough to see it end," Nevin Mishler said of the finishing touches on their brilliant careers at Hiland. "I'd have never dreamt that when Carter and Brookston were growing up in grade school chipping between our houses it would end here. Jason would mow a green in his yard, and they'd go to work."
Mishler said despite having been a part of a basketball team that went through such intense times in its championship run — where Jr. Raber's half-court heave and ensuring three free throws with 0.5 seconds on the clock gave the Hawks an improbable win over LCC — that pressure was nothing compared to watching their sons finish up at state.
"That was so much easier than walking the golf course watching your son, worrying about every shot, knowing you couldn't do anything to help him," Mishler said. "You live on every shot your kid hits."
However, the younger two's ability to perform in the clutch, to push aside pressure and perform like they had done thousands of times before, was instilled in these two young golfers at a young age by their fathers, who taught them to compete, work and grow in confidence.
Nevin Mishler said the dads lived with all the ups and downs of tough times, each shot and finally achieving the ultimate goal. "I've enjoyed every minute of this," he said. "I am proud of our guys, and all of these kids, they have all worked so hard."
Mishler went on to add that Hiland head coach Austin Kaufman deserves the bulk of the credit in guiding the Hawks to two titles, a runner-up and a fourth-place finish in the past four years.
"He's been there the whole way and was always there for the kids, anytime they wanted to practice," Mishler said.
In 30 years, will there still be trash talk of whose accomplishment was the greatest?
All four agreed it is likely these two families will be sitting in the backyard, reminiscing and throwing out verbal jabs at each other.
It will all be in fun, and the elder Mishler said he hopes one day his son and Brookston can experience the intense pride, joy and nervousness of following their own children on the golf course or any other sport they choose to play.