Individuals from PCS help package meals for those in need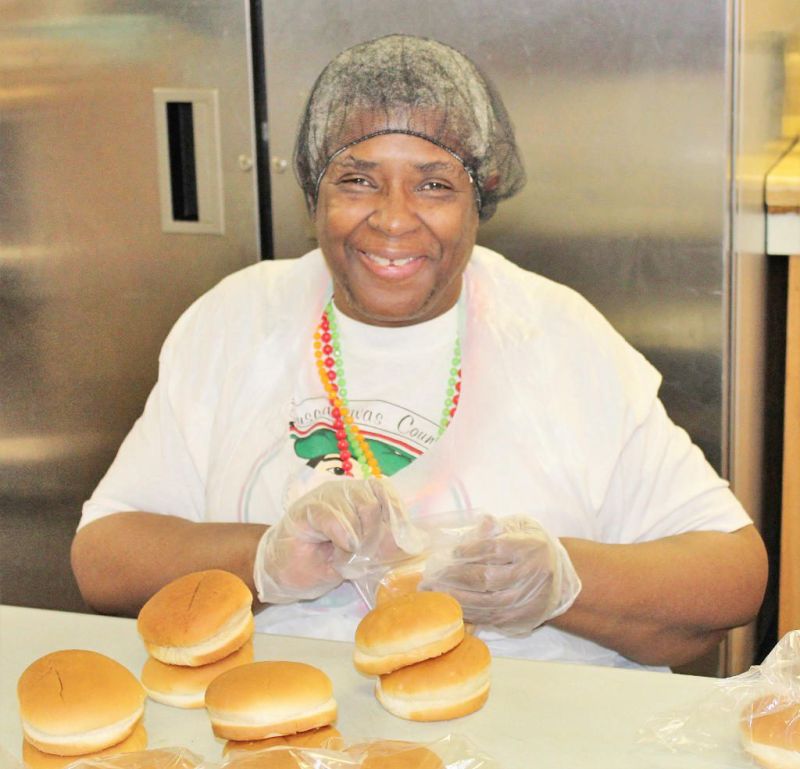 The smell of Salisbury steak, mashed potatoes and cooked vegetables hangs in the air. It's 10 a.m., and the staff and volunteers at Harcatus' Central Kitchen on Grant Street in Dennison are already dishing out around 300 meals into divided foil containers for delivery to area people in need for their Senior Nutrition Program.
A large white van pulls up outside, and volunteers with developmental disabilities make their way inside. The group has been giving back to the community for three years, and it is something they enjoy. The volunteers are with Person Centered Services, a service provider for those with DD located on the south side of New Philadelphia.
They waste no time getting on their aprons, hair nets and gloves. "The first thing we do is suit up," said Sharon Swaldo, a staff member at PCS. "Then we look to see what is on the menu. We pack for the next day."
That menu includes barbecued pulled pork and tropical fruit, sandwich buns that need packaged, and fruit that is dished into individual servings.
The Senior Nutrition Program is supported by several government-funded sources and delivers a hot noon meal on Monday through Thursday each week. It provides a frozen meal that can be heated on the other days. Each meal includes meat, two vegetables, fruit and bread. Milk also is provided.
The program is not based on income, only need, although most recipients must be at least 60 years old to qualify. The program provides a lot more than good nutrition.
"There are a whole lot of people out there that we're the only people they see that day," said Nancy Morris of Freeport, cook and supervisor at Central Kitchen of their home food deliveries. "We can't stay very long, but we say 'hi' and make sure they're alright."
Morris starts her day early and has food in the four ovens the kitchen is equipped with by 7:30 a.m. each day. The clean and organized kitchen space also includes two cook tops, four freezers and five refrigerators.
Morris is grateful for the help of the PCS volunteers. "They are a well-managed crew, and they just stick with it. They are good workers."
The PCS volunteers originally started out working two days a week at the kitchen but provided so much help that Morris asked if they could add an additional day to their schedule.
"It's always friendly here," Swaldo said. "They welcome us, and it gets us out to meet other people in the community."
"I'm here to work hard," volunteer Nathanial Wells said.
Another volunteer, Cliff Cunningham, is retired from his longtime job at the Taco Bell near the Cleveland Clinic Union Hospital in Dover. At age 65 he still wanted to do something more to give meaning to his life. He joined the volunteer group and enjoys using his time to help others.
"I like the people, and I like working, and I like the food," volunteer Lauren Clay said.
The volunteers get a hot lunch, the highlight of their day, in return for their help. Clay is proud of her volunteer work and of her job at the Goodwill store.
The work has given the volunteers from PCS something enjoyable and productive to do. "We are paying it forward. There is more to life than just thinking about ourselves," Swaldo said.
Person Centered Services recently welcomed its new director, Jenny Danko, who formerly worked with individuals with DD in Carroll County. Danko has been very supportive of the group's volunteer efforts and has enhanced PCS's program with her energy and new ideas to enable people with DD to better their lives. Their next quarterly after-hours event is a 1980s party planned for March.
For more information on PCS, call 330-339-3578.