IVEP foreign volunteers at home in local communities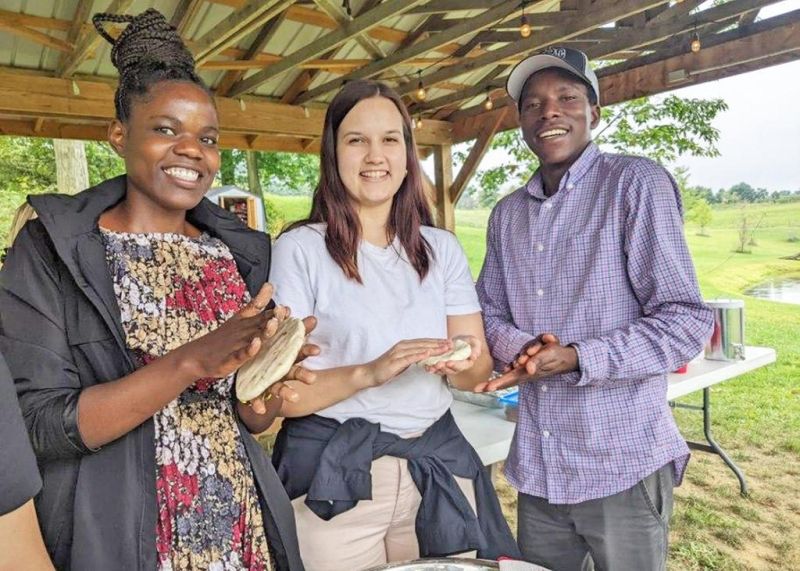 Jacqueline Stapha Nashon is a very persistent young lady. In 2019 she applied to be a part of the International Volunteer Exchange Program. Then the pandemic happened. In 2021 her Visa wasn't approved until too late into the year.
Finally, on Aug. 16 of this year, she arrived in Pennsylvania for a week of IVEP training — all the way from Tanzania, which is on the east coast of Africa.
Nashon is one of three IVEPers to come to the area. IVEP is a year-long volunteer work and cultural exchange opportunity for young Christian adults. Every year 60 IVEP participants come from more than 25 countries around the world to volunteer in the U.S. or Canada, where they live with a local person or family. Since its beginning in 1950, IVEP has emphasized peacemaking and building understanding across cultures.
"I think it is important for people to understand that these are not high school kids but young adult college graduates, often leaders in their churches and broader community," said Lydell Steiner, who served with MCC in Nicaragua and now works in sales and service at Tilmor in Dalton.
The extended Steiner family has been supportive of the MCC IVEP program for many years, dating back to 1983 when they sponsored Mark Rockson from Ghana. More recently, they have sponsored Wilmar from Guatemala in 2011, Mizinga from Zambia in 2017 and now Desmond Xolani Tshele from Zimbabwe.
"Our goals are such that we understand the importance of sharing our time, gifts and experiences with others so that they can go home and have a positive impact in their communities," Steiner said. "At the same time, we understand that we have much to learn as well. IVEPers bring a unique set of experiences, maturity and energy that often brighten our days and can bring a unique perspective to the work we are doing on our farms or in our businesses."
Tshele will work with Steiner at Tilmor and Venture Heritage Farms, Nashon will serve at MCC Connections in Kidron, and Maren Jessica Pauls will work at Central Christian School as a German and keyboarding teacher and a teacher's aide for classes from kindergarten through fourth grade.
Pauls graduated from college in February with an English and Portuguese language and linguistics major. Since the start of 2021, she has been a middle and high school German teacher at a school in her hometown.
Pauls actually grew up in a Mennonite colony of about 2,500 people in the south of Brazil.
"There are a few Mennonite groups that settled there after fleeing their home country," she said. "It is also a rural area, so the community was quite closed off for a long time, which helped keep a lot of the traditions alive, as well as the languages, German and Plattdeutsch. Nowadays the colony is a lot more open and has since become a spot for tourists coming from nearby cities."
Pauls' mother was a participant in the program and used to tell her about her time in the United States, which made her want to be part of it too.
Varying in levels of English comprehension, all three of the IVEPers know some English and are very friendly to talk to.
"I would like to thank the community for welcoming me, Jacqueline and Desmond," Pauls said. "Every person I've met has been very kind and welcoming, which has made the adjustment process a little easier during these first days here."