Keim president runs 260 miles to help a family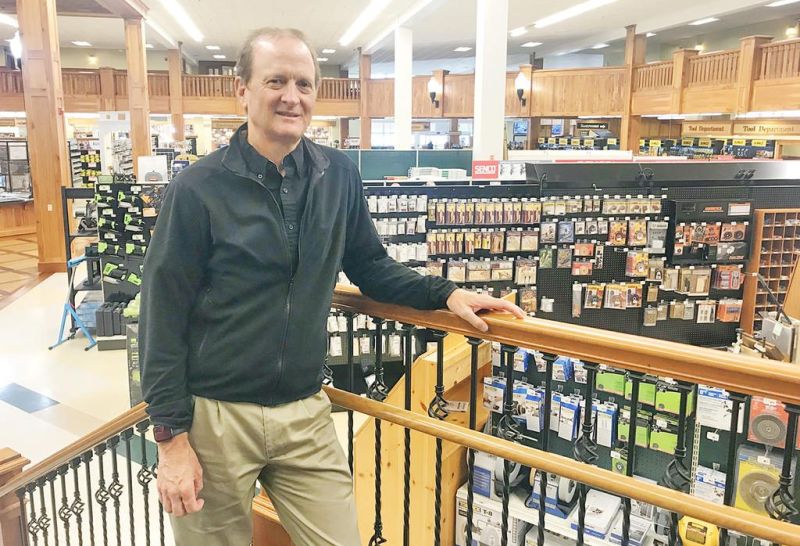 Jim Smucker understands the value of having a home to call your own.
Smucker, the president of Keim Lumber, recently proved how hard work and a servant attitude can lead to some pretty great outcomes, running a 260-mile path across Ohio in a one-week span to raise funds for a family he doesn't know.
Rebuilding life after a major flood can be a horrifying journey for any family, and years after a devastating tragedy, those hit hardest still struggle.
A good example is the 2016 West Virginia flood. For families living in that hard-hit region, four years has been an eternity as they struggle to rebuild homes and businesses and put their lives back together.
Smucker, a lifelong supporter of Mennonite Disaster Service and Disaster Aid Ohio, organizations which help rebuild lives after disasters, recognized those struggles, and in turn he took to the trails of Ohio to make a difference.
Smucker recalled in his younger days his parents took him on home-building trips with MDS. Oddly enough, the president of a building company admits he isn't great with a hammer, but he makes up for that with his passion for serving others, which made the MDS trips fulfilling.
Smucker took off on a 260-mile, one-week trek across Ohio to show both support and raise funds that will eventually help build a home for a West Virginia family hit hard by the flood. Smucker's run began in Cleveland on Saturday, Sept. 5, where his run took him along the trail corridor dissecting Ohio, and it ended in Cincinnati on Friday, Sept. 11. He saved his final 10-mile run so he could finish on the trail in Millersburg.
Smucker said he has been a lifelong runner, although he only started running marathons in his 40s. When he turned 50, he decided to run his age, so running has become a passion for him, as has serving others. In connecting with MDS and DAO, he was able to combine both passions for a great cause.
"Everything went very smoothly, the whole run," said Smucker, who had a number of family members run with him and serve as his team throughout the experience.
"I was never alone," Smucker said. "Having my family and friends join me during this made the experience that much more enjoyable, and I got to see some beautiful parts of Ohio. I was worried about all that could go wrong on such a long journey, but none of that every transpired."
In the process Smucker has raised $68,000 of the $80,000 needed to build the home.
"It's hard to believe that four years after the flood, thousands of homes have yet to be rebuilt," Smucker said. "During the recent stay-at-home order, our houses took on a new level of importance. Our hope is to bring that safety and security to other families."
MDS is a volunteer network of Anabaptist churches that responds to people affected by disasters in the United States and Canada. For nearly 70 years, they built and repaired tens of thousands of houses in North America. Disaster Aid Ohio is the local Amish affiliate of MDS and recently finished a home for Billie Paxton, a survivor of the 2016 West Virginia floods.
When Paxton returned from work, the rain had started, and the water was rising. In the next 1 1/2 hours, 9.5 inches of rain fell. She took off her shoes and waded in. Later that day the water rose so high it reached the peak of the roof of her house. The home that had seen both celebration and sorrow was ruined.
Smucker said COVID-19 has changed the way people think of "home" and how homes are built. In the past construction volunteers have traveled to the site where MDS was building the home. But due to concerns of COVID-19, that is no longer possible. Instead, Disaster Aid Ohio, MDS, are launching a pilot concept: local volunteers will gather to build modular homes, built remotely and delivered to wherever "home" might be. Going forward, MDS will scale this idea in communities across the country.
Smucker said Keim agreed to team up with MDS and DAO to be the builder of two homes that were erected in Holmes County and shipped to West Virginia. He said HUD grants paid for those homes, but Smucker wanted to run for a family that fell outside of the grant funding. That family has yet to be determined, but it will soon be recognized, and one more family will return to a more normal sense of life in their own home.
"My goal was to find a family who didn't have access to the grants that had lost a home," Smucker said. "There were more than 1,000 homes lost during that flood, and many people don't have a home of their own yet four years later."
The idea of giving to someone has been instilled in Smucker since his youth, but he said his actions only fall in line with the greater Holmes County community, where giving is the norm.
"This is a pretty special area," said Smucker, who grew up in Lancaster County, Indiana. "Giving in the name of service is a whole other level and mentality here. The businesses here have service hearts, and the Keim family has set a great standard of giving long before I got here. For me to do this was such a great fit both personally and professionally because my parents and the Keim family both have that service faith ingrained in them."
Smucker became Keim's president around one year ago, arriving through the advice of a mutual friend with the Keims after leading his family business in Lancaster for years. He also served as the dean at Eastern Mennonite University for seven years. He said he was looking for a new challenge when the Keim opportunity arose, and he was accepted as new president in May.
To donate to this cause, visit https://interland3.donorperfect.net/weblink/weblink.aspx?name=E331570&id=32.