Killbuck celebrates 50 years of close-knit community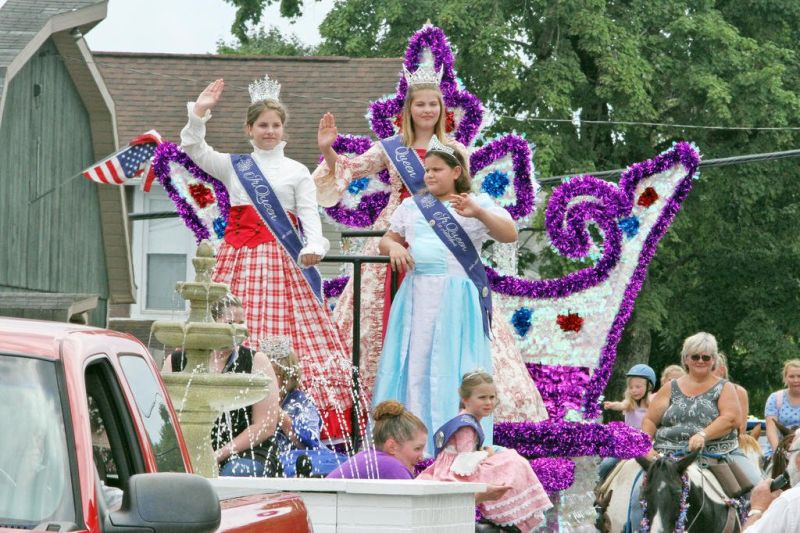 On Saturday and Sunday, Sept. 1-2 in Killbuck, the community of Killbuck went back in time 50 years in celebration of a village and its people who have been there for one another through thick and thin.
Perhaps one of the most trying times came a half-century ago when the Flood of '69 stormed into Killbuck, claimed two lives and created damage so great the area was declared a natural disaster by the state.
That was a time that saw people helping people, a theme that has echoed throughout the village ever since.
Early American Days began less than one year later and has been part of the fabric of the community ever since.
Parade emcee Terry Logsdon has been a part of the Killbuck community and EAD for the past 50 years, and he said the way people come together to celebrate or to lend a hand when someone is in need has only become more passionate over the decades.
"If someone here is in need or seeking assistance, there is always someone right there, waiting to lend a hand," Logsdon said. "This is such a close-knit community that has always been there for one another, and this gathering every year for the past 50 years has been one way of celebrating that unity."
From the softball tournament to the wrestling event, food and festivities, the weekend was a community celebration.
The EAD grand parade on Sunday featured floats and visiting royalty including the cast of royalty from EAD.
Jennifer Gurley, who heads up the queen and princess contest for EAD, said this year's crop takes over for a group that was exemplary in its efforts to represent EAD.
"We crowned some wonderful girls who will now travel all over the state of Ohio representing our festival," Gurley said.
Kylie Graber was crowned queen, Kloe Graber is the new junior queen, junior queen first attendant went to Isabella Ascencio, the princess went to Harper Lint, Ellianna White received princess first attendant, Little Miss went to Gracie Kyle and Little Miss first attendant went to Gracelyn Sutherlin.
Gurley said while the girls are taught all the ins and outs of being a queen, there is a great deal that goes into becoming royalty that goes far beyond simply attending festivals and parades and exhibiting that textbook wave.
"As I watched all of these girls during the competition, it was exciting to see how much they have matured already," Gurley said. "These events help them with public speaking, and it helps make them into wonderful role models for everyone in the community."
Also in the parade was Brian W. Dodd, West Holmes band director who was tabbed as this year's grand marshal.
"I am very honored to be recognized as grand marshal," Dodd said. "I am pleased and humbled to be chosen for this honor."
In memory of the Flood of '69, Killbuck Valley Museum President Bob Porter and other board members created signs and markers that were located throughout town to show how high the water rose in different sections of town.
In another presentation the KVM gave an encore presentation of the flood in the Duncan Theater, where those who lived through the storm shared their tales, their fears and behind-the-scenes memories.
"It was a great weekend," Porter said, noting that they had sold out of all of the flood books they had made and will be making more. "I think one reason the topic of the flood is so interesting to people is that not a whole lot of the people here lived through it. You have to be older to have been through that experience, and while it is part of our Killbuck history, there are a lot of people here who haven't heard a lot of the stories firsthand of how we worked through that big of a disaster together. It's amazing to think about the sheer amount of water that came through here, and the one thing that I hear the most from people that they remember is the smell that accompanied the flood. It was horrible."
The initial Flood of '69 show that took place at the Duncan Theater and the follow-up on Sunday during EAD were both widely attended, showing there is still a real interest in the details surrounding that time period in Killbuck's history.
Porter also said the museum itself saw a boost in attendance over the weekend as people got a chance to see the room dedicated to the Flood of '69, as well as other relics and memorabilia of historical significance in the area.