Kiwanis announces new signature project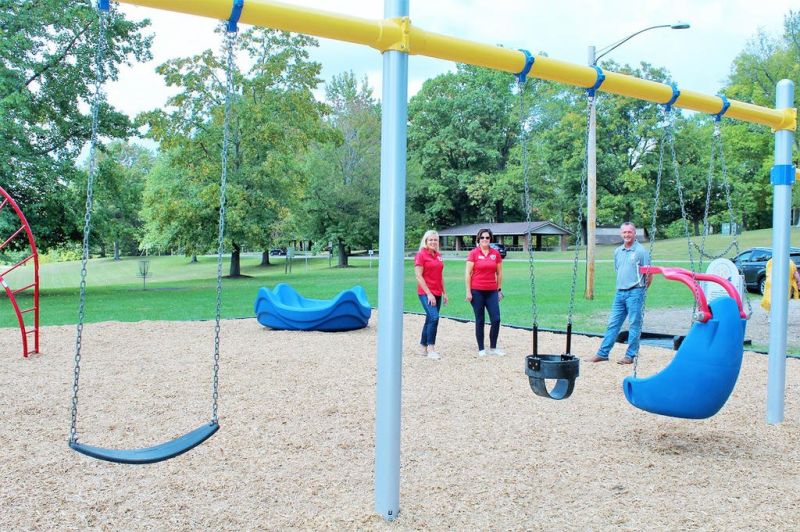 In its 101st year, the Dover-New Philadelphia Kiwanis Club just keeps getting better. The group recently welcomed six new members and announced this year's signature project to benefit the community.
After completing a new playground last summer at Dover Park's Deis Hill, the new project will continue in the same vein. The signature project this year will be new playground equipment for the Tuscarawas County YMCA in Dover.
"We will also include some playground equipment for handicapped children," said Steve Handley, a member of the Kiwanis Club. "It's going to be fun to get this done."
The club is seeking donations from the public and is applying for grants. The cost of the project is approximately $66,000 for about 10 new pieces of playground equipment. Checks can be made to the Ohio District Kiwanis Foundation at P.O. Box 103, New Philadelphia, OH 44663. All donations are tax-deductible. For questions call Vicki Yates, president of the Dover-New Philadelphia Kiwanis Club, at 330-340-7705.
The YMCA was pleased to be chosen as the recipient of this year's project.
"The proposed playground project would be a tremendous benefit to the YMCA youth programs and activities including the after-school program, summer day camp, and use by youth members and neighbors as well," said Keith A. Lands, interim CEO of the Tuscarawas County YMCA. "It would replace a very limited and worn-out playground that we use now. The Kiwanis Club has been a longtime supporter of the YMCA youth programs and activities, and we are excited that they have chosen the Y for this year's project."
Serving the children of Tuscarawas County has been the goal of the Dover-New Philadelphia Kiwanis Club for its entire history. Kiwanis is an international organization of volunteers dedicated to making a difference in one child and one community at a time. If interested in joining Kiwanis, call secretary Ron Lyness at 269-825-8411.
The club was once two separate clubs that merged in 2016. They were formed one day apart. The Dover club was formed Jan. 31, 1921, and the New Philadelphia club was formed Feb. 1, 1921.
A typical Kiwanis Club is a snapshot of its community with members from all walks of life at every step of the career ladder. They also are unified in their belief children and their communities benefit from the efforts of a group of caring and involved volunteers.
The local group supports scholarships for area high schools, Rainbow Connection, United Way Imagination Library, Noah's Hope, Tuff Bags, Salvation Army, Dover-New Philadelphia Food Pantry, T-4-C, New Philadelphia Little League, NPHS Delphian Chorale, Kiwanis Key Clubs in New Philadelphia and Dover high schools, National Honor Society Pins, Strong Kids YMCA, Sole Purpose's shoes for kids, Leaders of Tomorrow, 4.0 Awards for area high schools, Stuff the Bus, and the homeless shelter.
The new members to the group are people who are already serving their communities in some capacity and include the following:
—Seth Corder, a 2002 graduate of Dover High School who now serves as assistant superintendent of the school. He earned degrees from the University of Mount Vernon and Muskingum University. He and his wife, Jennifer, have two children.
—Jill Cunningham, a lifetime resident of Tuscarawas County and graduate of Indian Valley High School. She currently serves as the mobility manager serving Tuscarawas, Carroll and Harrison counties. She previously held a number of jobs including operating her own catering company. She has two children and four grandchildren.
"I joined the Dover-New Philadelphia Kiwanis to be part of their long history of service to children both locally and worldwide," Cunningham said. "The Kiwanis of Dover-New Philadelphia work tirelessly to make a positive difference to the children in our community. It is a blessing to be part of this wonderful organization."
—Carly Hart, a resident of Newcomerstown. She has three children with her husband, Sam. The family moved to the area in 2015 and lives on a small farm raising cattle, pigs and chickens. The family also shows cattle. Their children are active in sports and 4-H. Hart and her husband are involved as coaches in youth sports programs.
—Amy Wentworth, born and raised in Tuscarawas County and continues to call it home. She followed in her parents' footsteps and has been involved in education her entire life. She earned degrees from Malone University and Muskingum University and obtained additional licensure through the University of Akron. She is currently the superintendent of New Philadelphia City Schools. She and her husband, Ira, have four adult children.
—Mitch Kendall, a financial advisor with Edward Jones and a graduate of Kent State University. He has always been interested in helping others and wants to continue to do so as a member of the Dover-New Philadelphia Kiwanis. He and his wife, Kiley, raised three children. Other family members include a daughter-in-law and a granddaughter.
—Mandy Willett, executive director of Noah's Hope Child Advocacy Center. She helps children through her work with the center and hopes to continue to contribute through the Kiwanis Club.
The group participated in the recent community health check fundraiser at Cleveland Clinic Union Hospital. Their next fundraiser is a Bourbon Tasting at Donnie's Tavern in Zoar on Oct. 18. At the event there also will be a live auction for bourbons.
For more information visit Dover-New Philadelphia Kiwanis Club on Facebook.