Leadership program strives to empower area teens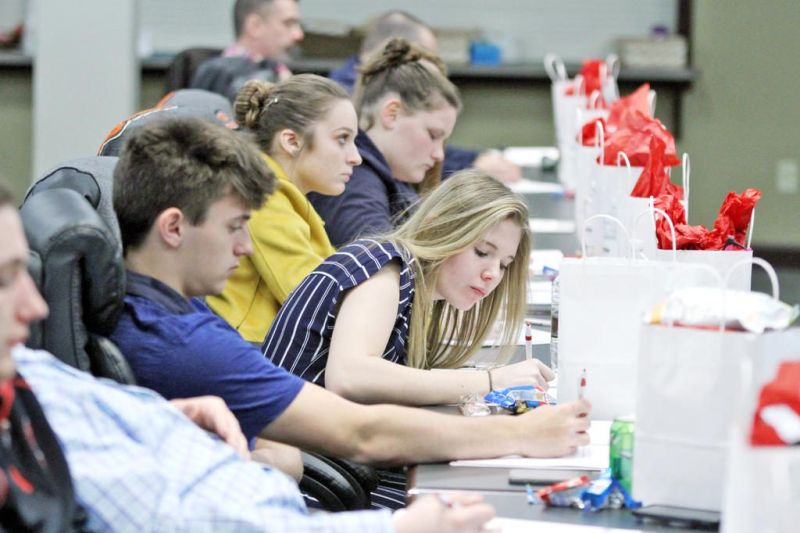 Without question being a teenager in today's world has brought with it many new and sometimes difficult pains and anxieties that teens didn't face even a decade or two ago.
Finding ways to help teens help themselves is one thing area leaders and Toward the Goal Mentoring hoped to achieve when they created an avenue for some of the area's top teen leaders to go back into their schools and redirect what they learned at the second annual Young Leaders Conference March 7-8 at ProVia near Walnut Creek.
The hope is that after hearing from a host of area adult leaders who spoke on challenging topics like self-esteem, creating a positive mind-set, developing a sense of gratitude and many others, they will in turn share that information with others and help teens help one another in growing in character, leadership and respect and making the world around them a better and more enjoyable place to thrive.
"We want to equip and empower student leaders," Jocelyn Hamsher of Toward the Goal Mentoring said. "We have a wonderful group of speakers whose hearts are all about investing in our kids and sharing their knowledge and wisdom they can pass along about servant leadership. Everyone talks about these young people being our leaders of tomorrow. We believe that they can lead now, so we want to walk along with them and encourage them to grow in their leadership as much as possible."
Last year the conference was a one-day affair for eight schools. Word of mouth spread, and soon there was a waiting list for this year's event. Toward the Goal quickly recognized the opportunity to reach out and work with twice as many schools was possible, and they expanded to a second day.
Day one of the conference saw 10 students attend from Lake, River View, West Holmes, Garaway, Smithville, Dover, Strasburg and Hiland high schools. Day two saw students visit from Hiland, Garaway, Newcomerstown, Tusky Valley, Indian Valley, Buckeye Career Center, Fairless and New Philadelphia.
The list of speakers included area leaders who presented challenging topics with leadership knowledge.
In dispensing a multitude of information designed to challenge students to return to their schools and share it with others, the hope of Toward the Goal is to help students learn how to better equip each other in dealing with the many issues facing today's teens, from bullying and being an outcast, to learning how to accept and include everyone, to how to be positive influences in their schools and communities, to simply understanding the role they play in helping other teens through what can be difficult times.
West Holmes assistant principal Tyler Renner said the opportunity to select a number of teens to attend the conference was one they jumped at because it was a terrific learning opportunity that could go well beyond just the 10 students in attendance.
"It was a joy to these students in here, so they can hear these messages and receive the incredible knowledge these presenters provide," Renner said. "We were strategic in who we brought. We tried to touch all bases of our school community in hopes that the students can go and give back to the students and the faculty some of the things they learn here. Anything we can do to help the kids learn how to give back and love and respect each other is unbelievably important."
Jim Millet, superintendent of Garaway Schools, said their experience at last year's inaugural youth conference was such a positive experience that they were excited about bringing back two groups to this year's conference.
He noted the idea of teaching youth to work together, whether at school or between schools, and having them take what they learn and act as leaders in a team sense to create better relationships make the conference well worth attending.
"It is exciting to see our young people take on responsibility and leadership within our schools and communities," Millet said. "They have an opportunity to make the world around them a better place, and that is what this is all about."
Hamsher said social media has created an entirely different world that young people from previous generations never had to deal with. She said the feedback they received from school officials last year led them to realize that what they were doing was a step in a very productive way.
She also said they realize the need to teach more soft skills, leadership skills and practical life skills to the kids and do so in a fun yet informational way.
The area leaders chosen to speak understood those concepts well, and they were excited about the opportunity to provide valuable insight into leadership roles that would challenge each of the students.
"One of the things that is important to understand is that we need to invest in our next generation of leaders," said servant leader and motivational speaker Dan Owolabi, executive director of Branches Worldwide. "We asked each of the schools to bring their very best students in for this conference. Because when we do that, we believe that the whole school will benefit from them passing on their wisdom. These are bright kids who get the value of leadership and character. If these students here today can leave here with a sense of self-confidence and a belief that they can lead, even in the toughest of situations, it is going to make those around them better."
Owolabi said creating tougher kids who believe in themselves is a big part of what the conference hopes to achieve.
Hamsher said that event was made possible through the generosity of its keynote speakers but also because of the commitment of community businesses that backed it financially because they understand the importance of what the conference is meant to relay to the teens.
"It is so neat to see so many area business people recognize the importance of the message we are trying to promote," Hamsher said. "They have caught the vision that these are our leaders of the future, and we can help promote self-esteem, character and leadership through these students that will hopefully pour out into their schools."