Library, WOUB PBS to virtually feature works of famed author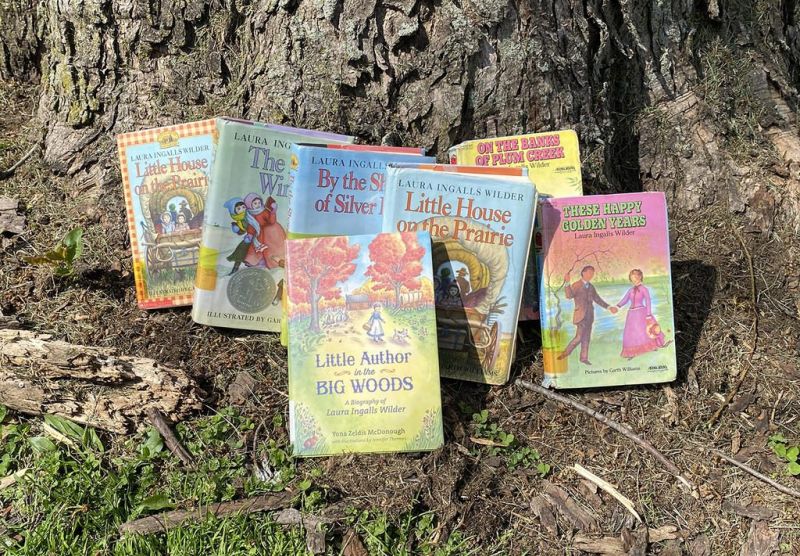 For many people, the memory of the escapades of siblings Laura, Mary and Carrie Ingalls and Pa and Ma Ingalls exploring the early frontier of Plum Creek, Minnesota in the late-1800s on the NBC television series "Little House on the Prairie" is an ingrained favorite memory.
The TV show was created from the mind of author Laura Ingalls Wilder, who brought these characters to life long before they hit the small screen.
The Ingalls family books and television show explored many in-depth topics, like adoption, alcoholism, faith, poverty, blindness and prejudice of all types including racism, all while maintaining a commitment to family.
Those who wish to relive the joy of the Ingalls family or want to experience their love, trials, joys and sorrows for the first time can join the Holmes County District Public Library on Tuesday, May 4 at 7 p.m. for a virtual look.
The public is invited to join the library in a virtual presentation for a free showing of the American Masters documentary, "Laura Ingalls Wilder: Prairie to Page," presented in conjunction with WOUB PBS. The documentary covers the life of Laura Ingalls Wilder, the writing of the books, their place in the context of the past and in today's culture, what was real and what was fiction, the TV adaptation and more. The documentary features scholars of Laura Ingalls Wilder and actors from the show such as Melissa Gilbert and Alison Arngrim.
"We are very excited to team up with PBS for this special event," Christina Thurairatnam of Holmes County District Public Library said. "We will get a look into the life of Laura Ingalls Wilder from childhood on, explore her writings and what happened in real life. I know a lot of people are familiar with her story from 'Little House on the Prairie,' but this will give people a chance to delve deeper into her story and hear directly from her. And PBS programming is always extremely educational and informative."
The look into the documentary will be open to all who would like to register for the event. Registration is required and is now available through several different methods. Those interested in joining can do so by logging on to the library website at www.holmeslibrary.org, on the library's Facebook page or by calling the library at 330-674-5972. This program will take place on Zoom, but a webcam and microphone are not needed as attendees will not be on screen.
After the screening, there will be a panel discussion with Dr. Miranda Green-Barteet and Lori Pringle. If you have questions for panelists about Laura Ingalls Wilder or her books, include that when you register or email adultservices@holmeslib.org afterward. All questions must be submitted in advance, and there may not be time to address all questions.
Barteet is an associate professor in the department of English and writing studies and gender, sexuality and women's studies at Western University in London, Ontario. She is the co-editor of "Reconsidering Laura Ingalls Wilder: Little House and Beyond."
Pringle is the library media specialist for East Holmes Local Schools and an educational engagement consultant with WOUB Public Media.
"This is a neat collaboration taking the documentary that PBS has provided and bringing it to our local county for a virtual screening," Pringle said. "East Holmes students absolutely love Laura Ingalls Wilder books, so it should be a neat virtual gathering that will really give people some insight into Laura Ingalls Wilder's life. The discussion afterward should be a great experience."
Pringle said learning more about Laura Ingalls Wilder as a person is a big part of the allure, where people can discover what types of experiences in her life paved the way for such a beloved book series that ultimately led to the TV series.
"It gives us insight into who the author is," Pringle said. "What is really interesting is that historical period from that era, from those days on the prairie, are still being read by so many kids today."
Major funding for "Laura Ingalls Wilder: Prairie to Page" is provided by the National Endowment for the Humanities, The Leslie and Roslyn Goldstein Foundation, The Julie and Doug Baker, Jr. Foundation, and Doug and Carole Baker, Sr.
Support for American Masters is provided by the Corporation for Public Broadcasting, AARP, Rosalind P. Walter, Seton J. Melvin, The Blanche & Irving Laurie Foundation, Vital Projects Fund, Cheryl and Philip Milstein Family Foundation, Lillian Goldman Programming Endowment, The Philip and Janice Levin Foundation, Judith and Burton Resnick, Ellen and James S. Marcus, The André and Elizabeth Kertész Foundation, and public television viewers.