Local couple shares family tradition in new book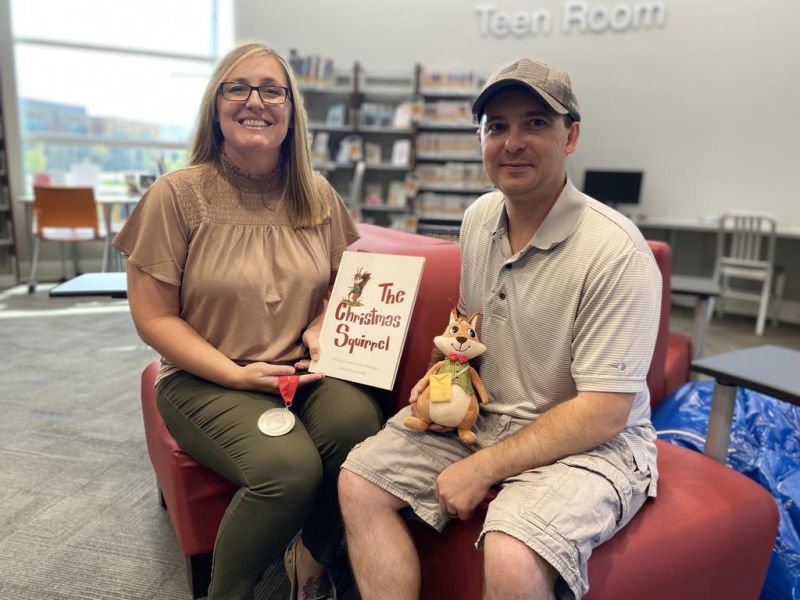 Tabitha and Frank Alleshouse, Jr. of Strasburg are two people packed with surprises. Their new children's book, "The Christmas Squirrel," is set to be released Oct. 1.
While many authors might look for an agent to help get their work published, the Alleshouses undertook the entire project from end to end themselves, with 1,000 copies of their new book ready to get into young hands for Christmas.
"We have boxes and boxes of books in our library at home," Tabitha Alleshouse said, "and our family keeps asking when they're going to get their copy. No one has really seen the finished book yet."
She pulled a copy of the book from the tote bag she carried. "I don't think anyone but us has seen this," she said.
The story of "The Christmas Squirrel" came about as a memory of Christmases with Frank Alleshouse's father.
"He would jokingly give our dogs voices and tell the tale of this Christmas squirrel who goes around to all the houses bringing gifts for the pets," Frank Alleshouse said.
"That's how the pets of the world actually get their Christmas presents," Tabitha Alleshouse said. "That's how the idea started. We had the idea written out and had our story, so we started researching how to get a book produced and published."
Deciding the best way to move forward was to form their own publishing company, they did just that. "I spent a lot of time at bookstores and at Target in the children's book section, figuring out formats, book sizes, where they were published and all those details. We looked for books which were successful and learned from them," Tabitha Alleshouse said.
A children's book needs illustrations, and the couple turned to the internet to find someone to create the artwork they needed. They found their watercolorist, Lea Embeli, via an online platform called Fiber.
"Our illustrator was actually located in Serbia," Tabitha Alleshouse said. "We sent sketches of what we wanted, and she was able to give us what we were looking for."
There were language problems to be overcome, however. "She had never seen a squirrel or an acorn, so we had to send a lot of pictures. We started with illustrations in July of 2021. By December of that year, they were done. We formatted the book, and by February this year, we started printing," Tabitha Alleshouse said.
"Everything just fell into place," Frank Alleshouse said. "The illustrations were exactly as we imagined, and the book is just as we saw it in our minds before we started."
The project is truly international in scope. An artist in Indonesia created their publishing company logo. The book was printed in China. The Alleshouses assembled the many parts of book publishing themselves.
"We met a lot of people on this journey who have whole teams of people doing all these parts of the project," Tabitha Alleshouse said. "We're just an army of two. We were doing the jobs of 12 people."
They dug right in, contacting independent booksellers beginning in March. A reading of the book is scheduled at The Bibliophile in Dover on Nov. 12 at 10:30 a.m. They've found distribution to be their biggest hurdle so far. The authors learned most booksellers get their stock from large distributors and rarely venture outside their business model.
Successfully marketing a children's book often entails tie-ins, and Tabitha Alleshouse pulled another surprise from her bag, a prototype plush figure of the Christmas squirrel, ready to go into production after a Kickstarter campaign, which began Sept. 1. Not one to settle for doing things in a small way, she pulled yet another surprise from her tote: a Christmas ornament adorned with an acorn, also ready to be produced.
The campaign is at www.kickstarter.com/projects/thechristmassquirrel/the-christmas-squirrel.
"We have 1,000 copies of the book," Frank Alleshouse said. "If it takes two years or more to sell them, then that's fine."
They are already planning an expansion of "The Christmas Squirrel" universe for future titles in a series.
"The Christmas Squirrel" will be available in select bookstores and from amazon.com beginning Oct. 1 of this year.