Local entrepreneur keeps building 1 cup at a time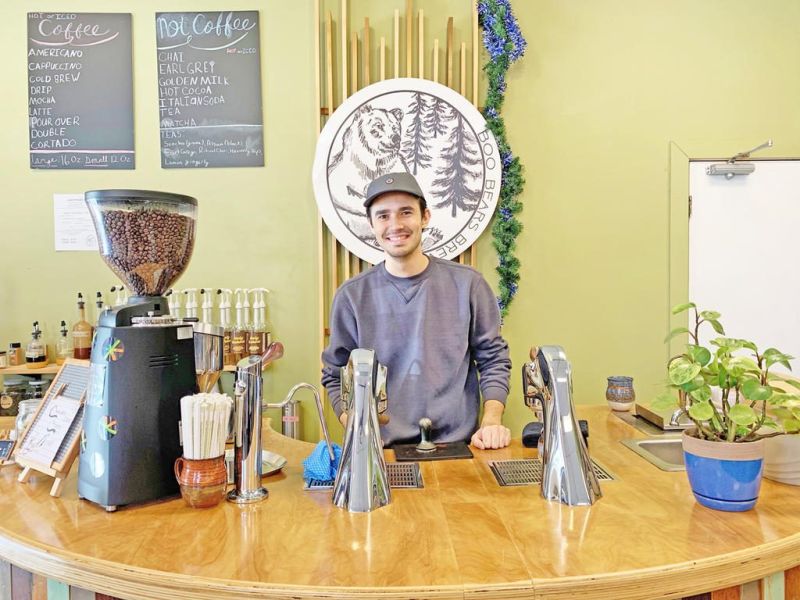 For local entrepreneur Seth Feikert, his coffee shops are about way more than serving up a great cup of joe.
"(Boo Bears Brew) is a coffee shop with a focus on supporting local, small businesses wherever possible and doing our best to care for the environment," Feikert said.
And according to the business owner, creating community is another important aspect of his business. "For me coffee has always been about creating a gathering space for people to work or socialize," he said. "I aim to create a space that is welcoming for everyone."
In 2018 at the age of 18 and just out of high school, Feikert began his coffee business with a small pour-over stand. Just two years later, he opened the first Boo Bears Brew permanent location in the back of the Local Roots Market and Cafe space in downtown Wooster. While in high school, the aspiring entrepreneur took one college-level introduction to business class. "Outside of that, I'm fully self taught," he said.
In January 2022, he opened a second location on The College of Wooster campus. Boo Bear's newest endeavor is located where the Old Main Cafe used to be in Kauke Hall. At that location, Feikert supplements his regular staff by hiring College of Wooster students. He also offers grab and go sandwiches from Local Roots in addition to his Boo Bears menu of beverages and snacks.
Feikert's family is originally from Holmes County. He has lived near Wooster his entire life. "I have a wonderful support system," he said. "My family has always been an inspiration in my business, as both sides of my family have their own businesses."
His grandmother came in to help him out one of the first Saturdays he opened downtown. His mother has enjoyed the change of pace from her usual job and helps out when things get really busy. "She also decided to dive into her passion for baking," Feikert said. "She's now taken over the baking operations for both locations."
Even the name Boo Bears Brew has family ties.
"I wanted the name to be something personal," Feikert said. "Growing up, my sister called me Boo Bear."
He added Brew as a way to be clear the business is about more than just a cup of java. "I didn't want to be defined by coffee and to let people know we focus on way more."
The business owner enjoys chatting with customers and getting to know his regulars. He said not only does he offer great coffee, but also he keeps things authentic.
"Of course any coffee shop would claim to have great coffee," Feikert said. "I try to create the most authentic version of specialty coffee — keeping our quality high by working with an amazing list of vendors."
Additionally, Feikert keeps his focus on environmental awareness wherever possible. "I don't do anything monumental," he said. "I just focus on keeping our waste low and recycling nonbiodegradable items."
Many businesses use compostable disposables; however, often these items never make their way into compost.
"Cups placed in our compost bin end up at our sister company New Grounds' compost, where it's composted and then used for local farm-to-table businesses, as well as supplying locals with quality soil," Feikert said.
Boo Bears Brew offers coffee, a limited snack menu, bulk coffee, and a few coffee-related items and wearables. With both drinks and bakery items, Boo Bears offers organic, sugar-free and vegan options. Everything sold is curated by Feikert and chosen for quality, environmental consciousness and to help support small businesses.
One of Feikert's current collaborations is with an Akron area artist who recently designed stickers and sweatshirts for Boo Bears.
In choosing vendors, Feikert said his first priority is quality. Second is a local location. "I try to work with companies that have practices that help us achieve our goals," he said, mentioning Hartzler Family Dairy as an example with "their amazing bottle-return process."
Akron Coffee Roasters is Feikert's favorite coffee. "The product is consistent and unique," he said. "There is no light, medium or dark. They roast with the goal of bringing out each bean's best flavor profile."
A small business that is not Northeast Ohio local is the syrup company, Holy Krakow. The small, Oregon-based company makes all its syrups in small batches, using organic ingredients.
"As they're the best syrups I've had, I'm happy to continue supporting a small business, even across the country," Feikert said.
Find Boo Bears in the back of the Local Roots Market and Cafe building. Either come through the market entrances during market hours or Boo Bears' entrance in the back at 140 S. Walnut St. in Wooster and Boo Bears Brew at Old Main, 400 E. University St., inside Kauke Hall on The College of Wooster campus.
Boo Bears may be found online at www.boobearsbrew.com.
"I think of coffee as the fuel to change the world," Feikert said.