Meghan Wallace shows wisdom beyond her years with project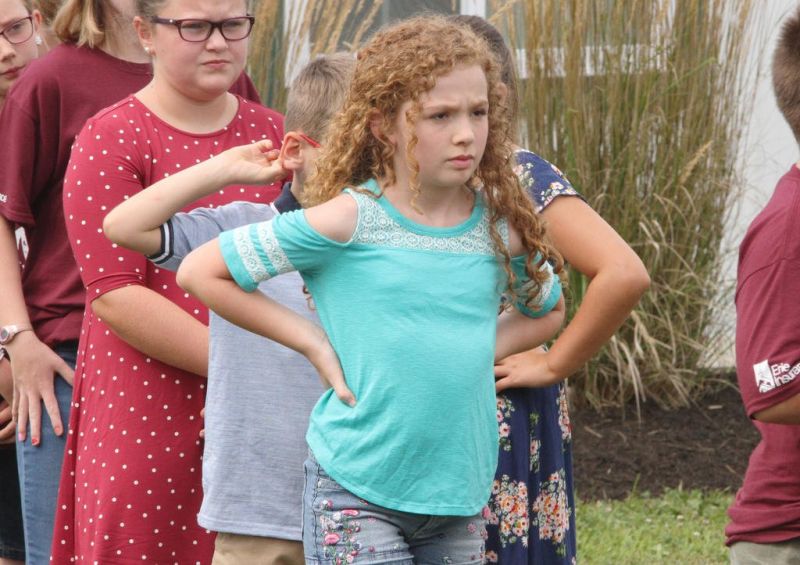 Maybe Holmes County Ohio State Extension Office educator Janessa Hill was on to something when she spoke about Meghan Wallace on Monday, Aug. 5 during opening day of the Holmes County Fair.
"She is going to be president some day," Hill said of Wallace.
That was because the 10-year-old member of the Lakeville County Farmers 4-H club put her creativity and organizational skills to work. She took on a self-determined project for her 4-H Like Skills project, and the result was a lot more than the Outstanding she received for her project at the Ohio State Fair.
Wallace also took home a Clock Award, an honor bestowed upon participants who demonstrate outstanding skills in their project and presentation. There is just one finalist who receives that award per class.
That is extremely impressive, but Wallace's effort didn't stop there.
The 10-year-old, who conducts herself like someone who should be 38 years old with all kinds of world experience and knowledge, created a self-determined project in the How To Start Your Own Charity category titled the Lily Bean Project.
Her project was based on enhancing reading in children, and she created it in a very unique manner.
"The Lily Bean Project gets children into reading so that children can boost their confidence in reading," Wallace said.
This particular program encourages children to read to their pets. "It not only helps kids learn to read better, it gives the animals the socialization they need while the children are reading to them," Wallace said.
Wallace, who already volunteers at a local animal shelter, said she got the idea because she loves reading and enjoys reading to her foster kittens.
"I found out how much I love reading to the animals and thought it would be great for both the children who might struggle with reading and their animals," Wallace said. "It's a neat way for kids to connect with their animals."
As the founder of the Lily Bean Project, Wallace's 4-H project is far from done. She continues to work on the nonprofit charity organization she founded, gathering children's books that will be placed in a Lily Bean basket in all 88 counties in Ohio. She currently has 15 baskets of books ready to distribute and would like to complete her endeavor to all 88 counties by the end of 2020. The books will be stored in bins where children can pick out a book or books to read to their pet.
The bins will be delivered to pet shelters throughout the state.
If you think her ambition stops there, you would be incorrect.
"I eventually would like to take this nationally," she said with a smile.
Wallace also made it to state with her two other projects, Perfect Pals and Scrapbooking. The year before she also went to state in three categories.
While she can no longer pursue the Lily Bean Project as a 4-H self-determined project because she won a Clock Award, this is one 4-H Life Skills project that appears to have legs as she intends to pursue her dream of extending the charity state and nationwide.
About the only thing that didn't go Wallace's way was the moments immediately after she received her Clock Award. She was handed the Clock Award as it was perched on top of the box it came in, and thinking it was all together, it fell off the box and broke into three pieces as she turned to walk away.
Not to fear, the state fair is currently creating another clock for her to replace the broken one.
"I think 4-H has really helped me grow in my personal life, especially with my confidence," Wallace said. "Before 4-H I couldn't talk to a lot of people like I can now."
With the speaking ability of a woman far beyond her years and ideas and ambition greater than most adults, who knows how far this young entrepreneur can soar as she takes the Lily Bean Project to greater heights step by step?