Mission Possible A to Z helps build library in Zambian village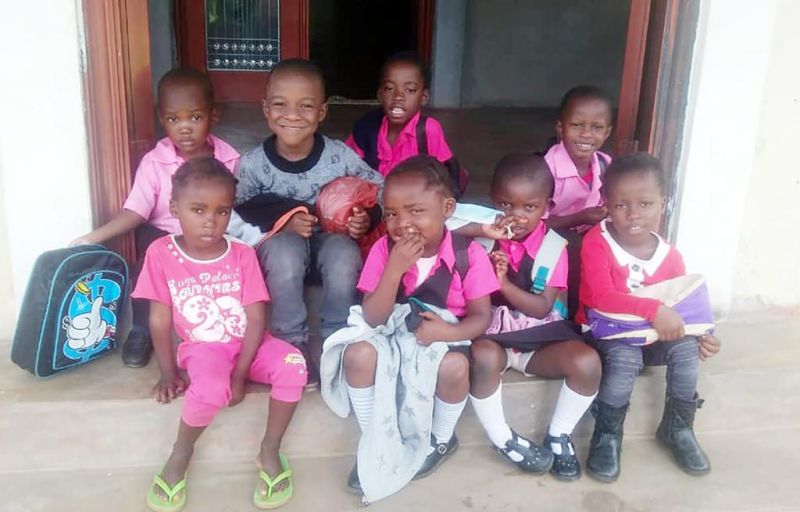 The number seven was instrumental in the teaming up of St. Mary Youth Group and Mission Possible A to Z of Wooster, so it seemed appropriate for them to choose 7th Heaven Sale for the name of the recent auction and fundraiser.
Inspired by Jen Hatmaker's book, "7," in which the author commits to seven months of purging seven areas of her life to live closer to Jesus, event coordinators challenged people to donate quality items they could do without.
"As our own experiment in putting God first while fighting spiritual and economic poverty at the same time, we challenged people to focus on giving up unnecessary possessions," event coordinator Dorene Miller said. "People are used to rummage sales, but this was so much more. It was about giving up something you value to honor God's work."
The response was inspirational.
Those willing to give until it hurts brought in valuable art pieces, gold jewelry, two new kayaks, quality furniture, household items and an entire laundry list of valuable items that made for a successful auction. Two local pastors even volunteered to cook gourmet dinners for eight people, each bringing in $500 for the cause.
The giving was so strong they eventually purged some items, taking seven carloads of goods to Mission Thrifts. In addition, following the auction, they connected with Mountain Vision, which had its volunteers come and take whatever they thought they could use to provide for needy families. They also were able to give some quality items to the local nonprofit Gabriel Project.
"We were so blessed with giving that we were able to reach out to a number of other local organizations to help them, so this auction went a long way in meeting a lot of needs beyond what we had even hoped," Miller said.
The proceeds from the event benefited a pair of causes, the first to help fund the St. Mary Youth Group trip to the National Catholic Youth Conference to encounter Christ, experience church and be empowered for discipleship.
The second was to support a Mission Possible A to Z initiative in Zambia that will provide tuition for children to attend preschool.
Mission Possible A to Z began 15 years ago when Miller and her husband visited Zambia and went way out into the bush country, where they got a view of a world they never knew.
"They have so little there," Miller said of the people of Zambia. "Everything is so sad and forlorn."
Wanting to give every child an opportunity to gain knowledge, have food and grow in faith, they decided to build a new library.
"We felt if we could build a place where we could put in technology and books and provide them with a nice place to meet, it might open up the world to them," Miller said.
Building the library was going to be a one-time trip to Zambia, but once the lives of the children there sank in, the conditions there wouldn't leave their hearts.
The Millers began working with Sunflower Orphanage and in the process realized the children who were fortunate to be able to attend school were meeting in small rooms with very poor conditions. According to Miller, children in area villages pay $3.75 per month to attend school, and even that minimal price keeps many children from attending.
"It was heartbreaking to see because there were these worn-down concrete walls with these enormous craters in the middle of the floor," Miller said. "They have no door, and the last rainy season we were there, a storm blew off their roof of their classrooms."
Recognizing the inferior classroom setting was not conducive to learning, Mission Possible A to Z turned its focus on creating a better learning experience for the kids by offering their library as a school.
That turned out to be a blessing, but as photographs began coming in to the Millers from overseas, they realized there were fewer than two-dozen children attending school when there were hundreds in the area.
She soon found families couldn't afford the $3.75 per month to attend, and the school couldn't even assure families their children would have a breakfast.
"They had hundreds of children who were being denied an education because of the economic situation," Miller said, adding the way the school system works there is that if you don't go to preschool, you can't move on to attend higher educational levels.
Breaking her heart even further was finding out that when the preschoolers are at the library, the children from the villages who are unable to attend appear at recess time to play with those who attend the class to "belong" and be with friends.
How could they start an initiative to get the kids in school at their library while covering teachers' salaries?
Miller said the breakfast issue was solved quickly because she has a friend in Zambia who owns a banana farm and another who owns a goat herd who could supply a breakfast of bananas and milk. She could buy those products efficiently.
Now the fundraising continues to allow families to send their children to Mulungushi Agro Preschool at their library.
Mission Possible will ask churches in the villages of all denominations to prepare and submit a list of families with age-qualifying children to be submitted to the head mistress and preschool teacher.
Parents whose children are not in school will be invited to a meeting to determine eligibility and need and to explain the program and benefits.
Providing uniforms for these children still needs to be worked out, but Miller said the school supplies contained in the last shipment from Mission Possible are adequate to provide pencils, paper and crayons to at least 100 children.
"I really hope we can find a way to sustain this initiative and help these children find a better way of life," Miller said. "We know it won't be easy, but good things rarely are. It's just a matter of finding people who have a heart for this kind of mission outreach."
To donate to the ongoing mission efforts of Mission Possible A to Z, call Miller at 330-465-7177.