Mountain bike races held at Camp Tuscazoar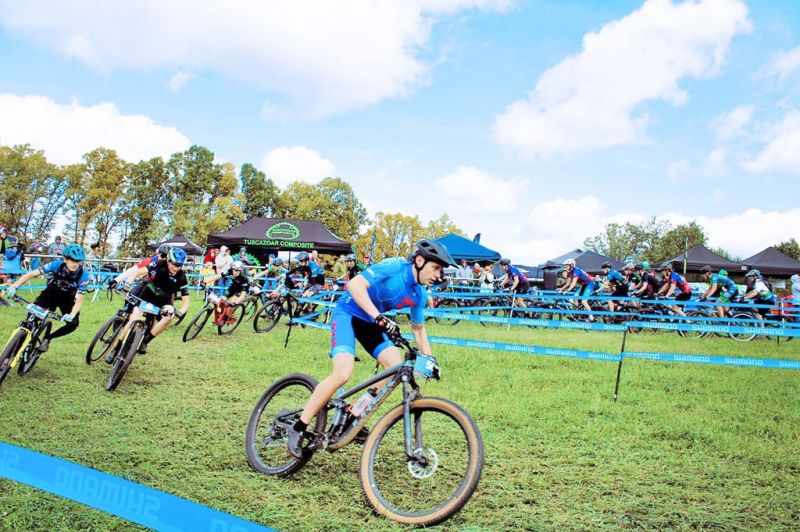 The Ohio Mountain Bike League of the National Interscholastic Cycling Association held its final race of the season at Camp Tuscazoar on Oct. 8 with racers from all over the state of Ohio attending. The event was the last of five races that began in August. Other events, held every two weeks, were at Freer Park, John Bryan State Park, Hueston Woods State Park and Chestnut Ridge Metropark.
The sport is one dedicated to the athletes and their families. A motto on a NICA trailer read, "Everybody rides! No tryouts, no cuts, no benches."
"It's one of the most family-friendly and just fun events you could go to on a weekend. There's camping. Racing's a small part of it, but it's really just hanging out with friends and enjoying being outside," said Jen Malik, league and race director for the Ohio Mountain Bike League. "I love seeing the kids running around with other kids after the race and then cheering for their teammates."
The OMBL is for students in sixth grade through 12th grade. The team's first practices usually start around July 1, and usually, teams practice two to three times a week. The league likes to keep the season short because students are involved in so many other things.
"Then the goal is they can ride their bikes whenever they want, but they don't feel obligated to really have to focus on one thing being so young," Malik said.
Malik is a fan of Camp Tuscazoar's 5-mile mountain bike course.
"This is my favorite course, and it's our last one of the season," Malik said. "So they traditionally get harder with each race. This one has a decent amount of climbing. You have some rocks; you have some roots. And then there's this really fun, long descent where everyone lines up and cheers for the riders. We get a lot of positive feedback on them loving that part."
Many hardy fans of mountain biking made the about ¼ mile trek from the main course area to the spectator zone, which takes them down a steep hill to a series of switchbacks on the race trail.
The OMBL hopes that by getting youth involved in biking, they'll be lifelong athletes who love the sport, but there are other opportunities too.
"There are some high schools and colleges who have biking teams, and there is also the USA Cycling Mountain Bike races that happen year round," Malik said.
All that is needed to participate is a mountain bike and a helmet, but the OMBL is there to help.
"We try and decrease the barrier to entry. So we have an Everybody Rides Scholarship, which we have $10,000 each season we set aside to help cover equipment costs for student-athletes," Malik said. "We also work really closely with Trek, and next year we're going to get a loaner bike fleet so kids who might not have a bike can check one out and see if they like it."
Events begin on Saturdays with a preride day.
"Coaches ride the course with their teams to get the feel of it, and they also teach them how to ride certain sections that they might have trouble with," said Chris Lallier, a coach with the Grandview Bobcats.
The league makes sure there are no riders left behind at events.
"The organization has done a good job of making safety and fun a priority even though it's a competition," Lallier said.
Marshals ride the trail with the racers, and sweeps follow behind and make sure the course is clear for the next race. Volunteers also are stationed at certain points along the trail to help if needed. All use radios to keep in contact.
Depending on their group level, riders will ride 5-20 miles at a race. Some of the older boys can complete the 5-mile course in 20-22 minutes.
The competition is tight in all the groups. In one previous girls race, the winner won by less than a second, and the third girl was less than 20 seconds back.
"It's awesome when you see that kind of competition," volunteer Doug Fisher of Columbus said.
The league would like to see more girls get involved in the sport.
"We really want to get more girls on our team because right now we only have four, and two of them are seniors," said Denny Simon, coach of the Tuscazoar Composite team. "If there's any girls interested, we would love to have them join the team."
Fees to race were a little more than $100 this year, but the Tuscazoar team was able to secure sponsors that paid for all the race fees this year. They hope to do this again next year.
Simon is pleased with the growth of the local team.
"We started three years ago, and we only had three kids. Every year we've increased the number of student-athletes participating, and we're up to 18. We're just having a great time getting kids on bikes," Simon said.
Most of the Tuscazoar team members are from Tuscarawas County, but some are from as far away as Brecksville.
The Tuscazoar team practices twice a week beginning in July to give the racers time to get in shape.
"We are fortunate to have 10 coaches who have completed the extensive NICA league training and also have had background checks done," Simon said.
Anyone interested in joining the team may email Simon at dsimon@tuscazoar.org.
Taylor Lockhart has been a member of the team for two years. She decided to join after she saw her brother race as part of the team.
"It's just super fun, and we have a lot of activities for the girls," Lockhart said. "We have a whole group dedicated just to having a girls ride where we go out and we session everything. We have music, and it's just a lot of fun."
The members of the Tuscazoar team are Ethan Rankin, sixth grade; Isaac Heaston and Colton Wickersham, seventh grade; Charlie Rankin, Aedyn Fillinger, Cooper Connare, Lily Theil and Clair Rust, eighth grade; Clark Johnson, freshman; Evan Lockhart, Chris Brinton, Jaxson Brown and Simon Rankin, sophomores; Eric Theil, junior; and Andrew Rankin, Addie Slutz, Taylor Lockhart and Chris Dawson, seniors.
To watch a video of the Camp Tuscazoar course, visit www.youtube.com/watch?v=x8DEfC1r_k8&t=11s.