Newcomerstown officials will show off new offices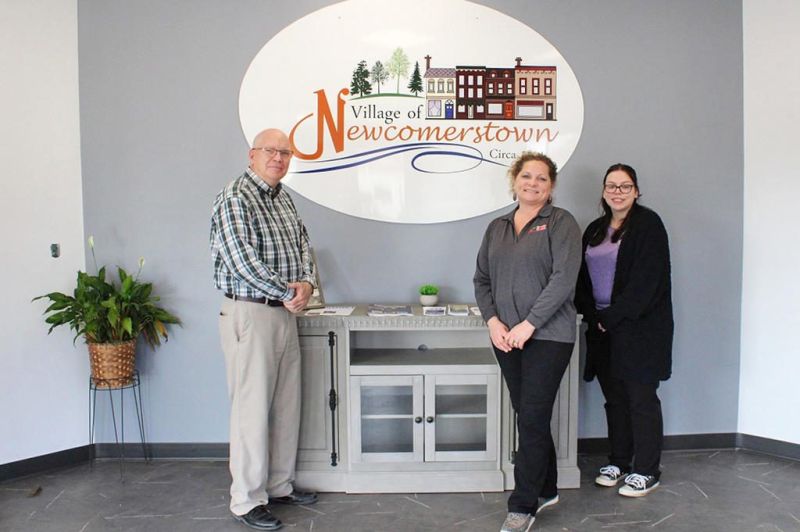 Newcomerstown city officials will host an open house to introduce the public to their new office building at 308 S. College St. on Thursday, Feb. 9 from 4-7 p.m.
Mayor Pat Cadle said he is happy with the results of the remodel of the former pharmacy store building, which affords more space for offices, extra space for storage and even a multipurpose room to be used for council meetings or other events.
Village council now has a council chamber for the first time in 20 years. Council has previously met at the civic center, then the library, and due to COVID, it had been meeting at the Newcomerstown Senior Center, which offered more room to spread out.
In a community survey, the steps to the second floor at the former city offices came in fourth as a problem the village needed to correct.
"Those steps for a lot of elderly people were hard, so that deterred some people from coming up," Cadle said. "This way everything's on one floor now. They can come in as often as they like. We can accommodate them much easier. This is very nice."
The offices include a reception area with a door to the village offices to the left and the entrance to the multipurpose room to the right. There is a window to the lobby staffed by administrative assistant Shannon Kincaid.
The staff is still working on hanging wall decorations around the office, but one prominent item is a canvas copy of Alan Fitzpatrick's painting of Delaware Chief Netawatwees, after whom the village is named. It hangs in the multipurpose room.
Other pieces that bring in the history of the village include photos of Cy Young, Woody Hayes, the old Newcomerstown High School and a Newcomerstown Boy Scout band photo. All were donated by the former Baker's IGA.
The multipurpose room, which can be separate from the rest of the office area, has adjacent restrooms and a counter-top/sink area. A conference room is available for council to use for executive sessions, so meeting visitors won't have to go outside as they have in the past.
It's taken three years to bring the new building to fruition. Officials had set their sights originally on another building, but when the current location became available, plans were changed.
"Because this had no walls, our design got to be whatever we wanted it to be, and so we divided it up," Cadle said.
In addition to ample office space, the office contains a workstation for the staff's use.
"It gives you an area where you can spread things out. You can copy. You can do things out here and it doesn't have to be in your office," Cadle said.
The office also has a lunchroom with a kitchenette, something it didn't have at the old office.
Architects for the project were Ron Van Wey and Zach Van Wey of Cambridge. The remodeling work was completed by Benchmark Construction.
Other offices are for the parks and recreation director, zoning and IT. There is currently an extra room for storage. Cadle said he is happy to have a climate-controlled storage area for the village's Christmas decorations.
"But the nice thing too with that back storage is it also allows room for growth," Cadle said. "We could add two more offices in the future if we needed to. And that's one of the things we haven't had for a long time. We haven't been able to grow in different directions."
The former office building housed the police department on the first floor, and that department will be able to use the vacated office space.
Cadle said much progress is going on in the village. The former Simonds factory building was demolished, and the concrete was removed.
"It's a lot different looking. The fence has been taken down. The interesting thing with that is we found grinding stones, grinding stones made of rock," Cadle said. "When you look at them, they look like the Flintstone mobile's tires, but they found at least 40 of them."
The stones were used by the Simonds company at one time.
"A lot of them were buried in the foundations that they broke apart. And they weighed 200-500 pounds," Cadle said. "So we've got to make some decisions on what we're going to do with those. The next stage is a company called Brownfield Restoration is going to be testing the grounds."
The testing is part of a grant the village received. Once the site is tested and cleaned, if necessary, Cadle is hopeful the property can be used for something to benefit the city. There has already been interest from a developer to build senior housing.
The village hopes to save some of the property where there is a grassy area with trees and a flagpole, no matter what development would go in.
"We've kept a lot of things that we would like to use to create a memorial to the workers because that factory was the backbone of this town for over 100 years. And for a lot of people, it was hard watching it go, even though it had been sitting there for 15 years," Cadle said.
The village is working on a downtown plan.
"We're applying for a TAP grant, and that would take care of sidewalks downtown. We're ordering new, ornate light poles that we can put to make it look nicer than the wooden ones we have down there now. So that's something that's about two years down the road before anything happens," Cadle said.
He is hoping another grant will supply paint to spruce up the downtown too.
Another project in the works will add a sidewalk on city-owned property from the end of Goodrich Street to the high school for the safety of students. The village is still working on funding to replace a bridge on Neighbor Street. It has received a grant for $931,000, but estimates have put the total cost at $1.35 million.
Good things are happening at the industrial park too. Two new companies are moving in, and others are expanding.
"At the same time, we're still trying to attract a big company to go into the park to replace what we lost from Simonds because we lost about 200 jobs when we lost Simonds," Cadle said.
Cadle is hoping the Intel development going in outside of Columbus will benefit the village as supply-chain companies will be looking to build.
"I'd say within 100 square miles of that Intel site, (cities and villages) are all scrambling," Cadle said. "We're all salivating to get one of those big companies because it means a lot for your economic development and your revenue. We have a lot of land for sale for development for housing, but we don't have the demand. A big company brings the demand to make it worthwhile for that developer to take that chance."
Despite all the successes, resident safety is the top priority after the tragic death of a family of six due to a house fire in the village in December. Cadle said 136 smoke detectors were installed in 52 homes in January in partnership with the Red Cross. Another round of smoke detectors will be installed in April, and he hopes to make the program a yearly event.
Visit www.newcomerstownoh.com.