Glass collectors revel in a pre-auction gathering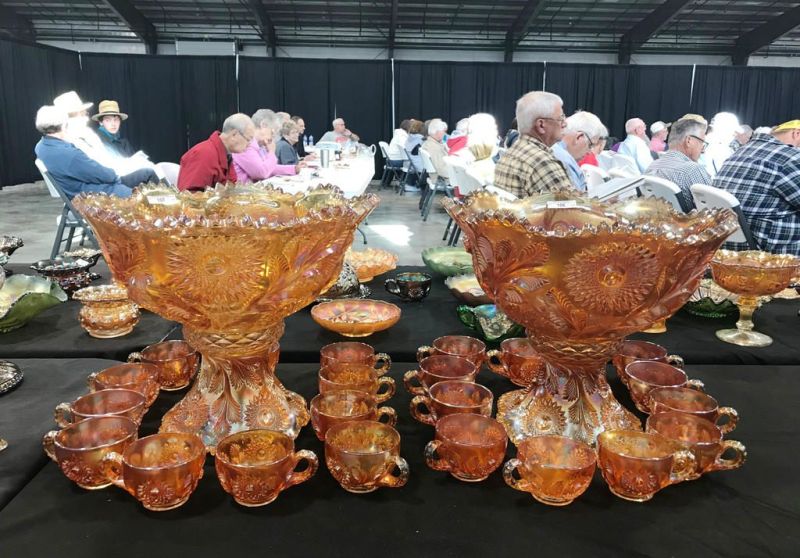 The Holmes County Antique Festival hosted its annual Millersburg Glass Auction at Harvest Ridge in Millersburg on Saturday, Oct. 5.
With pieces available to purchase at auction between $15 and $28,000, there was once again something for everyone, regardless of whether collectors were novices or deeply involved in collecting glass.
However, the night before the auction is always one for members of the Holmes County Millersburg Glass Association to gather for their annual meeting. There, they talked about their passion for glass, especially the stuff from their hometown.
President Randy Jones said the evening is always filled with interaction and discussion and one that the members truly look forward to attending each year.
"Our gathering is always the Friday night before the festival, and it is always very well attended," Jones said. "We call it our fall gathering, and it's for our members to come in and get together. Collecting glass is a great hobby, and this is a great social thing. We have a meal, they get to preview the glass and we always have some sort of main topic that we like to talk about."
Each year at the fall gathering, members get to hear about a topic featuring Millersburg Glass. Jones said one of the main purposes of the club is to educate and inform its members about some of the different types of glass. This year the main topic focused on multi-flower and fruits glass. Jones said there were very few items made in that pattern with some of the ones made including punch bowls, water pitchers and small sherbet bowls.
"There are 11 known pitchers featuring that design, and we had five of them here for the meeting," Jones said. "The owner of those pitchers is planning on selling them in the Antique Festival Auction in 2020."
For those interested in seeing these five pitchers, they will be on consignment and displayed at the Millersburg Glass Museum, located next to the Victorian House on the north side of Millersburg. They will be on display, along with some other pieces of rare Millersburg Glass.
"Chris Sieverdes has done an incredible job of bringing in some of the rarest and most expensive glass anywhere, and we are very proud of the job he has done there," Jones said. "Over the last year he has really upped his game and brought in some incredible pieces. I advise everyone to go through the museum. It is just a beautiful display of glass, and people can gain some real insight into what was a big part of our county's history."
Jones said he has collected Millersburg Glass for the better part of three decades, and like everyone else who collects it, he continues to learn more about it at every get-together.
"I've done a lot of research, and I know a lot about it, but it seems like I learn something new about it just about every day. It's unique glass, but the fact that it was made right here in Millersburg makes it so much more special for people around here," Jones said.
Another part about being a member is the newsletters keep members apprised of when new pieces appear, pieces that are oftentimes one of a kind, which is not unique for the inventive Fenton.
"We sold four pieces at this year's auction that nobody knew about that were found in a woman's house in Wayne County," Jones said. "There are other pieces like them, but they are very rare. That is the kind of thing that keeps all of us so connected, and my guess is that the woman was very excited about what the pieces brought at the auction."
Aside from the annual fall gathering and the glass auction, club members receive four newsletters each year. Anyone interested in becoming a member can visit the Holmes County Millersburg Glass Association website at www.millersburgglass.com to download an application.
Prospective members can pay through PayPal or via check. Also on the website is a list of all of the association's officers and contact numbers. Jones said any of them would be more than happy to talk about the association and becoming a member.