One year in, Lang's idea has been right on target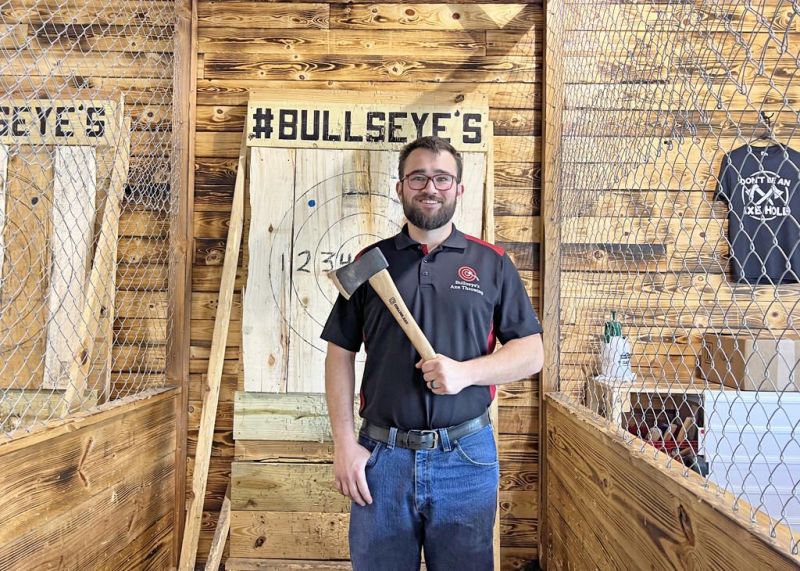 Forrest Lang played a hunch last year, and it wound up being right on the mark.
In fact, one could say Lang hit the bull's-eye.
Bullseye's Axe Throwing will celebrate its one-year anniversary during the Memorial Day holiday weekend May 26-28 with a food truck, discounts and giveaways. The business is located at 4146 Burbank Road in Wooster, next to Buffalo Wild Wings.
"It feels pretty surreal to finish our first year," said Lang, 24, who graduated from Triway in 2016 and came up with the idea to open an axe-throwing business while attending college at Ohio State. "It's not that I didn't think we'd make it to this point. I just can't believe how fast the time flew by.
"There were lots of challenges, from finding employees to trying different methods of advertising and getting people through the door and making sure people know that we're here. I'm very excited that we've made it to this milestone and really want to thank everyone who's supported us."
Approximately 6,000 people have come through the doors to throw axes at the one-of-a-kind facility for Wayne County, Lang said. There have been more than 40 company team-building events.
"It's been a very rewarding process, and I'm very excited to see where we go in the future," Lang said.
Lang was first introduced to axe throwing as a college sophomore when he and a friend wanted something fun to do and tried out an axe-throwing facility in Columbus.
"It was a lot of fun, and my first reaction was 'Wow! I wish we had one of these growing up in Wooster,'" Lang said. "After thinking more about it, I thought, 'Let's see if we can make a business out of this. It's just 2-by-4s and plywood (for the throwing lanes and targets). That can't be that hard to do.' I crunched the numbers and realized that a business could be made out of it."
Lang's business plan didn't go over well with family and friends. It was one of the few times when mother didn't know best, as the saying goes.
"My mom's first reaction was something like, 'That's a horrible idea,'" Lang said.
Kelly Rhodes didn't think her son's axe-throwing idea sounded safe and knew how hard it is for a new business to succeed.
"Anyone who knows my mom knows that she thinks through things very well and makes sure things are done right," Lang said. "It took a lot to convince her and my grandparents. While I'm happy to prove them wrong, they fully support it now that they've seen it come to fruition. I like seeing people shoot holes in my ideas because it just gives me an opportunity to think it through more and make it better."
Lang was actually set to open Bullseye's Axe Throwing in the spring of 2020, but the COVID pandemic delayed the start until 2021.
The Bullseye's Axe Throwing setup is safe with six caged lanes for participants to play from. There are six different games that players or teams can choose from, and staff workers are on hand to teach the basics.
"My favorite customers are ones who have never tried it before," said Lang, who's married and working on his master's degree in agricultural education through Ohio State. "People come in and don't know what to expect or worry it's unsafe. I promise it's not. Once people get the hang of it, they have a great time.
"The biggest feedback that we've gotten from our customers is that they greatly appreciate the coaching. Some of them have gone other places, and it's kinda like bowling where someone says, 'Here's your shoes. Here's a ball. Have at it.' We try to really make sure everyone has a good time and is sticking the axe on the target. Like bowling, it's no fun if you're getting gutter balls."
Customers can bring in their own food and nonalcoholic drinks.
For the one-year anniversary, Jack Savage will bring his FreeWheelin Pizzeria food truck to park outside. There will be special promotional deals available.
For more information on reservations, hours and pricing, visit www.bullseyesaxethrowing.com.