OneEighty's Chalk the Lot will add color to downtown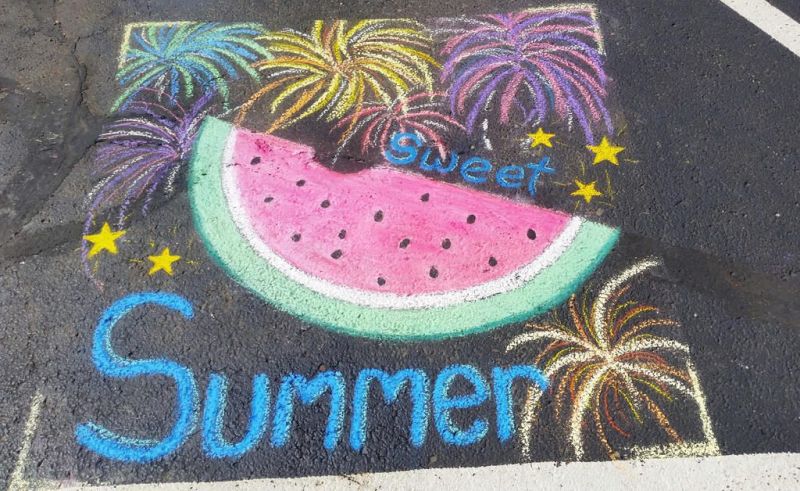 The second annual Chalk the Lot event will take place June 29 in the parking lot at Commercial & Savings Bank at 91 S. Clay St. in downtown Millersburg next to the courthouse as a part of the Thunder Over Holmes County Independence Day celebration.
Registration will open at 7:30 a.m.
Chalk the Lot is an event sponsored by Holmes County Friends & Neighbors of OneEighty that gives both skilled and novice artists an opportunity to show their talent and display their own artwork.
"We welcome everyone to participate, and we especially invite novice artists to participate," said Holmes County Friends & Neighbors of OneEighty treasurer Ashley Vaughn, who heads up the event. "We want to fill the parking lot with colorful artwork."
Artists may complete a design individually or form a team to complete a design together. Artists must be over the age of 12, and any artist under the age of 17 must be accompanied by an adult. Artists are assigned a 4-by-4-foot space, and their art must be completed in four hours between 8 a.m. and noon. Chalk will be provided for the event, so entrants need only bring their imagination and their art skills to the contest.
"It was a blast for everyone involved last year, from the artists to those who just came to watch it all take shape," Vaughn said.
To register for the event, log on to the OneEighty website at www.one-eighty.org, scroll down and click on the Chalk the Lot link. The link includes a place for people to fill out a registration form or to sponsor an artist if creating art isn't your thing.
There will be prizes of $100, $75 and $50 awarded to the first-, second- and third-place finishers of the contest with all of the proceeds from the event going to support Holmes County Friends & Neighbors of OneEighty for victims of domestic violence and sexual assault.
New to the Thunder Over Holmes County events last year, Chalk the Lot became an immediate fan favorite.
"I think people who haven't seen this event will be absolutely shocked at how incredible some of this artwork is," said Judy Lamp, director of Historic Downtown Millersburg.
The contest is open to local artists, businesses, families and anyone who wants to showcase their creative side.
Vaughn said they will make room for as many chalk artists as they can, and they are excited about watching the parking lot transform from asphalt black to a sea of rainbows.
Vaughn said the design each artist picks has no limitations. Artists can come with a game plan or wing it.
"The quality of the artwork last year was amazing, but more importantly everyone had a blast creating and seeing the parking lot transformed into a huge piece of art," Vaughn said.
Vaughn said almost all of last year's artists took advantage of the full four-hour time limit. She also said there will be an area set aside for younger kids to try out their chalk skills, although they won't be part of the contest.
"The younger kids are more than welcome to grab some chalk, pick a spot and have at it," Vaughn said. "We know that Millersburg will be packed with people that day, and so they can stop by and enjoy watching the art take shape or stop by afterward to appreciate the art, and hopefully we will have some designs that were as neat as they were last year."
All of the fees for each of the art squares have been paid for by donation by local businesses, making it free for the artists. There will be three judges tabbing the winners.
While the chalk will be supplied, artists must bring their own blankets, knee pads or whatever they might want to kneel on during the contest.
Anyone with questions or wanting to register or donate to the event or OneEighty may call Vaughn at 330-674-9015.
OneEighty has service programs that help those going through domestic violence and sexual assault, substance abuse and addiction, mental-health issues, housing and support, and community health and wellness as well as providing a 24-hour crisis hotline for victims of sexual abuse.