Phillips becomes sixth queen to hold Antique Festival title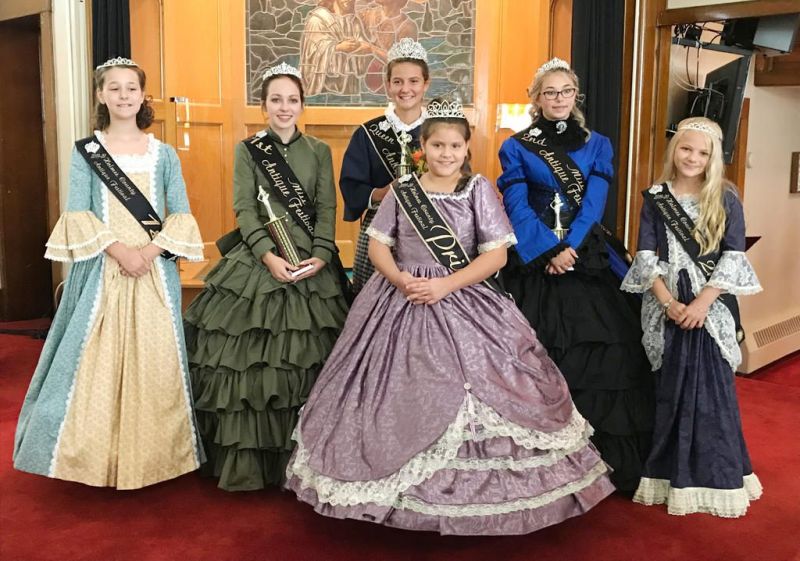 There is new royalty in Holmes County, and for just the sixth time in the history of the long-running annual Holmes County Antique Festival, a princess became a queen.
In the Antique Festival queen and princess contests that took place Saturday, Oct. 5 at Millersburg Christian Church, five queens and seven princesses hoped to become new royalty and replace outgoing queen Katrina Rolince and princess Alexis Wagers.
After a morning of contests, the responsibility to represent Holmes County and the Antique Festival as its 2019-20 queen went to Ashly Phillips, who served as the Antique Festival princess in 2011-12.
Phillips, who said she was bordering on not going out for queen this year until friends and family talked her into it, decided to take a chance.
As for becoming the new Antique Festival queen, Phillips said, "It's kind of surreal. I wasn't going to try out, but I had a bunch of people telling me I should go for and do it, and I listened to them, and here I am."
Phillips served as an attendant last year, and she said this year she vowed not to be as nervous as she was during last year's contest. She said her experience as an attendant helped her to remain calmer during the event.
"I was way more prepared and more confident in myself, which helped me," Phillips said.
The West Holmes junior has been involved with cross country, is a tenor percussionist in the West Holmes marching band, takes Spanish and is currently in anatomy. She said she has hopes of pursuing a career in radiology.
She said the princess contest was so long ago that she can't even remember that much about it. She just remembers looking up to the queens and thinking that someday that might be her. That someday ended up being Saturday, Oct. 5, and now she is the one princesses will aspire to become.
"I think being a role model for some of the younger girls coming up is a very big deal," Phillips said. "If we can convey positive things to them about themselves, maybe they will gain confidence, learn to believe in themselves and everything they can accomplish."
During the contest Phillips opted to wear a Civil War-era dress that varied greatly from the typical wide antique dresses the contest has been known for. She said when she saw the dress online, she knew it was the one for her.
"I wasn't a big fan of a lot of the dresses we saw because I wanted something that fit my personality," Phillips said. "When it came in and I tried it on, I loved it right away."
First attendant Callie Proper, who will retain her spot on the court for the second year, had to face adversity at every turn.
A WHHS football cheerleader, Proper cheered so hard at the Friday night football game the night prior to the contest that she became hoarse. She also was under the weather, and to top it off, her dress came in just shortly before the contest began.
"I'm not going to lie; it's been a pretty stressful morning," Proper said.
Proper, who also has been involved with the royal court where she was both a junior queen and queen at Killbuck Early American Days, said the joy of being on the court and attending festivals all over Ohio is being a role model for younger people.
"I actually got started in all of this because I had a couple of older role models. That was why I started cheerleading and why I started marching band. It is really important to me to encourage young girls to pursue the things that they enjoy doing," Proper said.
In the princess contest, the title went to first-time court member Gabriella Ascencio, who had run prior to this but was not selected to the court.
The judges felt this was her year, and she will now travel with the court to represent the Holmes County Antique Festival.
Asked if she was surprised, she said, "Sometimes, but sometimes maybe when I get a good feeling about myself and I am confident, then it doesn't, and maybe I am going to win."
Ascencio said she is looking forward to traveling around Ohio, and because it is new to her, she will rely on the expertise of the queens and those who have been through the process before to show her the ropes. She also is excited about developing a relationship with her new court.
Joining Phillips and Proper in the queen's royal court is second attendant Breanna Arnholt. Meanwhile, joining Ascencio in her court are first attendant Adleigh White and second attendant Emma Jane Franks.
Other contestants in the queen contest included Rebecca Schuch and Kaylin Snyder. Princess contestants included Breella Kranz, Kimberly Lainez, Delani Vaughn and Taylar Wilson.