Promenaders invite all to a foot-stomping good time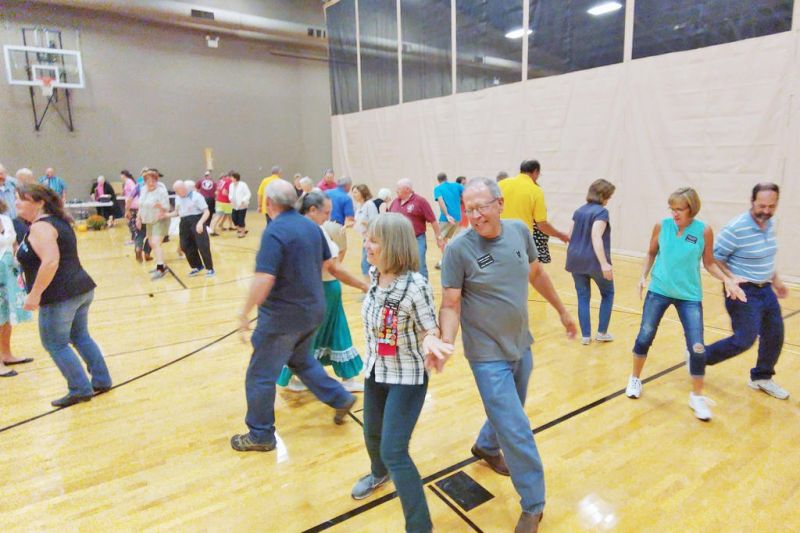 The kick-off to the Apple Creek Promenaders square dance, which begins a series of lessons, will be Monday, Sept. 16 at 7 p.m. at Fairlawn Community Church in Apple Creek. The event is open to the public, and the first night of lessons is free.
While square dancing may be viewed as old or difficult to learn, the nearly 40 members of the group say square dancing is for anyone, whether single or married for 50 years.
Melissa Davis, Apple Creek Promenaders vice president, said she has a blast, whether it is with old members or new people trying it out for the first time.
"I am a single person, and I love the camaraderie," Davis said. "There is this fantastic social group, and I absolutely love dancing, and what better way to spend time with friends than doing something you really enjoy."
Initially Davis wanted to join her friends and go line dancing, but because they couldn't find a line dancing class, they decided to try square dancing. That was four years ago.
"I'm still learning new things every year, but it comes to you with practice," Davis said. "Back when I first started, they made it so easy to just step right in and feel at home. They never singled anyone out when someone messed up, and it was all encouragement because everyone makes mistakes. You just learn to push through and keep going, and everyone there is really helpful and kind."
So much so that the veteran instructors who help newcomers are called angels.
"We were all in their shoes at one time as new students," Davis said. "I think people have this picture in their mind as to what square dancing looks like, but this isn't your grandparents' square dance anymore."
Member Gary Richards shared stories of how he wore out three dance partners on the dance floor in one night. He said people would be amazed at how much fun the group has every night.
"We cut up and go crazy," Richards said. "Some people fear that they have two left feet and won't ever get it. If you can walk, you can square dance. Other people believe it is for older people, which isn't true either. Square dancing is a very lively, active dance that really gets your blood pumping."
Richards said club president Dan Fry shared a report that stated people who choose dancing as a hobby are 76 percent less likely to develop dementia because it works both the brain and the body.
"All of that and it is great fun too, so how can you lose?" Richards said.
Richards said singles are welcome to attend because in every class they will find a partner to pair up with.
"It's just a wonderful group of people, and nobody should be scared or worried about fitting in or not being able to do it because with lessons it gets easier and easier," Richards said.
Member Dan Austen enjoys square dancing, but also several years ago became a caller, the guy who gives directions in a sing-song cadence as dancers go promenading around the floor.
"Square dancing can be very infectious. Because once you start, it really gets in your blood," Austen said. "It is wonderful exercise because you're always on the move, and it is also great for your mind because you do have to follow the directions of the caller. But even when people mess up, and it happens to everyone, we all just encourage and pick right back up where we left off."
Austen said the lessons begin on that first evening and are progressive, meaning they cover and recover steps and moves so beginners can build up their confidence and become more comfortable on the dance floor.
"To me this is all about the fellowship. That is the most important thing," Austen said. "This Apple Creek club is full of people who care about others and enjoy building relationships, and I always try to keep things simple early on to help beginners ease into it so they can learn to enjoy it to the fullest. Really, all you need to do to realize someone is having a great time is to see it on their face."
Signs for the Apple Creek Promenaders are posted around Apple Creek, and all are invited to the kick-off lesson.
The lessons will take place in the community center at Fairlawn Community Church, 8520 Emerson Road, east of Apple Creek. The club provides light refreshments.