Rare Historical Society maps finally get the spotlight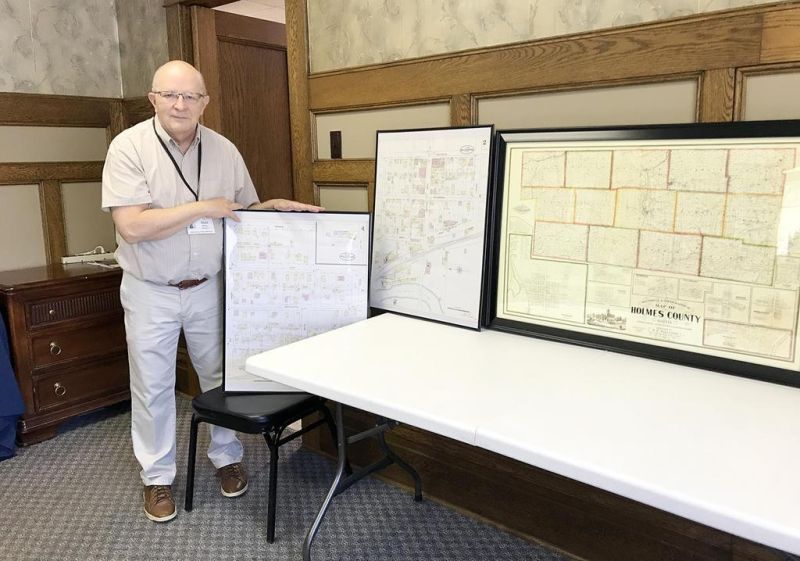 When Holmes County Historical Society director Mark Boley ran across a series of old Holmes County maps last year, he couldn't wait to show them off in a show. Then the pandemic hit, and the plans for the map show were put on hold.
The original event was slated to take place Thursday, Aug. 20, but patience has paid off for Boley. On Thursday, May 20 from 7-9 p.m. at the St. Peter Catholic Church in Millersburg, he will get his chance to have these rare maps shine during the presentation, "Ye Old Maps of Holmes County."
This look at the rare old maps of Holmes County will invite the public to learn about a recent discovery in the Library of Congress of old, detailed maps of Millersburg. The maps show a snapshot of Holmes County life long ago including a rare map with more than 200 one-room schools and more. The program will be a combination of actual blowups of some combined maps with an informative PowerPoint presentation that will be narrated by Boley.
"This is such an amazing find and such an in-depth look into our history that we were so disappointed when we had to cancel it last year," Boley said. "I hardly had enough patience to wait to finally see this day come."
Boley said the Holmes County Historical Society is blessed with a number of old maps of the county, but this most recent find in Columbus made him feel as though he'd hit an absolute goldmine of Holmes County lore.
While attending a historical meeting in Columbus this past fall, Boley came across Rick Booth from Guernsey County Historical Society, who had all kinds of old maps, which he was both exhibiting and selling. It caught Boley's attention, and they struck up a conversation.
"He eventually asked me where I was from, and when I told him Millersburg, Ohio, he said, 'I'll bet there is some from Millersburg.' I said there was probably no way that was the case," Boley said. "He started working on his computer and then boom, there was downtown Millersburg right there in front of me. I asked him where he found them."
The recently released maps are known as the Sanborn Maps. Boley explained that back before 1900 the Sanborn Company made detailed maps of communities all across the United States for the fire-insurance industry.
"These maps were so detailed because the fire companies used the maps to produce a rating for fire-insurance purposes," Boley said. "The maps showed the insurance companies where the doors and windows were, how many floors there were, the color of the building that denoted what it was made of and in some cases the actual name of the business."
That even led to some discoveries such as the Brightman Manufacturing Company, a business the society members had no idea where it actually existed in Millersburg.
"It's on one of the maps," Boley said. "There is a detailed floor plan. I was so excited I could hardly stand it."
Boley is now in possession of the old maps and has the blowups for those who really want to dig into the lay-out of the various areas. Boley even took the maps to the Holmes County Map Office, and they had never seen anything like them before. They were generous enough to print the larger maps, so Boley agreed to have them put the maps on their computer.
"These were really old maps that nobody even knew existed," Boley said. "After I got access to the maps, I made some large blowups and will have a PowerPoint program to discuss them. It should be an incredible look into the history of Historic Downtown Millersburg that we have not been able to explore before."
Boley, a self-described map junkie, said he knew immediately he had to create a presentation evening and shared his vision with the Holmes County Historical Society Program Committee, which quickly agreed this would be a fascinating presentation.
The maps that make up the presentation include a county map from 1861, a map Boley said is perhaps the oldest known map of Holmes County. Additional maps showcase some of the old one-room schoolhouses throughout the county, with more than 200 schools dotting the map.
As an added treat, Booth will join the show.
"Since he was the guy who introduced them to me, I thought what could be better than to have him come up and explain what they are all about," Boley said.
Boley said the event will be great for not just history buffs, but also the many downtown Millersburg business owners who are interested in learning more about their building.
"It should be a really neat program unlike any we've had before," Boley said. "People are going to be amazed at these maps that were found. The maps were done in the late 1890s and show the opera house, where the stage was, what all the buildings downtown were made of, the steam lines between the courthouse and the boiler house, it's all there, and it is really cool."
The architecture in and around Millersburg has always been both beautiful and intriguing to many, but delving into HDM about 130 years ago to explore the fine details of how the village was built should be a fascinating night for anyone who wants to learn more about local history.
The event is free to the public.
St. Peter Catholic Church is located at 379 S. Crawford St. in Millersburg.