Killbuck GSA Troop 777 Blessing Baskets turn into much more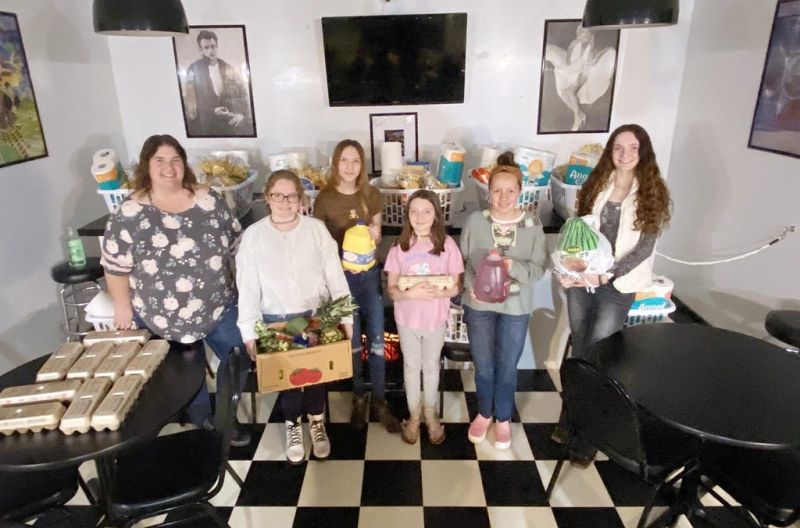 For the past decade, the members of Girl Scouts of America Killbuck Troop #777 have been providing an act of kindness to area families at Thanksgiving through their Blessing Basket project.
Nine years ago the girls began making two baskets full of Thanksgiving meal items, like turkey, eggs, potatoes, fresh fruit and everyday household items. That program grew over the years, and they were able to connect with Love In the Name of Christ of Greater Holmes County to collect the names of area families who might benefit from their generosity each Thanksgiving.
The girls would collect donations, purchase the food and assemble the gifts, then head out and make deliveries. Last year they made 15 Blessing Baskets.
It has been a wonderful program, according to troop leader April Parks, and while the girls liked the idea of delivering, they opted to go a different route with the program this Thanksgiving.
"This year we decided we'd go about things in a slightly different way, mainly because with my troop being smaller, we had to come up with a way that would be a little easier on everyone's schedule," Parks said, "but still wanted to make an impact as we had in previous years."
After a few conversations with Love INC, Parks said rather than make the Blessing Baskets and deliver them, they would have the families come to meet them for a special event at the Duncan Theater in Killbuck, which took place Wednesday, Nov. 23.
"We decided to keep things within the Killbuck community. After all, my troop originated in Killbuck 14 years ago," Parks said. "This year I met with the new owners of the Duncan Theater after speaking with a friend of mine who does a lot of volunteering. On Wednesdays the theater hosts Kidz Club, and our troop decided it would be fun to host a Thanksgiving meal for the kids and their families within the club."
Troop #777 teamed up with adult volunteers from Kidz Club and put together a feast fit for the entire town of Whoville, complete with ham, stuffing, potatoes, greens and desserts.
They extended an invitation to the Kidz Club families, inviting them to a Thanksgiving meal and gathering.
"Families came and enjoyed a meal and fellowship, and as each family left, they were presented with a Blessing Basket filled with a turkey, some fixings and a few household items, just as if we delivered the baskets in person as we have done the past several years," Parks said.
Parks said the Blessing Basket project has come to mean a great deal for her troop over the past decade, and it has been a valuable life lesson for them in terms of serving their community.
In addition, she said getting to work in conjunction with other Holmes County organizations like Love INC and Kidz Club has helped them create valuable inroads and connections that help the girls better understand the growing needs for some families in the community.
"The girls were very excited about our project this year because we did put a different spin on it," Parks said. "But the message of giving remains the same, and we are thankful for the many giving hands and hearts who have helped us touch the lives of these families in a special way each Thanksgiving."
She said special thanks go out to Duncan Theater, Windy Hill Farm, Love INC, Killbuck Valley Market, Millersburg Eagles, Sugar Fire Bush Maple Farm, Harvey's Market, Rodhe's IGA and those who donated.
"We wouldn't be able to continue this project without such great support from our community partners," Parks said. "Their support helps us help others."
She said she is grateful to be able to present the Blessing Basket project the past nine years and hopes to see it continue to make an impact in the years to come, noting everything the event presents embodies the virtues and character the GSA hopes to promote to its members.