Safe Communities honors Click It or Ticket winners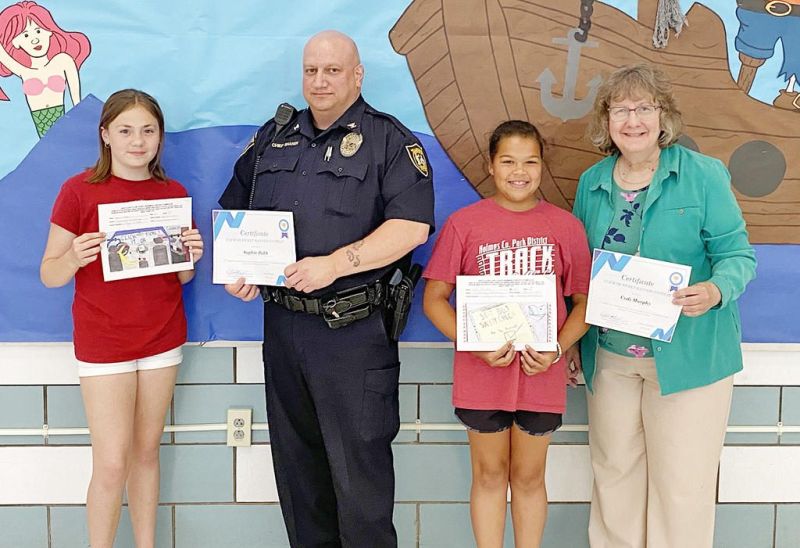 The message being shared during Wayne-Holmes Safe Communities' recent youth outreach program was simple: Click It or Ticket.
Wayne and Holmes County Safe Communities, a grant program of Anazao Community Partners, announced its participation in the national Click It or Ticket Campaign in Holmes County, where visits to Lakeville Elementary, Millersburg Elementary, Dalton Elementary and Wooster's Parkview Elementary schools saw Safe Communities honor the drawing submissions of a septet of girls who were tabbed as the program winners of this year's banner contest.
The program asks young students to draw posters and write a short essay explaining the importance of buckling up when in a vehicle, and the hope is these messages will be ingrained in the students' minds every time they get into a vehicle.
While Click It or Ticket was designed for children, it also provided an opportunity to promote seat belts and gave students a chance to take that message home and share it with their parents and siblings.
"It's really important to start the kids young on learning the importance of buckling up," said Beth McCready, Wayne and Holmes County Safe Communities coordinator at Anazao Community Partners. "We encourage parents to set that example for their children whenever they get into a car. The first thing children need to get used to is buckling up for safety. We are stressing that seat belts are important at every age."
Codi Murphy and Sophie Robb of Millersburg Elementary won first and second, respectively, while Rosella Eveland of Lakeville Elementary won third place. For Murphy, it is the second straight year her entry was picked as the overall winner in Holmes County.
Murphy's winning entry included a drawing of Ohio with a seat belt around it and a heart where Holmes County is.
Murphy said of her drawing, "Why is it so important to buckle up when you are in a car? Seat belts protect you and can save your life. My poster said, 'Seat Belt Safety Check: Are You Buckled?' because the first thing you should do when you get in the car is to check to see if you and all your passengers are buckled. I did the checklist because it shows you should check to see if your buckle is around you. The drawing of Ohio has a buckle around it and a heart where Holmes County would be."
Robb said she didn't intend to participate in the contest until she saw a downtown scene from the back seat of her mom's car, and she knew she had to do it.
"After three long days of hard work, I finished my drawing. I love the idea of the Click It or Ticket contest to stress the importance of seat belts, and I also appreciate the importance of law-enforcement personnel keeping the public safe."
Eveland said people need to understand buckling up right is important. "I wanted to do this because there have been way too many accidents lately, and you might not die but might get hurt. Seat belts help protect you if you or your parents need to slam on the breaks. So please buckle up and do it right. Stay safe."
The first-place winner in the Wayne County banner contest was Clara Cardinal from Dalton. Second place went to Julia Peruzzi, and third went to Mackenzie Huston, both of Parkview Elementary in Wooster.
The first-place winners of the banner contest will have their design made into a banner that will be printed and displayed at the Wayne and Holmes county fairs, respectively.
"We enjoy these types of opportunities because we are getting out an important message to our young people, so we are always encouraged to receive great participation from all of our schools," McCready said.
The Click It or Ticket banner contest is sponsored by the Fraternal Order of Police.
Wayne and Holmes Counties Safe Communities is funded by USDOT/NHTSA and the Ohio Department of Public Safety.
For more information about Safe Communities, email McCready at mccreadyb@anazaocommunitypartners.org or call 330-264-9597.