Scouts host Baker's Dozen Competition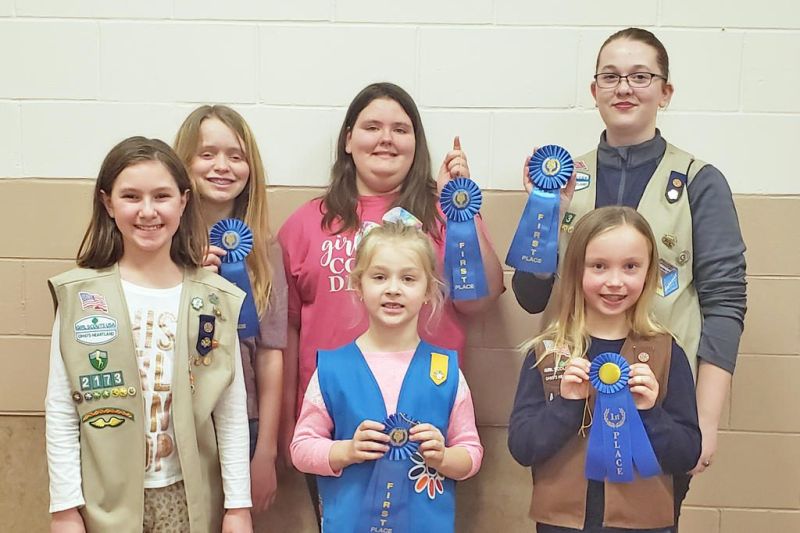 The Girl Scouts of the Wooster Service Unit of Girl Scouts of Ohio's Heartland Council held its annual Baker's Dozen Competition on Feb. 18 at First Church of God in Wooster.
Thirty-one girls from the Daisy, Brownie, Junior, Cadette, Senior and Ambassador levels who won first and second place at the troop level advanced to the Service Unit level.
Daisies made one-dozen bar cookies, Brownies made one-dozen brownies, Juniors made one-dozen muffins, Cadettes made yeast or nonyeast bread, Seniors made cream pies and Ambassadors made an unusual cake.
Judges Veronica Hutchinson, Susan Chesnell-Spires and Barb Flickinger had the honor of tasting all baked goods and the task of picking the winners. Baked goods were judged on taste, appearance, creativity and texture.
Winners were Skylyn Rieman, T-4147, Daisy, first place, strawberry chocolate-covered bars; Zoey Badger, T-1859, Daisy, second place, funfetti frosted sugar cookie bars (five Daisies participated); Regan Skinner, T-4147, Brownie, first place, s'mores brownies; Marie Senff, T-1348, Brownie, second place, mint chocolate chip brownies (10 Brownies participated); Abi Garens, T-2334, Junior, first place, sausage muffins; Addison Davis, T-2173, Junior, second place, ultimate muffins (five Juniors participated); Julianna McCune, T-2173, Cadette, first place, best soft french bread; Victoria Baker, T-1695, Cadette, second place, pumpkin dinner rolls (eight Cadettes participated); Kayla Pumphrey, T-2334, Senior, first place, blueberry cream pie with coconut; Christina Sayre, T-2293, Ambassador, first place, six-layer rainbow cake; and Faith Dravenstott, T-1839, Ambassador, second place, galaxy mirror glaze cake.
After judging was completed, ribbons were presented to all the girls. Then everyone enjoyed a sampling of all of the baked goods.