Sheep to Shawl is new at the fair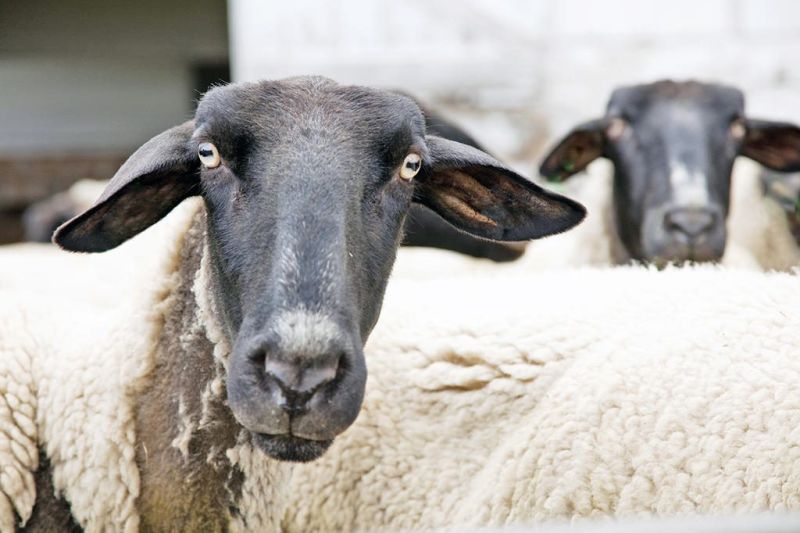 The Tuscarawas County Fiber Arts Guild will be at the Fine Arts Building at the fair on Tuesday for a new event: Sheep to Shawl. The event will begin at 11 a.m.
"They are going to bring a sheep in and do the process from the shearing, to the cleaning, to the combing, to spinning it and showing how the wool is processed all the way through to the final product," fair board director Jacque Peters said.
The sheep shearing will take place just outside of the Fine Arts Building. "Then they'll take the wool inside and do the processing and turn it into a garment from there," Peters said.
The processes done by the crafters include carding, spinning, knitting, crocheting, weaving, dyeing, felting and more.
Sheep used for wool need to be sheared to maintain their health and comfort. Shearing does not hurt the sheep; it is just like getting a haircut.
Adding fine arts demonstrations at the Fine Arts Building at the Tuscarawas County Fair has been a goal of Peters, who is in her third year as fine arts supervisor at the fair. She would like to spark interest in the arts and showcase area artisans at the fair.
Last year Peters showcased area individuals with developmental disabilities when the fair board added four murals designed and painted by individuals at Starlight Enterprises Inc. to be on permanent display at the Fine Arts Building. Area artist Jon Stucky, who had worked with the Starlight artists on other projects, assisted with the murals too. The murals feature fair scenes.
This year Peters has added live entertainment on Monday and two singers on Saturday afternoon. "There will be some free music in the Fine Arts Building as well," she said.
Members of the Stark County Fiber Arts Guild also will provide two demonstrations at the Fine Arts Building during fair week.
Another improvement to the Fine Arts Building this year was the donation of a cooler.
"We are thrilled to have a cooler. All of our decorated cakes that by Wednesday are usually a pile of mush from the heat in the building will now be able to be preserved and looking great all week long," Peters said.
Anyone interested in volunteering or artists interested in demonstrating their craft are always needed and can call or email the fair board office. "We are very grateful for any help we can get," Peters said.
Although entry into the fine arts categories has been on the decline, Peters is out to reverse the trend and revive interest in the fine arts.
Each year entry forms must be received by an early August deadline, but it is never too early to start planning for next year. Plan a stop by the Fine Arts Building to see what your neighbors have entered.
Senior Fair household arts categories include quilts in three classes of hand-quilted, old and machine quilted, as well as crocheting, hand knitting, embroidery, machine sewing, pillows, counted cross stitch, woodcraft items, stamping and hobbies.
The Shoe Box Float contest is open to children grade 3-6 who are residents of Tuscarawas County. This year's theme is "Superheroes." Judging is based on originality, neatness, craftsmanship, use of material and overall appearance.
Other arts classes for entry include paintings done with oil, water color or charcoal, as well as pastel, crayon, and pen and pencil. Photography classes include black and white, color, and digitally altered.
Baked goods can be entered in a variety of classes including layer cakes, sponge cakes, cupcakes, quick breads, yeast bread and rolls, cookies, brownies, home-decorated cakes, professional decorated cakes, and candy.
Pie Day at the fair will be held on Sunday, Sept. 15 with judging beginning at 6 p.m. There will be two classes, one for women and one for men.
Each year a special baking class is held, and all contestants must follow the same recipe. Strawberry margarita cupcakes are featured this year. The class will be judged on external appearance, internal characteristics and flavor true to ingredients. Check-in for the cupcakes will be on Sunday, Sept. 15 from noon to 5 p.m. with judging taking place at 6 p.m.
The entries in all categories will be on display throughout fair week.