State FFA service project to reach families in need during disasters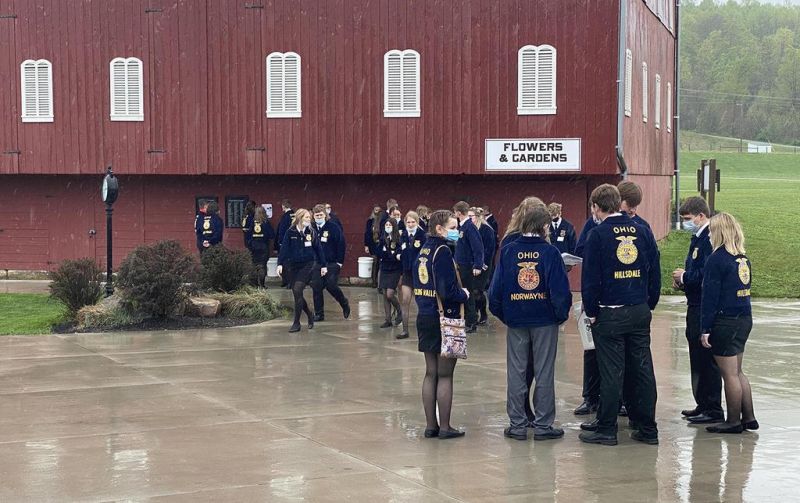 The final portion of the Future Farmers of America credo is to dedicate oneself to service to others.
On Thursday, April 29 during FUNvention — a substitute for the annual state FFA convention — students from 18 schools throughout Eastern Ohio were presented with an opportunity to learn through firsthand experience what service projects are all about.
Jennifer Johnston, FFA teacher from Zane Trace High School in Chillicothe, Ohio, was the driving force behind the service project that saw the students head out on a scavenger hunt around the Harvest Ridge Fairgrounds in Millersburg in search of items that were ultimately used to make 40 emergency bucket kits, many of which are earmarked for flood victims in Kentucky, where a March flood left several remote towns without many amenities while leaving a mess behind.
"The important thing with this project is to focus on that last line of the FFA motto, which is living to serve," Johnston said. "FFA chapters around the state are very focused on serving their local communities as well as serving others nationwide. That is just one of the many reasons FFA is such a vital part of teaching our young people to grow and give back, and this is one way our students here at the convention can make a positive impact in people's lives."
According to Johnston, Ohio FFA chapters have been longstanding service-oriented partners with CWS and Christian Rural Outreach Program. That partnership began in 1952 when CROP provided livestock to farmers in Europe who had lost all of theirs due to damages from World War II.
That effort has evolved into creating products for disaster-stricken areas around the world due to flooding, tornadoes or hurricanes, and while the product may have changed, the commitment to serving others remains the same.
Johnston felt building the clean-up buckets would be a perfect way for the FFA students to have fun while learning a valuable lesson in service to others.
"There's so much value in projects like this and in so many ways," Johnston said. "One nice aspect is that this gives the kids some perspective as to exactly what CVS is doing at the global level and even here closer to home. Hopefully, this makes them more aware of the struggles that people are going through and shows them the value of them helping in any way they can to ease the burden of those people who are suffering."
Johnston had the students break up into smaller groups with 40 teams total, and they went on a scavenger hunt around the fairgrounds, locating the various supplies that were then placed into each clean-up bucket.
There were 15 total items in each bucket including clotheslines, masks, scrub brushes, cleaning materials, trash bags and gloves.
"It is literally everything a family could want to try to get their home back to normal after a disaster," Johnston said. "I always explain to my students that this project is so important because they can airlift these buckets into disaster areas in a helicopter, even when roads are closed. They are a huge help to families in great need."
Johnston said the value of each bucket is approximately $75, and for some families in poorer areas of the nation and world, that adds up to a lot of money they might struggle to come up with, especially when they have so much heartache to deal with following a disaster.
In order to raise the funds necessary to provide the items for the 40 buckets, Zane Trace High School turned to its community for support through its annual strawberry sale, which Johnston said goes toward a service project each year. She said every dollar raised in that sale goes to a different charity each year, and she said she was in awe of the way the Zane Trace community supported their effort this year.
"They supported our strawberry sale in ways they have never supported it before," Johnston said. "We sold 510 flats of strawberry and raised almost $4,000. Then most of the items we purchased were sold to us at a discount because the area businesses understand what we are trying to accomplish."
Johnston said they then came up with the idea of spreading the wealth and getting all of these other school FFA chapters involved in creating the buckets, and in bringing the service project to FUNvention, she hoped the other schools would take up the mantle and find ways to do similar projects.
"We are hoping that the chapters see how much fun this is and the value in it and use this or something similar down the road," Johnston said.
Johnston said it was neat to see everyone's talents coming together to create the opportunity to serve others, a concept FFA continues to make a hallmark of its program.