SWCD honors Goodwill Farms and Clark Sprang at annual meeting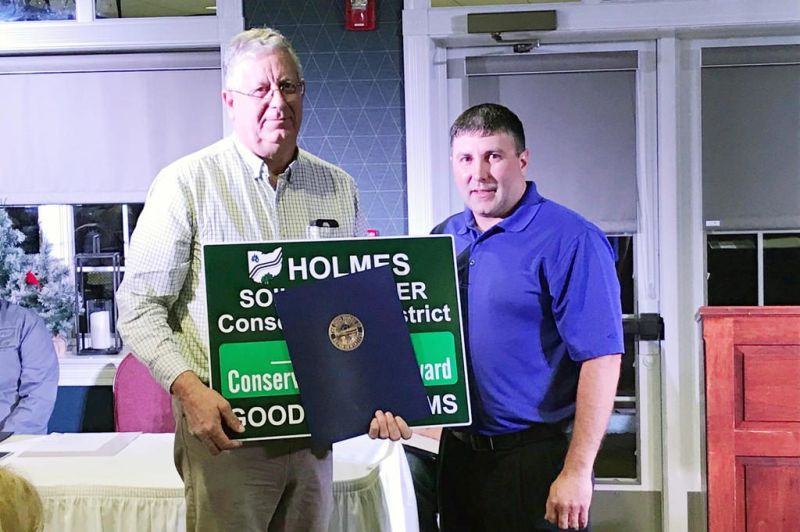 Holmes Soil & Water Conservation District honored several people as part of its annual meeting on Nov. 19 at Carlisle Inn at Walnut Creek.
Goodwill Farms, owned by Frank and Dennis Goodwill, was chosen as the Conservation Farm of the Year recipient.
Clark Sprang of the Muskingum Watershed Conservancy District was honored as the Friend of Conservation award winner, and the SWCD recognized longtime board member Jason Schuch for his many years of service to the district and its many farmers.
The Goodwill family began farming in Holmes County in 1969 when Henry Goodwill purchased their farm along state Route 39 on the western side of Holmes County.
That another major event took place in the same year as their award was actually a coincidence, according to presenter Karen Gotter of the SWCD.
"We didn't realize it was their 50th anniversary when they were selected as our Conservation Farm of the Year," Gotter said, "but it couldn't have been a better time to acknowledge their hard work and contribution to our mission of clean water and healthy soil."
The award marks the second time the Goodwills have been honored, the first time coming in 1991.
Since that initial purchase in 1969, Goodwill Farms has grown into one of the county's biggest operations, covering 3,200 acres with corn, bean and crop rotation.
In addition to its commitment to crop rotation, Goodwill Farms also has utilized the cover crop program offered by the SWCD every year since it came into existence in 2009.
Gotter said because of the family's commitment to crop rotation and cover crop, the runoff being experienced is not nearly as muddy, which means less loss of nutrients.
Gotter went on to talk about the family's willingness to make the farm a family farm.
"The best legacy is that of passing down a conservation ethic from one generation to the next," Gotter said. "Twenty-eight years ago, Harry, Fred and Frank Goodwill were acknowledged by the SWCD as the Conservation Farm of the Year. Throughout the ensuing years, Frank has stayed on that course, leading by example, and now his son has followed in his footsteps. In fact Dennis is the first person I have ever heard use the term 'farming ugly.' You can tell he understands the importance of their decision to continue as no-till farmers."
Frank Goodwill said out of all their conservation practices, cover crop is the most valuable and important. He said they did 900 acres of aerial cover crop this past year, and it has paid off.
"It is quite the challenge," Frank Goodwill said, going on to share a humorous story that arose from the fly-over seeding program. "One of my landlords informed me that we filled his boat up with cover crop seed because he had his boat sitting out next to the field."
As the Friend of Conservation Award winner, the SWCD seeks to honor an individual or organization that furthers the goals of the district.
Having retired recently after 38 years of working with Goodyear Rubber and Tire Company in Akron, Sprang and his wife, Ruth, turned their attention to their farm in Holmes County, where they raise Angus beef, corn and soy beans.
Presenter Harold Neuenschwander of the SWCD said they were impressed with Sprang because he took the time to come in and learn about cover crops.
"Retired district conservationist Chuck Reynolds explained to him the benefits, and Clark became an advocate of the program," Neuenschwander said, "encouraging fellow members to continue and even expand the funding from the MWCD for the program in a 21-county area."
Since 2009 the MWCD has provided $2.7 million through its partnership with the Ohio Department of Agriculture to SWCDs in the Muskingum Watershed. Out of that amount, $1.78 million has gone to the cover crop program that has been planted on 119,063 acres and saved an estimated 250,000 tons of topsoil and prevented almost 300,000 pounds of phosphorus and nearly 600,000 pounds of nitrogen from entering Muskingum Watershed lakes and waterways.
Current SWCD board member Jason Shumaker then spoke about Schuch and his effort as a board member to enhance agricultural life in Holmes County.
"For a long time I felt like I was taking more than I was giving," Schuch said of his time serving on the board. "There is all kinds of stuff you have to learn what it means. It is hard to get up to speed, but once you're there, it is well worth it. It has been an honor working with the staff and board. We have strong local leadership, and that has always been a cornerstone of our success."
Last, Neuenschwander and Brett Barton were elected as representatives to serve as members of the Holmes County Soil & Water Conservation District board.