The WEAVER Way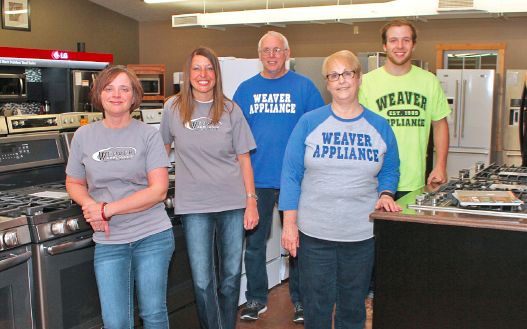 Kellie Shanabrook, office manager of Weaver Appliance, talked about her early days at the family-owned appliance store 
in Sugarcreek.

"When I started here about 13 years ago, it was just five employees, and it all started in Dennis Weaver's basement," Shanabrook said. "We've grown to 12 employees now, but we've never changed the attentive way we service our customers. Everybody here is friendly and knowledgeable. When customers come in we make them feel comfortable and help them as much as possible to choose the right appliances for them. We all know most of our customers by their first names."

Nathan Bear and his wife Monica have managed the business along with the help of several key employees from each department since Dennis Weaver - Monica's father - passed away almost two years ago.

"We're just continuing what Dennis started," Bear said. "When you treat people fairly and honestly and provide good service, the rest takes care of itself. That's where our awesome staff of employees comes in. I can't thank them enough for their service and ongoing commitment to our customers."

Bear said the Weaver Appliance staff was a main reason he eagerly agreed to take over the store's operation.

"When I looked around and saw the strong team of people that my father-in-law had in place, it made my decision easy," Bear said. "They all value the philosophy of our business. We have a high moral compass and we try to do things the right way, which starts with putting our customers first. The kindness and honesty that our employees put into their jobs just blows me away."

Meet the Weaver Appliance staff at a special open house on Saturday, May 21 from 8 a.m. to 3 p.m.

"We'll be serving Amish donuts while the supply lasts, and we'll offer some barbecue," Bear said. "It's really a nice opportunity to share some time and chat with the people from our community."

Along with Nathan and Monica Bear and Shanabrook, the Weaver Appliance staff includes Wenny Dennman, service coordinator; Sandy Gibb, warranty/customer service; Mike King, sales and purchasing; Kellan Mutschelknaus, sales; Darrell Mutschelknaus, delivery; Travis Veverka, delivery; Chris McCoury, service; Craig Malterer, service; Keith Beitzel, service; and Bob Weaver, maintenance.

"All of our employees, whether they are working directly with our customers, or working behind the scenes, are an important part of what we do," Bear said.

When you visit the Weaver Appliance showroom, you'll see a wide array of kitchen and laundry appliances that range from entry level to luxury models with all the bells and whistles.

"We carry all of the major brands, plus some you won't see at the big box stores. But service is where we make our mark," Bear said. "When it comes to knowledgeable, neighborly service, we take a back seat to nobody."

Through its membership in a national buying cooperative made up of more than 4,500 independently owned businesses, Weaver 
Appliance is able to get products at exceptional prices and pass the savings along to 
its customers.

"There is a misperception that the national big box stores offer the best prices," Nathan Bear said. "Not only can we compete with the big box stores in many cases, but a lot of times we can beat them. That means that you don't have to pay a premium to get premium service. We feel that if we are even close to our competitors on price, our service will put us right over the top."

Weaver Appliance is located at 1780 state Route 39 in Sugarcreek. To schedule service, call 330-852-4555. You can find more information at www.WeaverAppliance.com.

Meet the Weaver Appliance staff at a special open house on 
Saturday, May 21,
from 8 a.m. to 3 p.m. 
 Come get your FREE Amish Country Donuts made fresh on site while they last!

Byler's Barbecue  will be here serving up their award winning ribs,  brisket, & more!