Thoughtful effort from FFA teachers brings convention to kids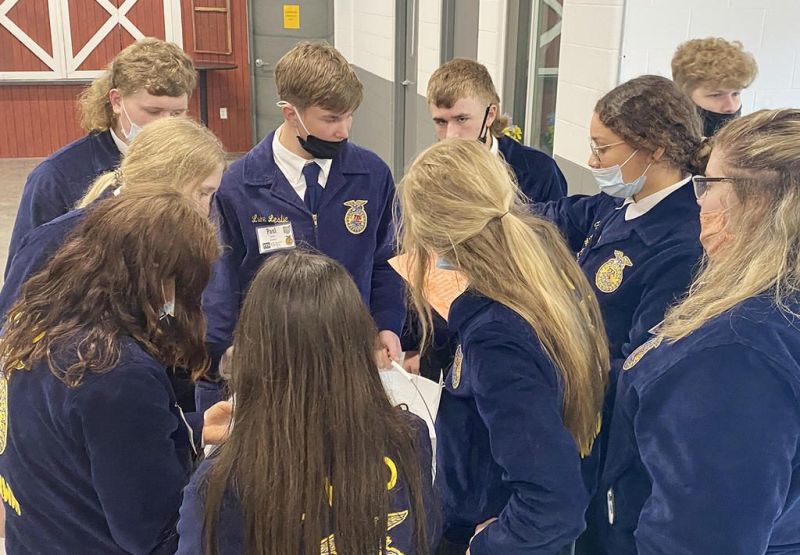 If area FFA students couldn't attend the state convention again this year, a determined group of FFA teachers from Eastern Ohio were willing to do the legwork to bring the convention to the kids.
Future Farmers of America high school students around the state were robbed of attending last year's state convention, and this year they faced the same dilemma due to the pandemic. However, a group of Northeast Ohio FFA teachers and their respective communities were not about to let that opportunity go to the wayside without working hard to create a venue that, while not the actual 93rd annual State FFA Convention, came pretty close to the real thing.
FUNvention, an FFA state convention substitute, took place at Harvest Ridge at the Holmes County Fairgrounds Thursday and Friday, April 29-30, and 18 schools participated in an event that was spearheaded by West Holmes High School FFA teacher Jamie Chenevey.
Packed full of fun events, myriad speakers, award honors, a service project, meals, activities and many other opportunities, FUNvention provided an avenue for FFA students from the 18 schools with an opportunity to experience many of the same activities that come with the state convention.
Teacher Sean Fitzsimmons of Smithville said it was incredible to see the FFA teaching community dive in and create something special for the students.
"The kids haven't really been able to do a whole lot for more than a year, and for an organization that prides itself in being active and participating in hands-on activities, that was difficult," said Fitzsimmons, a student-teacher at Smithville. "It's awesome to see the teachers care so much that they are willing to do so much work to make this happen for the kids, and we had some incredible community involvement to put this on. It's a special opportunity."
When Chenevey started exploring options to host the event two months ago, she immediately sought the involvement of a core group of around 10 area FFA teachers.
They put their heads together and began scheduling the types of events and speakers they hoped to bring to the convention. They continued to meet once a week, many of them driving more than one hour to attend the organizational meetings.
What they came up with was a slate of activities that was as close to a state convention as they could make it.
The two-day affair included breakfast and lunch, a welcome by past national FFA President Koleson McCoy, and sessions featuring dozens of speakers from all over Ohio that covered myriad topics like farming, finance, politics, showing sheep, and even ideas like balance is the key to life and be who you are.
Day one featured sessions celebrating teacher/administrator recognition, the honorary state FFA degree ceremony and the Star State FFA Degree recognition. Day two featured sessions presenting the proficiency award winners and chapter award winners. In addition, McCoy was the keynote speaker on Thursday, with a trade show and a service project highlighting day two along with a catered evening meal.
Chenevey said the goal was to make it as fun as it was educational, so Thursday evening featured a dance, inflatables and more fun events.
"I was driving to school one morning, and I thought to myself, 'These kids need to have an in-person convention,' so I reached out to some people, and the response was amazing," Chenevey said. "We worked hard to make it as close to state convention as possible."
Mike Mensing of Farm Credit Mid-America was there to speak to students about investment plans. He said seeing this culminate in such a terrific event was inspiring.
"This event is a prime example of why ag teachers are so valuable to communities," Mensing said. "I don't know of another profession that would have seen this huge hurdle and put this much effort into solving it for the students. This type of interaction is what makes the effort they put forth worth it and makes the experience a great one for the students. It is critical, and I appreciate the effort from a community standpoint."
Of the effort, Logan Pyers of Ridgewood said, "It made things feel like normal again. It was fun, and it was great to work together as colleagues. We were all pretty close in the first place."
"We are a tight-knit family," said Kelsey Bowers, FFA teacher at Triway. "For a lot of these kids, it is the first time they have experienced anything like this that wasn't virtual. My kids were truly excited about the opportunity, and I hope our kids were able to connect with other students from other schools and talk about different things they are doing that we can take back to our chapter."
Matt Wentworth, one of the FFA advisors at Shenandoah High School, said he was extremely impressed with the way the group sought to make the event affordable. Each school staff's members set about raising money in their respective communities to help fund the event so kids didn't have to pay anything to attend.
"Our kids were asking what it was going to cost to attend, and Miss Chenevey said it was all taken care of through donations, which is incredible," Wentworth said. "Usually, a trip like this costs each student $200-$250 to attend. To have that all donated is an awesome experience and a great example for our kids as to the importance of community support."
Chenevey said once the effort to raise funds and items needed for the event was taken care of, asking people to come speak for free was easy. She said that speaks volumes as to how communities recognize the important role FFA plays around the state for these young people.
"Everyone found a way to help," Chenevey said. "Our budget was about $40,000, and we were able to secure sponsorship for every penny. The Hillsdale FFA came up big for us, and they said they really wanted their kids to have this opportunity."
Chenevey said the speakers were very willing to come, and each teacher used their networking skills to find speakers to enhance the experience for the kids.
Ohio Congressman Bob Gibbs was one of the session's speakers, and he said coming back to his roots to speak was an easy decision.
"I told the kids that American agriculture has a great story to tell," Gibbs said. "We produce the safest, most plentiful food sources in the world, and it important for them to learn that and pass along that story."